NOTE: This film was not screened for critics in Las Vegas, hence the lateness of this review.
Once Upon a Time in Hollywood (hereafter simply referred to as "Hollywood") is directed by Quentin Tarantino, who also wrote and co-produced. The film stars Leonardo DiCaprio, Brad Pitt, Margot Robbie, Emile Hirsch, Margaret Qualley, Timothy Olyphant, Austin Butler, Dakota Fanning, Bruce Dern, Kurt Russell, Zoe Bell, Michael Madsen, Martin Kove, James Remar, Mike Moh, Luke Perry, and Al Pacino.
In 1969, the film industry in Hollywood is changing. Aging actor Rick Dalton was once a star of a hit TV Western series, but finds himself in uncertain times with the changes in the industry. His best friend is his long-time stunt double Cliff Booth, who lost much of his credibility due to a past scandal. Meanwhile, actress Sharon Tate and her husband, the director Roman Polanski, move in next door to Dalton. Elsewhere, on a local property previously used as a movie set, the eccentric Charles Manson and his "Manson Family" have taken up residence. What will happen when all their paths eventually collide?
Writing a traditional plot summary for Hollywood is tough in that there isn't much of a plot; Tarantino's latest film tends to opt for more of a "slice of life" approach. Fortunately, this direction works wonders here. At 161 minutes, it's too long, but it's at least better edited and paced than Tarantino's more recent efforts. The casting is perfect, the period detail surprisingly well done, and the end result is the perfect fusion of fact and fiction. Part Tarantino film, part love letter to Hollywood's classic days, it's bound to divide audiences, but this fan loved it. It's easily Quentin's best movie since the Kill Bill duology.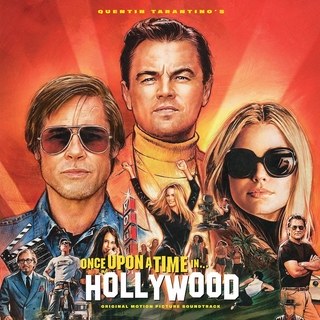 The casting is top notch. Leading man Leonardo DiCaprio is brilliant as Rick Dalton, who plays, well, a leading man, who's seen better days and believes he may be in the twilight of his career. His chemistry with his best friend/stunt double Cliff Booth, played by Brad Pitt, makes for some of the best moments in the whole film. You truly believe these two have been companions for years. Supporting parts include Kurt Russell as the movie's narrator (who throws a few interesting twists into what he does), Julia Butters an underused-but-effective child actress who steals the few scenes she's in, and Al Pacino as a Hollywood agent. It's a huge cast with most of the persons involved being relegated to minor/supporting roles (some are literally in just one or two scenes), but I actually appreciated this, as it lets us focus more on Dalton and Booth, who are the real stars of the show.
Of course, Margot Robbie appears here as Sharon Tate, who was the actress married to film director Roman Polanski. Robbie is great in this part, but audiences need to understand she's in what's basically the film's "B-Story." She's in this movie just enough to shine, but not so much she distracts from the central Dalton/Booth story. People shouldn't buy a ticket to Hollywood expecting Robbie to be the "star" of the movie, because her role is more secondary to the main story than anything else.
The overall approach of the film surprised me pleasantly in many ways. Right from the get-go, you can tell Mr. Tarantino appreciates classic films with his use of a much older version of the Columbia Pictures "Torch Girl" logo. Furthermore, an innovative filmmaking technique of superimposing DiCaprio into older TV shows/movies/etc. is surprisingly effective and entertaining (it's not unlike what was done in Forrest Gump, only swapping out old historical newsreel footage for TV and movie content). There are plenty of radio spots, TV spots, posters, and billboards promoting elements of the time, beautifully establishing the setting of Hollywood in 1969 (or Tarantino's version of it anyway). You'll even see TV and movie-style footage which looks like it could've been realistically made at the time, from DiCaprio's character hunting bounties in the old west, to him frying Nazis with a flamethrower (hell, this scene does the concept of Inglourious Basterds better than Inglourious Basterds!) The writing and script are brilliant, with hilarious one-liners and witty quips which suit every scene perfectly. Sometimes the best movies are the ones about the movies. That may be a part of the reason I loved this film as much as I did. It's a far superior movie to the Coen Bros.' Hail Caesar, the only other movie I can think of off the top of my head released on recent years tackling similar subject matter. Tarantino's film is better focused and takes all the right risks. It may be violent, shocking and explicit at times, but I couldn't stop laughing because of how good a time I was having.
Not surprisingly, Tarantino creates a brilliant soundtrack for his film, with a ton of old 60s rock and pop hits, as well as plenty of other surprises. You'll rediscover plenty of classics here and even a few obscure nuggets. I recent read an interview with Tarantino in which he claimed he was as proud of his soundtracks as he was his actual movies. In Hollywood, it's pretty damn obvious why that is.
If you know your Hollywood history, you know what fate has in store for Sharon Tate, and you're likely wondering if the nearly three-hour running time has a worthwhile payoff. You certainly have to wait a while and go through a lot to get there, but the conclusion is brilliant. Of course, if you've seen Inglourious Basterds, you know Mr. Tarantino isn't one who strictly adheres to historical fact. I won't say anything more here because I want to avoid spoilers, but the inevitable clash audiences are expecting will be the thing which sticks with them most come the movie's conclusion.
Is the movie perfect? Not quite. Despite the time passing by pretty quickly thanks to some pretty solid pacing and editing in an intriguing setting, I can't help but feel the movie is still a little too long. Probably about half an hour could've been edited out or condensed. Many people criticized the movie for not having enough of Margot Robbie's Sharon Tate, but if anything, I thought she got perhaps a little too much screen time and took away from the central plot of the film (what little of one there is). Really though, the movie's length is my only major criticism, though I don't think all audiences will enjoy the film (Tarantino's cinema has always been divisive, after all).
If you don't like Quentin Tarantino movies, Hollywood isn't going to change your mind. It's still edgy, violent, heavy on dialogue sequences, and shocking and borderline offensive in many regards (which is par for the course for Mr. Tarantino at this point in time, but bless him for that). It's a film which will split audiences, but fans of Tarantino probably have a good idea of what to expect at this point and time, and general audiences should know what they're getting, as it's certainly not a film for everyone. But this fan of old-time movie making loved the vision of old-school Hollywood seen here. Quite honestly, Once Upon a Time in Hollywood is one of my favorite movies of 2019, and is easily Quentin Tarantino's best movie since Kill Bill. Very highly recommended.
Rating: Three-and-a-half stars out of four.
DISCLAIMER: All images in this review are the property of their respective copyright holders, including. Columbia Pictures, Bona Film Group. Heyday Films, and Visiona Romantica, and Sony/Columbia. For promotional use only. All rights reserved.