The Art of Racing in the Rain (hereafter simply referred to as "Racing") is directed by Simon Curtis, and is based on the 2008 novel by Garth Stein. The movie stars Milo Ventimiglia, Amanda Seyfried, Kathy Baker, Martin Donovan, Gary Cole, and Kevin Costner.
Denny Swift is an amateur race car driver aiming for greatness, and his life is forever changed when on his way home from the track, he turns off the road to adopt a Golden Retriever puppy he named Enzo. As his life moves forward, he befriends the woman who become his wife, and they even have a child together. But tragedies continue to strike Denny and company in many forms over the years, with only the love between Denny and Enzo (who's perspective is told to us in voiceover) persevering.
Racing starts out with a simple-yet-effective premise dealing with the love between a man and his dog, with the latter voiced by Kevin Costner. It starts as a sweet and lighthearted comedy-drama of sorts.
And then it turns into one of the most depressing movies I've ever seen. And not for the reasons you'd expect.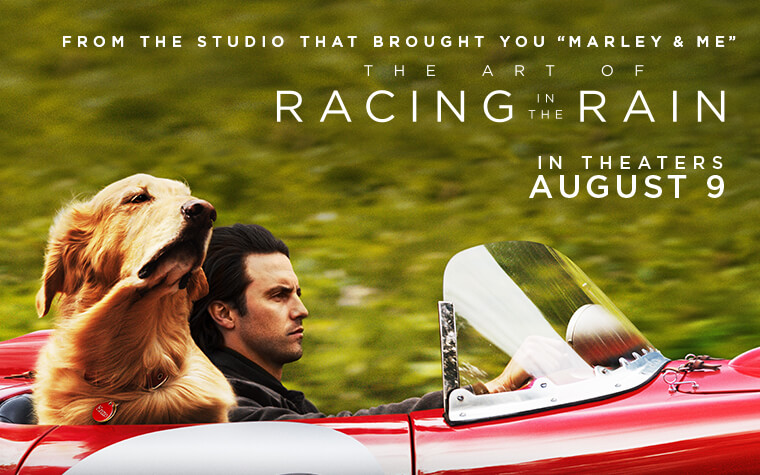 Despite its entertaining initial premise and great voiceover from Kevin Costner, it doesn't take long for the movie to take a downward spiral into something morbid and depressing, which the trailers won't prepare audiences for. Deaths, custody battles, and injuries to human and canine alike run abound throughout the movie's running time. After the first half hour or so, it literally becomes a game of "How much more depressing can we make this movie? What else can we make go wrong for these characters?"
This is, by my count, the third "talking dog" movie released in 2019 alone, following A Dog's Way Home (which wasn't screened for critics) and A Dog's Journey (those two were based on works by another author, W. Bruce Cameron). The latter was not a great film by any means, but at least had its lighthearted and uplifting moments. Racing has a similar talking dog element, toilet humor, and many strikingly similar dramatic elements, including a cancer storyline (although the Racing movie came out later, its source material actually predates A Dog's Purpose and A Dog's Journey). Despite a solid enough cast, it's clear this genre has run its course. I love dogs and I'll always love movies about them, but how many "talking dog" movies do we need?
While we're at it, can be please get a dog movie which doesn't fall back on toilet humor? Racing does this during one of its most depressing moments in an apparent attempt to return to the movie's earlier lighthearted tone, but it simply doesn't work. We're right back (pardon the bad joke) in the doghouse by the next scenes.
Last year, I reviewed a movie called Life Itself which was basically one depressing thing happening after another. It even had a dog in it. This is essentially the same pattern of "what else could possibly go wrong?" You can get your "talking dog" fix elsewhere. Every movie needs its share of tragedy to motivate the characters and the audience, but when your movie is nothing but tragedy, even an optimistic ending can't save it. A sad slog throughout its duration, The Art of Racing in the Rain is not recommended. Don't even bother renting it when it comes out on video.
Rating: One half star out of four.
DISCLAIMER: Images in this review are the property of their respective owners, including 20th Century Fox, Fox 2000 Pictures, Original Film, Starbucks Entertainment, Shifting Gears Productions, and Walt Disney Studios Motion Pictures. For promotional use only. All rights reserved.