David Crosby: Remember My Name (hereafter simply referred to as "Remember My Name") is directed by AJ Eaton.
Remember My Name looks at the life of legendary rock guitarist/vocalist David Crosby, telling his past story and journey through the music business, as well as showing contemporary footage of his life and a series of tour dates. Throughout the doc, we hear from many of the people who knew Crosby best; for better and for worse alike.
David Crosby has lived a tough life. His drug and alcohol problems were once the worse in the business. His vices and behavior drove away friends, lovers, business partners, and fellow musicians, many of whom refuse to have anything to do with him anymore due to his past. As a member of The Byrds and Crosby, Stills, Nash, and sometimes Young, he's co-written, recorded, and appeared on some of the most iconic folk rock/pop hits of all time. Remember My Name is a brutally honest look at Crosby's past life, through both his eyes, and the eyes of those who are/were his friends and fellow artists.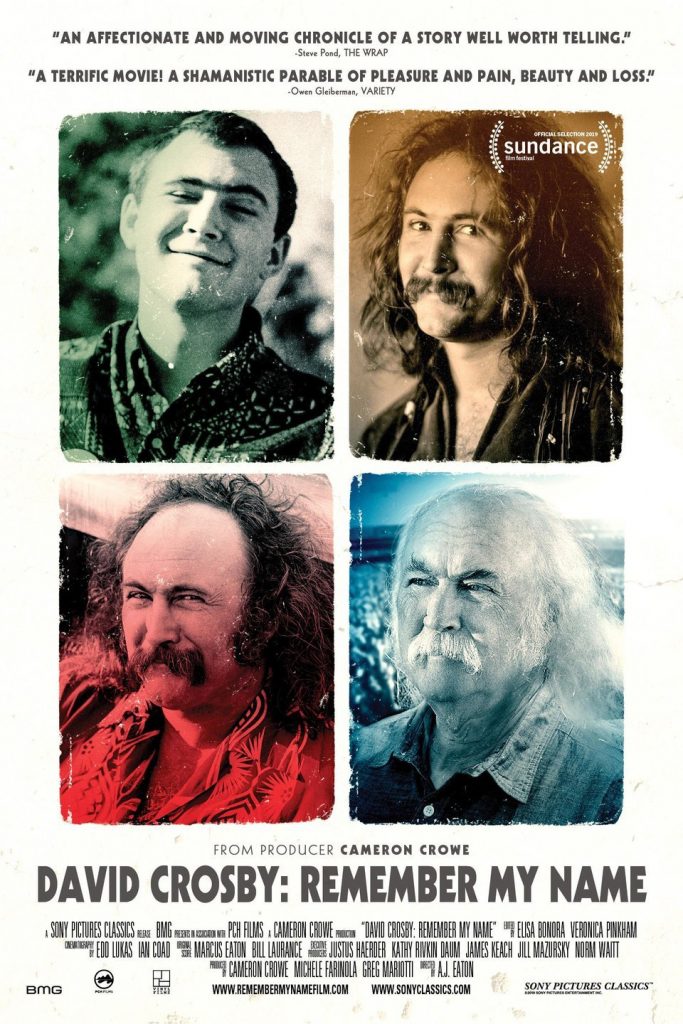 This documentary makes no effort to glamorize Crosby's life. It doesn't paint him out to be a rock and roll hero. Any documentary can simply talk about an artist, get a few interviews, or talk about the history of an artist or their discography. Eaton's film looks at Crosby's personal life both off and on the stage, from triumphs to outright failures. At the height of Crosby's life, he's a rock icon. At rock bottom, he's a drug addict serving a prison sentence and trying to get clean. As the man approaches 80 years of age, it's startling to hear some of the polarizing comments from the those he once worked with and called friends. Are you optimistic for a CSN(Y) reunion? Chances are you won't be as hopeful once you see some of the brutally honest testimony on display here.
It's also worth noting the doc isn't limited to the standard "rock star's life" stuff. Here we look at just as much stuff that happened off the stage, both in the past and present. Even in the current "tour date" segments, Crosby is a man who hates leaving home for long periods of time. He's had many medical conditions and anomalies, not the least of which being a liver transplant. His wife worries each time he goes out on the road will be the last time she sees him. Crosby himself is even forced to cancel tour dates due to lacking the endurance he once had.
There are a few minor faults, with certain elements getting too much emphasis, and others not getting enough. Crosby's love of Joni Mitchell is something worth looking into, no question. But this section of the doc brings things to a dead halt and rambles. Likewise, there should've been more scenes of Crosby's childhood and his discovery of music/early bands/etc., as this particular segment feels quite rushed, though these are minor flaws in the long run.
Remember My Name sheds some interesting light on Crosby's life thanks to its brutally honest look at his past and present. The interview content is polarizing, and no one holds anything back. Fans of the musician will definitely want to check this one out. Highly recommended!
Rating: Three-and-a-half out of four stars.
DISCLAIMER: All images in this review are the property of their respective owners, including BMG, Vinyl, PCH, and Sony Pictures Classics. For promotional use only. All rights reserved.