The Last Black Man in San Francisco (hereafter simply referred to as "Last Black Man") is directed by Joe Talbot; it's his feature film directorial debut. The film stars Jimmie Fails (who also wrote the film with Talbot), Jonathan Majors, Danny Glover, Tichina Arnold, Rob Morgan, Mike Epps, and Finn Wittrock.
Like many places in the United States, San Francisco has fallen on hard times. The line between the wealthy and the lower class is wider than ever. Jimmie Fails, who lives with his friend Montgomery Allen and Montgomery's grandfather, longs for the house his own grandfather constructed in the 1940s, which is now worth far more than he could ever afford. When the house is vacated and enters a long legal estate battle to determine its eventual proper owner, Jimmie moves in, much to the dismay and confusion of his family and friends. Will Jimmie be able to legally take possession of the house and call it his permanent home, or will the rightful owners and ambitious real estate owners take other plans?
I love watching independent productions and those showcasing new talents. For that reason alone, Last Black Man was a film which certainly attracted me. The movie was largely funded via a Kickstarter campaign which garnered national interest, including support from those in the film industry. The cast combines up-and-coming newbies and a number of veteran actors, including the always entertaining Danny Glover. It's a flawed but ambitious effort, and I have no doubt this one will be getting some recognition come Oscar season.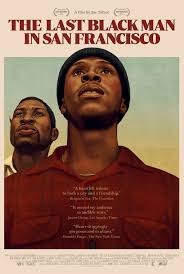 The talent on display is one of the movie's finest attributes. Jimmie Fails stars as the fictionalized version of himself. He has fantastic chemistry with Jonathan Majors, who plays his best friend/roommate/amateur playwright Montgomery. Just seeing these two in their everyday lives, whether working or job or pondering their futures, is entertaining unto itself. Even one of my personal favorites, Danny Glover, gets a chance to shine as well, though thankfully he's in the movie just enough that he doesn't eclipse the up-and-coming talents on display here. It's a believable "lived in" atmosphere, which will certainly hit close to home for those who've ever found a lack of money and means to move up in the world as an obstacle keeping them from their own dreams.
The tone of the move remains dramatic and gripping, yet it's also not afraid to throw in some comic relief without getting too far away from the message and the necessary drama at hand. The main characters remain optimistic despite not moving forward in their lives, with high hopes all around. Fails steals the show as a man who'll do whatever to takes to move back into his former childhood home, despite the questionable legality. I don't condone his actions here by any means, but it doesn't make the film any less entertaining. Audiences will surely be able to relate to the plight facing our young heroes.
The atmosphere of San Francisco seen in the film is an eye-opener as well. It's so nice to finally get a California movie which isn't set in Los Angeles (like pretty much every other movie ever made). While the usual attractions like cable cars and the Golden Gate Bridge are shown, these are used sparingly, with the crew opting to spend more time focusing on the dilapidated neighborhood the characters call home, many of whom condemn the city officials for not coming in to fix and repair the area, yet find them plenty eager to bulldoze sights present for future developments, sending somewhat of a hypocritical message. It's a movie which will open eyes to a less glamorous site of San Francisco living.
That said, the movie isn't quite perfect. The biggest mistake the film makes is to focus almost exclusively on Jimmie's attempts to move back into his beloved childhood home, rather than exploring the challenges faced by the neighborhood at large, even though the opening scenes imply that's what we'll be getting. The two-hour running time is about 15 minutes too long, and some tighter editing could've helped the final product. That said, I'm still impressed by what a cast largely consistent of newbies to movies managed to pull off here.
Last Black Man isn't a perfect film; its focus is too narrow and the final product is too long. However, I doubt audiences will be disappointed by what they see here, as it's a movie which declares the coming of promising new talent, as well as some fine performances from veteran actors. Despite my minor criticisms, still strongly recommended.
Rating: Three stars out of four.
DISCLAIMER: All images in this review are the property of their respective owners, including A24, Plan B, and Longshot. For promotional use only. All rights reserved.