The KISS This KISS tribute band played 172 inside the Rio on Tuesday, August 13, 2019.
KISS must be the band who sets the record for having more tribute bands paying homage to them than any other rock group in history. With their on-stage antics, musicianship, signature costumes and makeup, and a catalogue with 40+ years of hard rock classics, can you really blame them?
About the Tribute.
KISS This is the latest in a long line of KISS tribute bands based in Las Vegas. The group features Scotty Griffin (LA Guns, Sin City Sinners/Rejects) as Paul Stanley, Jeff Duncan (Odin, Armored Saint) as Ace Frehley, Louis Reyes (Sin City KISS) as Gene Simmons, and Shon McKee (Stoney Curtis Band) as Peter Criss. All of these musicians have previously played in KISS tribute bands and/or bands/events who regularly perform KISS songs.
Paying tribute to KISS is a very common practice in the music world, but doing it well and balanced is exceedingly difficult. When a band has over four decades of music, multiple phases of their career, band member changes, and an alternation between makeup and non-makeup eras, determining how wide or narrow a focus to take on as a band can be a challenge. How does KISS This fare?

The Venue.
The show took place in 172, the club room upstairs just inside the Rio Hotel and Casino's eastern entrance. Ironically, it's just upstairs from the space KISS by Monster Mini Golf now calls home. I've seen a handful of shows in the venue, and despite its small size and strange food choices for a live music spot, it's definitely a cool space for music fans.
However, one absolutely criminal error on the part of the venue plagued this show right from the start. There were tables and chairs everywhere, and absolutely no "standing space" near the front of the stage for fans to go up front and rock out. I understand that many acts who play 172 are "lounge acts" for whom this arrangement is the norm. A band paying tribute to KISS is most certainly NOT one of these acts. As it sounds like KISS This will be doing regular performances at the venue on Tuesday and Wednesday nights indefinitely, this should change.
One of the first thing I noticed which surprised me in the best of ways was how big of a crowd the show attracted, especially given it was a Tuesday night gig, and with the summer and flow of tourists drawing to a close with the end of the season not far away. Anyone who claims rock is dead clearly wasn't at 172 for this gig.
The Show.
The execution and production of the gig, the elements which mattered most, definitely came through.
All four of these guys clearly love KISS music and performing it live. They've got a great chemistry together. While all of these guys were fantastic, the true standout player of the evening was Scotty Griffin as Paul Stanley. This guy absolutely owns the role he plays (not that this isn't true of the other men on stage as well), and he clearly had a great time performing and raising the crowd's enthusiasm.
Clearly these guys know the songs they play, and perhaps importantly, how to play them well. You can tell they've studied not only the studio recordings, but also how the band performs and introduces said songs on stage.
The band member costumes and makeup definitely looked the part. From the Starchild jacket to Gene Simmons' old school "skull and crossbones" shirt and "wings" under his arms, these guys looked the part for sure. A light-up KISS logo sign set the stage perfectly.
As this is a small venue, not to mention an indoor one, things like fire breathing and pyrotechnics were a no go, but that was to be expected due to the obvious venue constraints. At the end of the day, the musicianship was top notch, and that's what truly counts.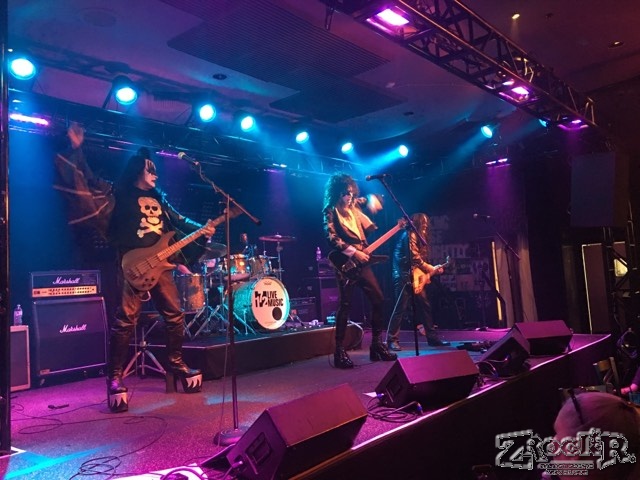 Setlist.
The setlist itself was pretty much comprised of the biggest KISS hits released from their first six studio records, spanning 1974-1977.
This means cuts like "Strutter," "Cold Gin," "Firehouse," "Deuce," "Hotter Than Hell," "C'mon and Love Me," "Shout it Out Loud," "Rock and Roll All Nite," "Beth" (a solo vocal performance from McKee), "Love Gun," "God of Thunder," "Detroit Rock City," "Calling Dr. Love," and "Shock Me." (The song list is not an all-inclusive one.)
The set lasted just over an hour, but in this time, the band packed in plenty of iconic KISS classics done right. If there's one complaint here, it's that the setlist was a little TOO predictable and didn't really throw any surprises at the audience.
Why not throw in something like "Parasite," "Strange Ways," "She," "King of the Night Time World," or "All the Way?" Even just one or two surprise "deep cuts" would have added some flavor to the predictable, albeit satisfying setlist.
No matter what, no one can argue the guys in KISS This play these songs WELL. The band didn't play any post-1977 material, though this is understandable given the era the band chose to focus on, chronicling the band's rise to fame and their first six studio records.
Highlights.
The biggest innovation of the evening is something I'd like to see more tribute bands use who want to give their audience a true experience – video screens with narration between every few songs.
The group used this technique to tell the story of the band's early years and struggles, along with some rare photos and tidbits about the group's history. Even I, a die-hard KISS fan, learned a few things I didn't know here. I've seen this gimmick used in other shows around town including Raiding the Rock Vault and Herstory of Rock, but this is the first time I've seen it used by a group paying tribute to a single artist.
Disappointingly, the band stopped using the gimmick about halfway through the gig, but I would liked to have seen this used every two or three songs to advance the band's story. Should the group's set extend to include post-1977 material, I'd love to see this used more extensively.
Afterparty?
According to the event postings for the show, doors to the venue were to open at 8:00, with the show to start at 8:30 and to run until 9:45. Essentially, this was accurate, as it's when the KISS gig ended, although there were announcements from an employee not long after that an "afterparty" would follow the gig, with the band members to change clothes and to return to the stage a few minutes later. Did this mean they'd be putting on later-era KISS costumes, or possibly removing the makeup/costumes to do stuff from KISS' mid-80s "no makeup" era?
This was the part of the gig that baffled me.
The band returned to the stage a few minutes later with all face paint and costumes removed, and began playing non-KISS songs (an assortment of various rock and pop songs). Was this the afterparty?
None of this was mentioned anywhere on the adverts and event posts for the show (it was certainly after the "end time" listed online), and I was puzzled by this strange decision. The thing I don't understand is, if the band had use of the stage for two full sets of music, why not just do an extended KISS set instead of doing a bunch of cover songs? They certainly have the 40-year-plus catalogue to support this.
The KISS This portion of the gig was fantastic, but with a second set of music covering their continued career, employing the video screen storytelling, it could be something truly amazing. I don't know if the events, as they transpired, were a band decision or something the venue forced upon the group, so this is certainly not a stab at anyone, least of whom the musicians who put on a kick-ass KISS show for everyone in attendance.
In Conclusion.
KISS This is here, and their first gig was a kick-ass show for fans of the iconic costumed hard rockers. Here's hoping future gigs will utilize the second set of music for a continued KISS set rather than generic rock covers, and explore the deep back catalogue a little more. As the group is playing 172 multiple nights a week for what seems like an indefinite period, fans of the group owe it to themselves to go and check them out!
Spotify.
Check out KISS' Music on Spotify to get you pumped for a future KISS This show!
Curious as to what Taylor is listening to? Check out his playlist!
PHOTO CREDIT: Live photo by Zenon Skyy for ZRockR Magazine, All Rights Reserved.