This film was not screened for critics in the Las Vegas Valley.
Echo in the Canyon (hereafter simply referred to as "Echo") is directed by Andrew Slater. The film stars Lou Adler, Fiona Apple, The Beach Boys, Beck, Justine Bennett, Jackson Browne, Buffalo Springfield, The Byrds, Jade Castrinos, Eric Clapton, David Crosby, Jakob Dylan, Norah Jones, and Michelle Phillips. The film premiered at the LA Film Festival in September 2018, and has gotten sporadic limited theatrical reviews from May 2019 onward.
Jakob Dylan, son of legendary folk rocker Bob Dylan, interviews many of the legends from the folk rock movement in California in the 1960s, and unites with some of the modern day's most iconic pop stars to re-record many of the classic hits from the era. The movie investigates the origins of the music, as well as featuring a 2015 concert in which the musicians gathered to perform these songs live.
Echo is a fantastic documentary any fan of these musicians will enjoy. In addition to seeing the classic era in which these songs and styles of music came to life, the movie also impresses with its contemporary footage of today's top musicians paying homage to the sounds they love which influenced them. There's a solid cast of performers and talent from yesterday and today alike.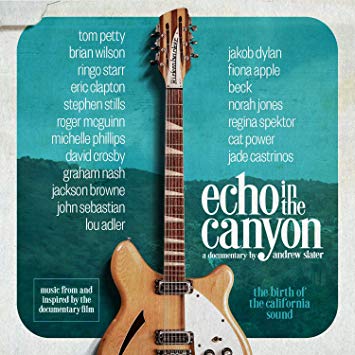 In terms of the "past" portion of the documentary (it jumps back and forth between past and present throughout its duration) there is plenty archival footage including television and concert content, and rare photographs. Seeing these is a revelation (it's not clear how much of this footage was previously unreleased, if any).
The "present" portions are nearly as impressive, with their combination of the musicians of today gathered to pay tribute to their own folk rock heroes. Curiously Jacob Dylan's iconic father does not take part in the documentary, but the sheer number of people assembled here to pay tribute to the work of the past is worth the price of admission alone. Honestly, I wasn't familiar with some of the newer artists featured here, and some I knew only on a "by name" basis. But it's a great homage and tribute in addition to being a history lesson.
Admittedly, the doc is a but uneven at times, and can't quite seem to decide what it wants to do. The past and present portions alike are both interesting and entertaining, but it makes me wonder if this would've worked better as two separate movies.
For what it is, Echo will satisfy its target audience. There are some fantastic moments, both exploring the history of classic bands, and seeing contemporary artists pay tribute to their music heroes. Fans of these artists/the music/etc. won't be disappointed.
Rating: Three stars out of four.
DISCLAIMER: All images in this review are the property of their respective owners, including Greenwich Entertainment and Mirror Films. For promotional use only. All rights reserved.