Good Boys is directed by Gene Stupnitsky. The film stars Jacob Tremblay, Keith L. Williams, Brady Noon, Molly Gordon, Lil Rel Howery, Will Forte, and Midori Francis.
Max, Thor, and Lucas are middle schoolers who are the best of friends, and dub themselves "The Bean Bag Boys." When Max is invited to a fellow student's party which will involve kissing, he and his friends try to find out what to do – but in the process, lose Max's father's prized drone to two older girls. The boys must hatch a plan to replace the drone before Max's dad gets back to town. Will they get it back, and even if they do, will they be prepared for the party?
The trailers don't lie. Good Boys is raunchy as hell despite its primarily tween cast of characters. But I'm pleased to say the trailer doesn't use up all the good jokes and moments. Yes, it's crude and crass, and it's hardly original, but there's no denying it's pretty damn funny along the way. Needless to say, though, it's not a movie for the easily offended!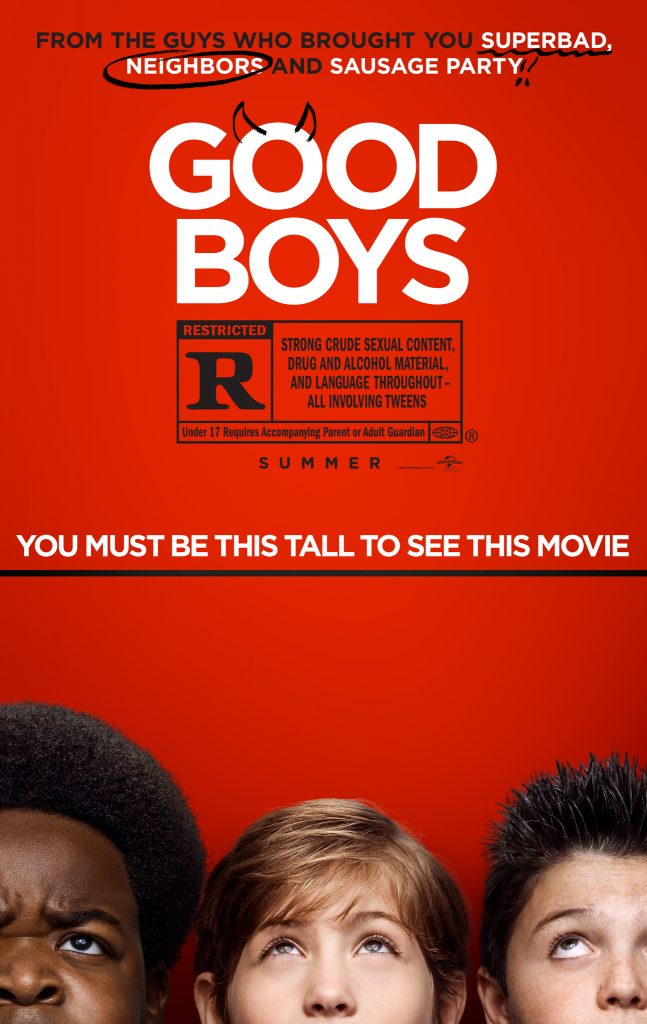 The trio of main characters, fronted by the always entertaining Jacob Tremblay (Wonder), is perfectly cast. They act exactly what you'd expect young people faced with the awkward and confusing situations encountered in the movie would act like. It's a stressful and strange time in a young man's life when everything is changing, and this coupled with the obstacles our heroes must deal with makes the movie both genuine and hilarious. Some moments, particularly those near the end of the film, even hint at something deeper and more compelling than you'd expect. Sure, it does go for a few cheap laughs and cranks the raunch factor up to 11. No denying that. Oscar material this ain't, but if you're not easily offended and want to laugh, Good Boys delivers.
Even the supporting cast fares well, from strict parents and strange music teachers to popular kids and older girls in school. A particular standout is the always funny Lil Rel Howery as Lucas' father, but fortunately, the movie doesn't give him a role so big he steals the thunder of the titular boys. There is one character who unfortunately had all their scenes spoiled in the trailers, but for the most part, throughout the experience, it isn't a problem.
Honestly, the film is kind of a mess structurally. It's a wild experience that's all over the place and tends to be quite uneven, but if the filmmakers' objective was to make the audience laugh, they've certainly succeeded here. Good Boys is a laugh riot despite its flaws.
Rating: Three stars out of four.
DISCLAIMER: All images in this review are the property of their respective owners, including Universal, Good Universe, Point Grey, and Quantity. For promotional use only. All rights reserved.