Of Mice & Men have a long history in the hardcore industry. They became a band in 2009 and since then have gone through a couple of new members and position switches.
Original lead singer, Austin Carlile, stepped down from Of Mice & Men in 2016 due to his battle with Marfan Syndrome. This left fans devastated for Austin and concerns for the future for Of Mice and Men. Bassist, Aaron Pauley, stepped up as lead singer of the group shortly after the announcement.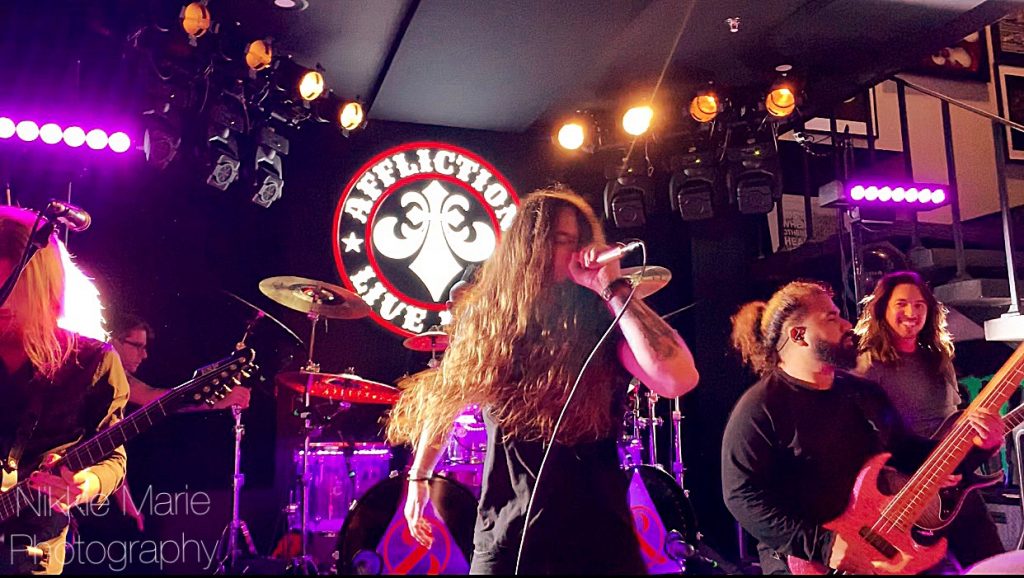 Many fans didn't believe in Aaron. Numerous outlets spoke about the bands soon to be "downfall". Meanwhile, fans turned their backs to the band. Of Mice & Men kept fighting the remarks of the public and stayed true to their belief in one another.
Since 2016 the band has come out with one album, Defy, in 2018. It was a new sound for the band, and it left fans with mixed emotions. The pits at shows said a completely different story, with die-hard fans selling out tours in all countries.
As of this Friday, September 27, 2019, Of Mice and Men will be releasing their new album Earthandsky.
Album Release Party.
I had the pleasure of attending their album release party at the Affliction Clothing Headquarters. The evening was hosted by Jose Mangin of SiriusXM.
First off, you can't go wrong with free tacos, free Spicy Tequila by Riazul Tequila, and free Modelo on a Sunday night. By 8 pm Jose had the full album playing live for party goers to hear.
As I walked around talking to fans, I watched heads bob up and down with excitement in their eyes. Aaron, Alan, Phil, and Valentino spent the majority of the time talking to fans and walking around. For a bunch of hardcore guys that have a status in the industry, you'd expect them to be posted up with bodyguards keeping a distance from the public. That for sure was not the case. They are a normal bunch of guys that are down for a good time.
I spent a while with opener band AHEROWITHIN (Opening for them in San Diego, California) and Valentino talking music. Valentino was very open about how he misses music in the early 2000s and making last-minute trips down to Orange County to see shows like Atreyu.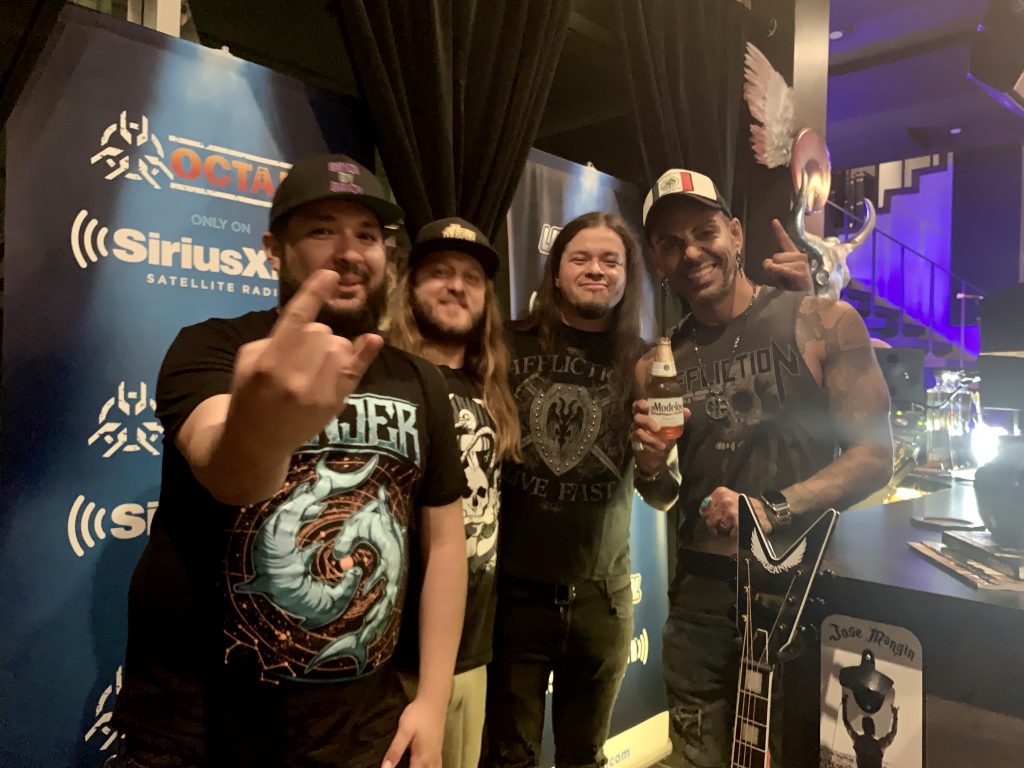 Valentino comes from a small town and carries his town proudly on his shoulders. He states, "music and shows will never be how they use to be". Valentino also states how he appreciates the many artists that influenced him to get to where he's at today. He made jokes about how they would have totally done a back yard party for the album release, but they're not in their 20's anymore as bachelors.
Outside of music, they all live a pretty normal quite life. As the album proceeded to play throughout the head quarters of Affliction, we all stopped at the same time to tell Valentino how this is their best album yet. From ear to ear in smiles Valentino proudly states back, "Thanks guys, we think so too!"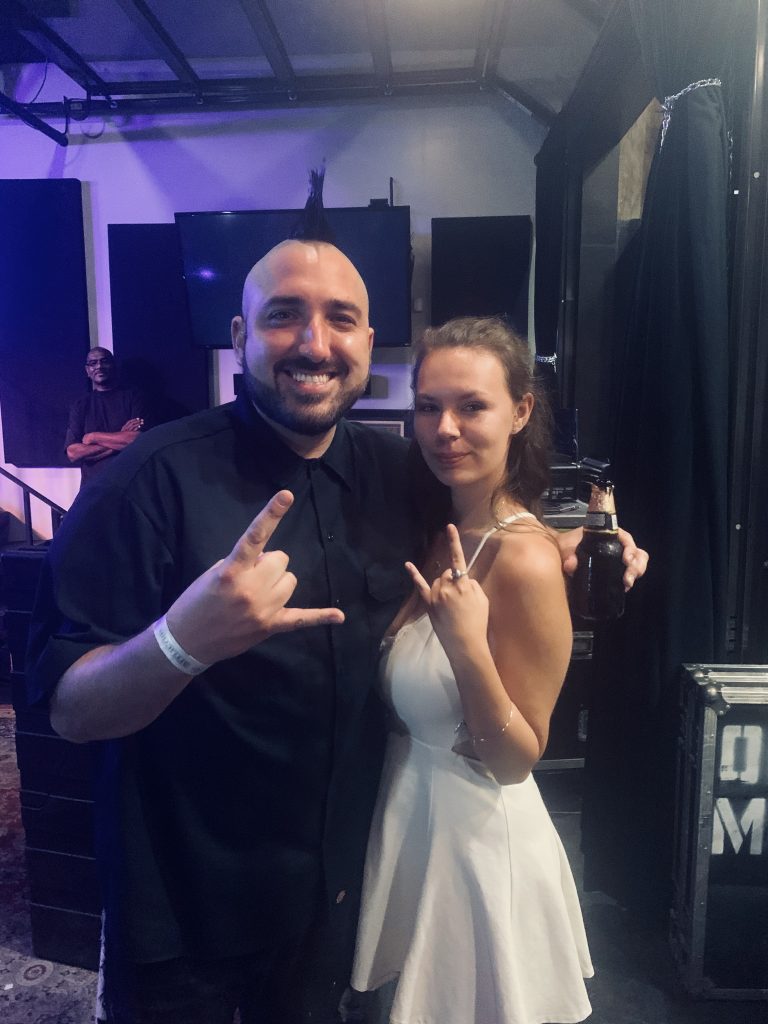 The Album.
Earthandsky is by far their heaviest album to date.
Aaron Pauley has clearly outdone himself on vocals and worked hard to hit the new range he's at. They have an even mix of screams, growls, and clean vocals throughout all the songs. His growls have dramatically improved and left everyone at the party speechless.
Fans throughout the headquarters were all standing around in amazement over each song. By the time the album ended fans wanted it to be replayed on loop again. It's that good. Each song that played kept out doing one another. There's not one song on the album I dislike.
I'm incredibly impressed by Aaron's vocal range on this album. He goes from the lowest notes to the highest notes within seconds on songs. Nothing is done with back up singers on growls either. He's doing every single part himself. The amount of hard work and talent that takes, is a lot on the average vocalist. This album separates him into a completely new category of skills from most singers in the hardcore scene.
I took a small moment to talk to Aaron about the new album, and he told me that their album has been done since November of 2018. They've been waiting for nearly a year to release this new album. They have been dying for fans to hear it. Earlier this year, they released their single, "Earth and Sky", that I got to see performed for the first time ever live at The Belasco theater on the Nothing More tour. Little did I know, that was a teaser for the new album coming out this Friday.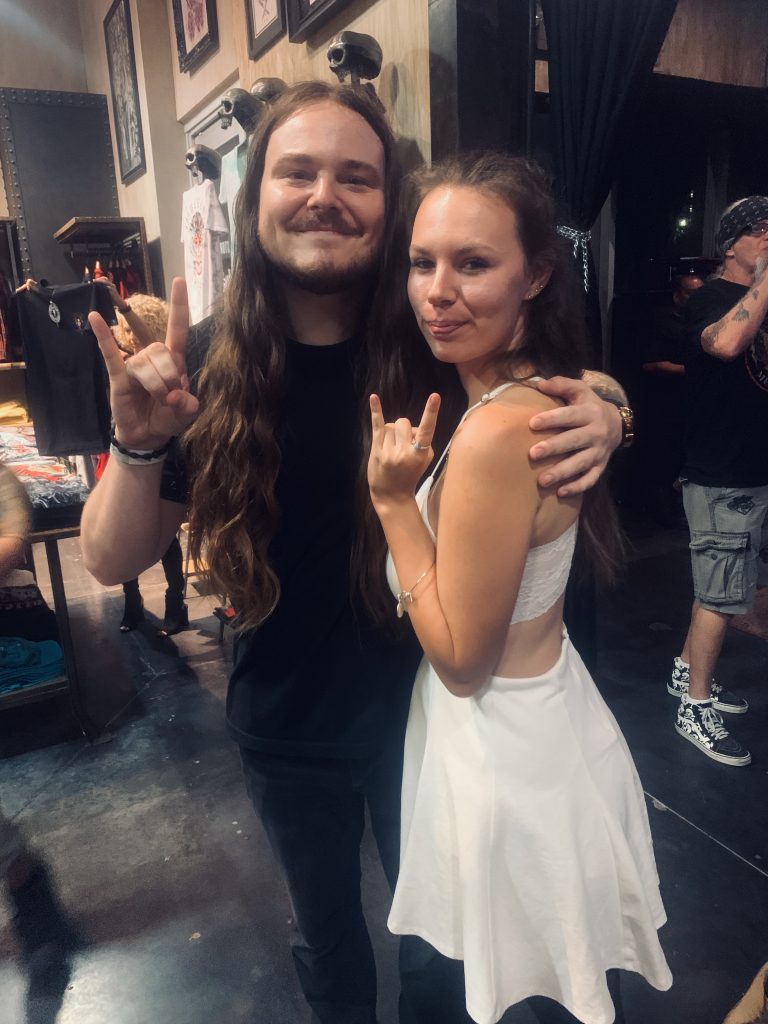 The Show to Follow.
By 10:00, Jose Magin jumped on his stage to bring the guys up to perform their new album.
I was shaking in excitement after hearing it all on the sound system. This new album is heavy, and when I say heavy, I mean heavy! If someone were to put on one of these songs and not tell me it was Of Mice & Men, I wouldn't have believed them for a minute. This is completely a new sound for them.
They brought back old school Of Mice & Men with new school Of Mice & Men. They've stated before that they will never release the same sound twice. They are sticking to their words with this new album.

The guys jumped on stage and left no time to waste on talking. They jumped straight into the set with a new song that is not out to the public yet. I cannot confirm the name of the opener song. I can confirm how amazing the guys did on the stage.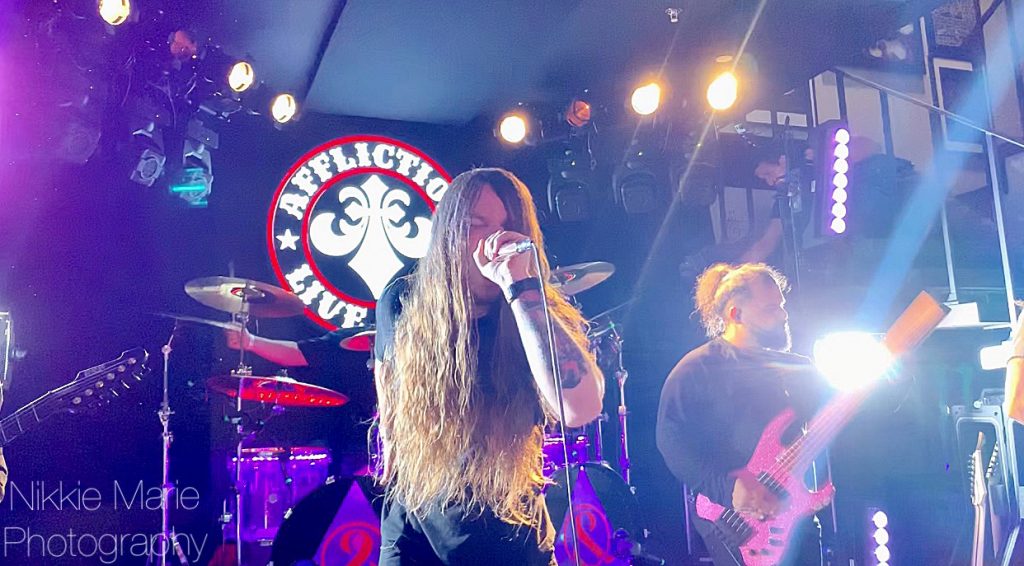 Temporary member Raad Trujillo from Volumes came out on stage to play all of Aaron's bassist parts. He will be carrying out the entire tour for Aaron. I honestly wouldn't mind if the band became a 5 member band.
Raad Trujillo is truly an incredible bassist and has hit the stage with Of Mice & Men numerous times around the world. Throughout their set, they played new songs, "Earth and Sky" "Taste of Regret" "Mushroom Cloud" and many more from the new album.
The guys didn't care how small of a stage they had. They performed on it as if it was an arena stage of 10,000 people.
Party-goers created their own pit inside of Affliction and got down hard from windmills to throwing each other around on the ground and air.
Aaron has one of the best stage presences I've ever seen as a frontman. He puts everyone to shame on their own headbanging game with his hair.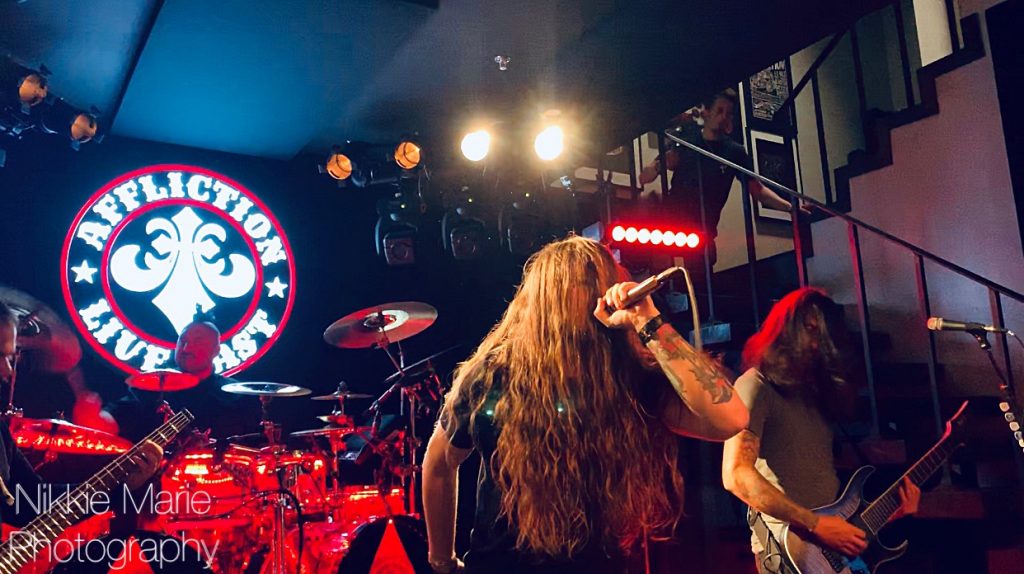 Music & Lyrics.
"Mushroom Cloud" so far feels to be the hardest song on the album for me. I personally love "How to Survive". The lyrics are raw and hit hard for me personally. Aaron speaks about what it's like to be hated, degraded, dangerous, and how to survive. I feel like those lyrics are something we all feel inside with our everyday lives. "How to Survive" seems to be their album theme and I'm really digging it.
Tour Information.
I really hope for this tour they perform more of their new album songs and less of their older songs. It's so good that I need to see it all live again.
Catch Of Mice & Men on their Northern American tour from September 23rd to October 5th. New album out this Friday in all stores.

https://www.ofmiceandmenofficial.com/
PHOTO CREDIT: All photos by Nikkie Marie, used with permission for the purpose of the article.