Michigan based band Greta Van Fleet will be taking over Vinyl in Las Vegas this weekend.
The band has been around since 2012. However, it's only in the past couple of years that they have had mainstream success. Since the release of "Highway Tune", the band has continued to climb in popularity. For three young brothers from Michigan and their best pal, this is a dream come true.
Greta Van Fleet's Style.
Despite two successful albums, opening for legends like Bob Seger, and a Grammy in 2019 for Best Rock Album, the band has faced scrutiny. Often, Greta Van Fleet is compared to Led Zeppelin. Vocalist Josh Kiszka's vocal musings against brother Jake Kiszka's bluesy guitar mirrors the legendary duo of Jimmy Page & Robert Plant.
The combination of vocalist Josh Kiszka's voice with his brother Jake's bluesy guitar is reminiscent of legendary duo Jimmy Page and Robert Plant.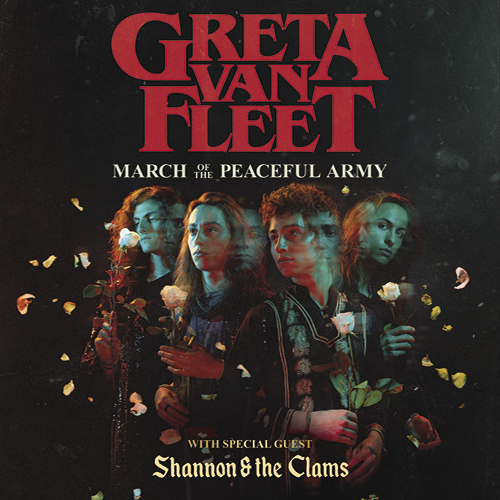 Although Josh states he didn't even really know who Zeppelin was until high school, there's a Plant flair that comes out of him. In regards to Jake's guitar playing, he states he has studied Jimmy Page, but also Pete Townsend. Other influences include Eric Clapton and Keith Richards. For bassist Sam Kiszka, it's all about James Jamerson, who, if you listen to anything Motown, you know his bass.For drummer Danny Wagner, who is the only member not bonded by blood relation, he's influenced by John Bonham (also of Led Zeppelin) and Carmine Appice.
Luckily for Greta Van Fleet, they have Robert Plant's blessing, who cited them as one of his favorite up-and-coming bands.
I think it's a great way to expose a younger generation to the style of blues and rock n roll. Some folks aren't going to like it. That's okay. Everyone wants to bitch about rock dying out. No one wants to do anything about it. That's why I can get on board with Greta Van Fleet.
This is bound to be one hell of a show for all ages. They are definitely a band for all ages. To purchase your tickets, visit HERE .