You love horror punk, Halloween, and a dash of sleaze? Well, look no further. Crypt Strypper is just what the doctor ordered.
Originally from Los Angeles, but dominating the Northeast side of the country since Fall of 2018, this quartet oozes fun.
Who the Fuck is Crypt Strypper?
The band contains Jon Benet on lead vocals and rhythm guitar. Accompanying her punchy chords on lead guitar is Rob Banshee. Holding down the rhythm on bass is Shane Saw. Rounding out the group is hard hitting drummer Dizzy Draztik. Oh, that name sounds familiar? Teehee.
I've been paying attention to these guys since their L.A. days, but unfortunately didn't have the chance to make the drive to see them before Benet and Draztik booked it back to New York.
They've been taking on the East Coast by storm, even recently playing on the NY date for the 69 Eyes Tour along with our Vegas boys The Nocturnal Affair.
For me, this band has been no more than photos. Much like the days of Cream or Rip Magazine, I saw them before I heard them. The dirty face paint and fishnets coupled with sweat and raw energy drew me in before I even heard one note.
Fortunately, the notes I heard were worth the wait...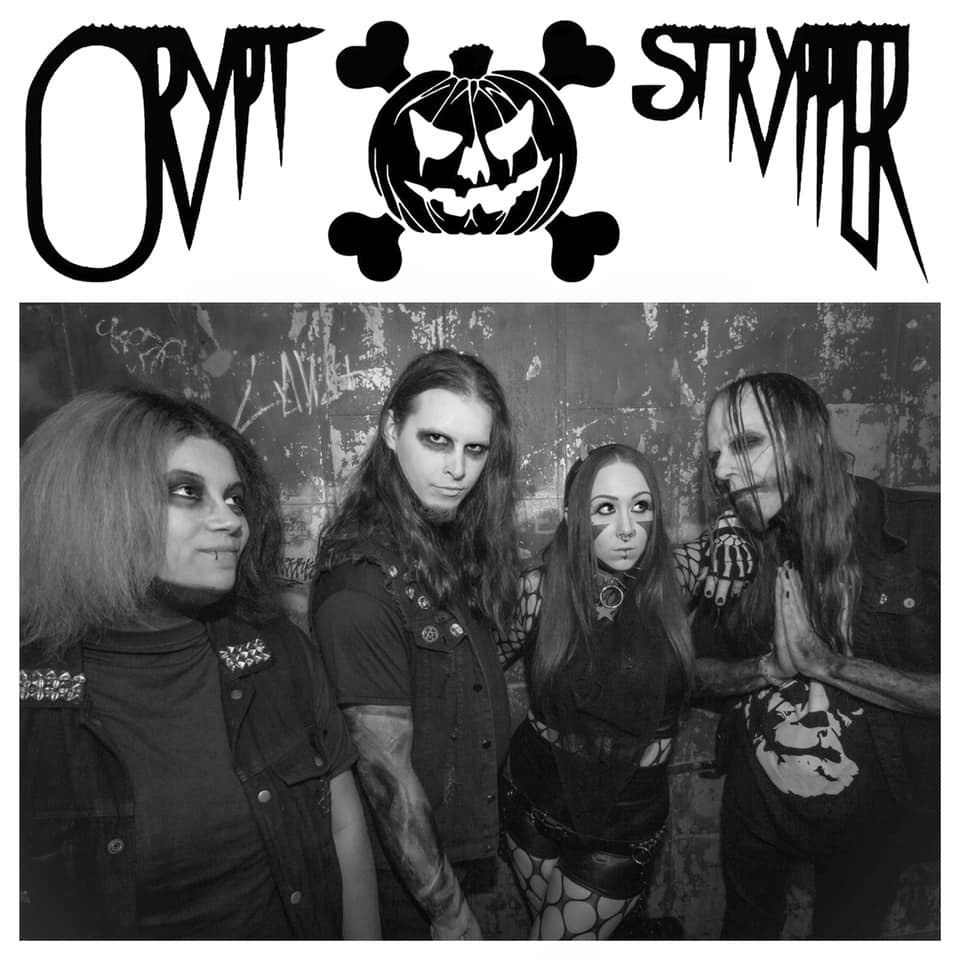 The Holy Demo.
On October 13th, Crypt Strypper released a free download of their EP, The Holy Demo. I didn't really know what to expect, but from the opening notes of "Who Said", I was hooked.
This song feels like an updated version of something you'd hear on the Munsters. Like, if Lily worked in a strip club, this would be what she'd dance to.
Benet's vocals on the track draw you in similarly to the way Marilyn Manson did when he was with the Spooky Kids. The solo from Banshee is simple and yet effective.
Following up is "Ghoul Next Door", which oozes punk. Draztik's drums carry this song, which I could hear anyone from Joey Ramone to Wednesday 13 singing along to.
I don't want to give away the entire album, but closing it out is "Fuck the Dead". This fast paced single from the band showcases everyone perfectly. This track puts "Code Blue" by TSOL into its casket, paving the way for new songs for necrophiliacs.
Saw's bass punches through this track like a bullet, holding down a simple, yet killer riff.
Again, Banshee delivers a blistering guitar solo over the rest of the band. It helps close out the song, leaving it on a high note that seems almost unfinished. It leaves you wanting more.
Overall.
The Holy Demo overall is definitely on my top of favorite releases this year. If you're looking for a new band and some new music to help your Halloween craving, these guys are for you.
Crypt Strypper graciously is giving everyone free downloads of the album until Halloween. You can hear the album and get it for yourself HERE .
Follow them on Facebook for events, especially if you are on the East Coast. This is a band you certainly don't want to miss live. Hell, I wish they'd come out this way to Vegas. Maybe a future Punk Rock Bowling Festival? Fingers crossed.
As the band says, creep it sleazy, and Happy Halloween.
PHOTO CREDIT: Band promo by ©Brandon Monahan, used for promotional use only.