In the 1970s, Angel were on Casablanca Records, and gave listeners a truly unique sound combining hard rock with keyboard-intensive elements; the group was in many ways a precursor to the hard and heavy glam rock/metal of the 1980s. Ahead of their time, the group was sadly neglected in their heyday; though their classic sounds are being rediscovered. It didn't help that, among bands on Casablanca; these guys in white were often overlooked and neglected in favor of that other little band on Casablanca. The one with the guys who dressed in all black and wore face paint. The ones who've done more farewell tours than we can count. You know who I'm talking about.
Angel disbanded circa 1980 following the release of five studio records and one live album; though several of the members remained active in the music business in other capacities. A partial reunion occurred in 1999 which resulted in one studio record; though it was sadly mostly ignored. In recent years, vocalist Frank DiMino and guitarist Punky Meadows have returned to the forefront; each releasing a superb solo record in their own right, guesting on each other's releases.
But would the two do a full-on record together?
The boys of Angel have answered our prayers. Risen is the first studio album in 20 years, with DiMino and Meadows in the band together again. Sadly, they're the only two classic Angel members returning for this reunion; with the remainder of the band lineup consisting of Danny Farrow (who also plays in Meadows' solo band), Charlie Calv (also in Meadows' solo band), Steve Ojane, and Billy Orrico. We've gotten impressive solo releases from Meadows and DiMino; but how does this attempt at the two joining forces to revive the Angel name fare?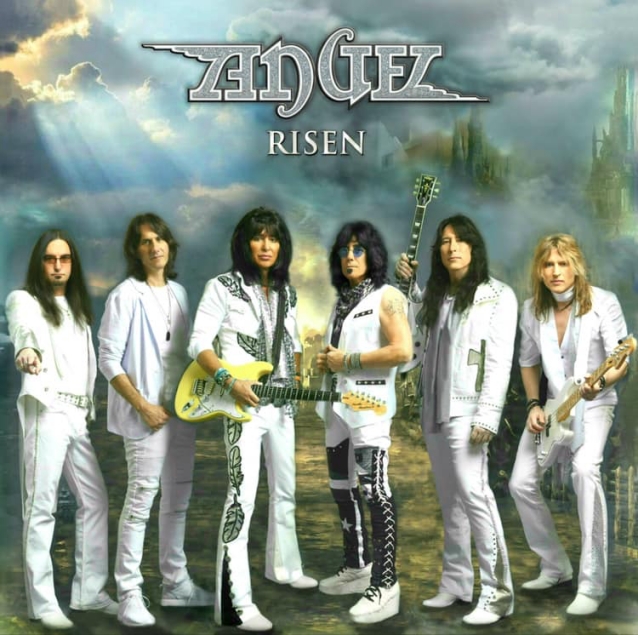 Okay, I was admittedly disappointed Gregg Giuffria, probably the most successful and well-known man to come out of the Angel camp; known for his eponymous 80s group and the spin-off band, House of Lords, wouldn't be playing on this release. However, he's no longer active in the music world for the most part and is a successful and quite prosperous businessman in his own right; so I can't say this comes as a shock. But with a solid lineup including two classic guys from Angel, and two members of Meadows' solo band, I came in here optimistic.
Vegas Native
I've seen Frank DiMino live in concert many a time; (like me, he resides in Las Vegas) and he's definitely got one of the most unique voices in the business. He and Meadows' recent solo albums both took the title of "Album of the Year" for me in their respective release years; and it's especially great to have them both in the same band again rather than just guesting on each other's solo projects. At a whopping 17 tracks, the record is definitely on the long side and perhaps a bit excessive… but going "all in" and overboard is what Angel's always been about. (Don't believe me? Click this link and listen to their 70s concert loudspeaker intro introducing the individual band members. You'll laugh. And smile. And you'll thank me for telling you about it.)
Releasing an album of a full-on 17 tracks to keep my attention isn't an easy thing to do. But I'm pleased to announce this release from the new version of Angel doesn't only succeed in that regard; it's one of my favorite albums of the year! This definitely sounds and feels more like a classic Angel record than In the Beginning 20 years ago did; which was more like Led Zeppelin-esque hard rock. The heart and soul of Angel is here in Meadows and DiMino, and even without Gregg Giuffria, the keyboard-tinged elements which defined the group's classic sound return. The release also incorporates musical elements and sounds from their solo albums; (no surprise considering Meadows' backing band is represented in two musicians here).
Chemistry!
What's most impressive about this release is the chemistry between Meadows and DiMino is every bit as strong as it was in the 1970s. And believe me, that doesn't last forever with every single dynamic duo in the music world. This is a twosome reuniting putting out some of the best music of their career. It's so rare to see classic artists reunite and recapture the thunder that made them such a strong team in the first place. In this new incarnation of Angel, Mr. DiMino and Mr. Meadows prove themselves more than capable. Punky's riffs and Frank's unique lead vocals dominate on every track.
Perhaps the most pleasant surprise is the reintroduction of keyboards into the band's sound. Even without Gregg Giuffria, keyboardist Charlie Calv proves himself to be a "missing piece" of sorts, who gives the songs a much-needed atmosphere. The rest of the group is surprisingly solid, and while I would loved to have seen more of the classic band members around (bassist Felix Robinson guested on Meadows' solo album in 2016), it doesn't change the fact that these guys sound amazing.
The songs
Okay, the band chemistry is good and the individual members are talented, But, how are the actual songs on here? It feels like a mash-up of the Angel of old, and what we heard on the Meadows and DiMino solo records, as well as a few things that manage to feel simultaneously new and familiar at the same time. There are the more commercial pop-oriented tracks the band was known for on their latter albums from their heyday, guitar-intensive rockers, slow-paced ballads, AOR-style tracks, and to top it all off, even a re-recorded version of Angel's original 1970s epic, "Tower" (which is listed as a bonus track). While I wouldn't say every single track is an instant classic (tough to pull that off when you've managed to record a whopping 17 tracks), it's an amazing record that never runs out of steam.
Highly Recommended!
Frank and Punky, along with their new bandmates, don't fail to please with the release of Risen, easily the best release under the Angel name since the group's classic heyday. Very highly recommended!