Knives Out is directed by Rian Johnson. The film stars Daniel Craig, Chris Evans, Christopher Plummer, Jaeden Martell, Ana de Armas, Jamie Lee Curtis, Michael Shannon, Lakeith Stanfield, Frank Oz, Katherine Langford, M. Emmet Walsh, Noah Segan, K Callan, and Toni Collette.
Intro
Wealthy mystery author Harlan Thrombey dies under mysterious circumstances following his crowded 85th birthday party; prompting police to question those in attendance. Following a highly eventful and turbulent night, with many different interpretations of what happened; the police bring in a specialist, Southern detective Benoit Blanc. As the hours and the questioning goes by; it quickly becomes clear there's more to the events at hand than meets the eye!
It's hard to make a good murder mystery film, and not surprisingly, not many filmmakers even attempt them anymore. That's part of the reason director Rian Johnson's Knives Out comes as such a breath of fresh air. The movie combines a brilliant premise with an A-list ensemble cast, witty writing, a memorable setting, and everything in between. In fact, it's one of my favorite movies of the year!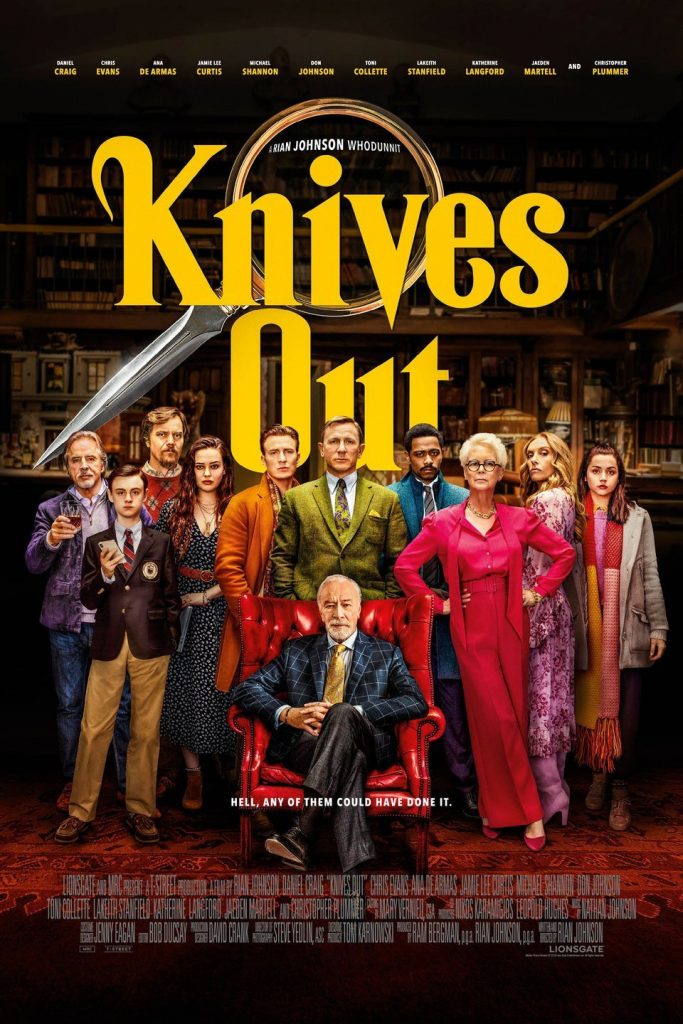 Good things about the cast
Not enough good things can be said about the cast; who all prove they're more than up for the acting a film like this requires. The cast includes Christopher Plummer as the ill-fated mystery author; Ana de Armas as his hired nurse; Chris Evans as a black sheep of the family fed up with his relatives; Michael Shannon as the man who runs his father's publishing company; Daniel Craig as a detective pulling off his best Southern accent, and Jamie Lee Curtis as a real estate entrepreneur. There are also a handful of surprise appearances as well (where have you been all these years, M. Emmet Walsh?) Everyone is cast perfectly for their parts, and you'll agree when you watch it. The chemistry and the back-and-forth banter between everyone gives the film a unique atmosphere.
Murder mysteries are nothing new, but they're a rarity in the movie industry today; one of the many reasons I was so eager for Knives Out. The premise is simple yet has its share of red herrings, plot developments, intricacies; and reason enough to keep an eye on everyone. Everything builds on everything else, and you simply don't know what direction the film will go in next. The plot twists are shocking and surprising, but always feel appropriate.
Old fashioned settings
The majority of the film is set in the old-fashioned Thrombey Mansion; which practically becomes a character in the movie unto itself, with its antique decor and striking setpieces. If you're going to make a murder mystery movie, this is totally the setting to do it in.
The minor flaws holding the movie back are an overlong 130-minute running time; and a few too many characters to keep track of (Jaeden Martell of It fame; for example, feels more like a glorified cameo). These are issues which could have been remedied with tighter editing, but they certainly don't ruin the film.
Needed for the audience!
Knives Out is something audiences have needed for a long time; and it's fantastic to get a murder mystery for the first time in who knows how long; let alone one brilliantly directed, set, and acted alike. It's one of the best times I've had at the movies this year; and if you're in the mood for one, you're bound to agree.
Rating: Three-and-a-half stars out of four.
DISCLAIMER: All images in this review are the property of their respective owners, including MRC, T-Street, and Lionsgate. For promotional use only. All rights reserved.