This film was not screened for critics in the Vegas Valley.
A Beautiful Day in the Neighborhood (hereafter simply referred to as "Beautiful Day") is directed by Marielle Heller. The movie stars Tom Hanks, Matthew Rhys, Susan Kelechi Watson, and Chris Cooper. The film is based on a true story involving Fred Rogers being interviewed by journalist Tom Junod. This film is not to be confused with "Won't You Be My Neighbor"; a documentary on Rogers which was released last year.
In the late 1990s, Lloyd Vogel is a hard-edged journalist who has a difficult time working with people; and his reputation is anything but positive. Juggling his work life with his relationship with his wife and infant son is no easy task. Against his wishes; his employer assigns him to do an interview with Fred Rogers for an upcoming series of articles on heroes. Vogel also suffers from a difficult childhood relationship with his father; which makes his day-to-day life a challenge, especially when his father unexpectedly returns to his life. Will Vogel succeed in completing his article, as well as patching his life up?
Not what it seems
Let me get out of the way; from what other critics are doing in their reviews; and because the advertising for the movie may give people the wrong impression – This film is NOT a Fred Rogers biopic. Rather it's focused around another man's life and struggles; and its emphasis is on a brief moment in time in which this man interviewed Fred Rogers; with the two forging a bond. People going in blind or attending the movie based on what they see in the advertising spots won't be getting the movie they expect.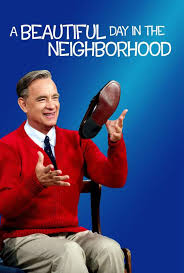 I wish the advertising campaign and promotional materials had been a little clearer as to what the movie is… because it's a damn good one! Tom Hanks steals the show as Fred Rogers; he's apparently become the go-to guy for biopics these days; capturing the classic television personality's gentle and friendly nature; interacting with an unlikely leading man suffering through his own personal hell. While not every single element of the movie works, it's still a damn good one. Viewers who go in with their expectations in check will be genuinely moved by what they see unfolding on the big screen.
Production
The overall production of the movie was one of the most pleasing aspects of the movie. It's even bookended like an episode of Mister Roger's Neighborhood;with Hanks' Rogers introducing the Vogel character to the audience in a style befitting the real Rogers; and the way he made his television series. Miniatures similar to those on the show are used for cityscape shots and other vehicular shots; (taxis crossing a bridge, airplanes taking off, etc.), giving the movie a tone and a look all its own. Many shots were even shot in a standard television ratio and in a lower-grade "video tape" format to recreate the look of the era. Hanks is even digitally inserted into vintage archival footage of Rogers; (not unlike what was done in another Tom Hanks classic, Forrest Gump) which further completes the unique vision of the movie.
Hanks steals the show!
Although this is more the Vogel character's movie than Hanks' Rogers', Hanks steals the show with his performance here. Mister Rogers is a man who had an impact of generations of people during his life; and it's clear to see Hanks did painstaking research to turn himself into the iconic mediator for this film. While no one will ever look and sound exactly like Fred Rogers, Mr. Hanks comes about as close as you can get short of full-on plastic surgery and operations.
He makes the character likable throughout; and his interactions with Vogel are the highlight of the film; in that the two men couldn't be from more different worlds; yet they end up slowly and steadily forging a relationship of sorts. Beautiful Day is a tearjerker at times; but unlike other movies with manufactured and manipulative drama, this one earns your tears. It's a labor of love in more ways and one.
A strong supporting cast and painstaking recreations of elements like the Mister Rogers' Neighborhood sets and puppets makes the process feel all the more authentic. One of the standout performances in the movie comes from the always reliable Chris Cooper as Vogel's father; a man who cast himself outside of his son's life following his own misdeeds for which he seeks redemption. While Vogel and Rogers are the emphasis here, the secondary and even tertiary cast members handle their jobs well enough. Put simply, no one feels miscast.
Critiques
There are only a few elements of the movie which didn't work for me. One scene of a "hallucination" of sorts involving Vogel on the set of Rogers' television series; in which he's in Rogers' "Land of Make Believe"; felt surreal and out of place, like it belonged in a different film. Likewise, the Vogel character comes off as too unsympathetic for nearly the first two thirds of the movie. I understand it's a story of redemption; (and there are probably limits to how much the story itself can be changed for Hollywood audiences); but I wish there had been some more effort to make the character likable earlier in the movie.
Beautiful Day is a beautiful movie. Hanks becomes Fred Rogers, in one of the best performances of his career. Memorable production, design, performances, and a touching story of loss, heartbreak, and redemption all come together perfectly; although the film isn't exactly the one audiences will likely think they're getting. An absolute gem of a film which comes highly recommended, but make sure you know what you're getting going in.
Rating: Three-and-a-half out of four stars.
DISCLAIMER: All images in this review are the property of their respective holders, including Sony, Trister, Tencent, and Big Beach. For promotional use only. All rights reserved.