Destroy All Humans is the latest release from Bong, the Vegas-based band featuring drummer Michael Maysonet and an ensemble of some of the most talented rockers in Sin City.
No one can deny the City of Las Vegas has no shortage of superb rockers, and Bong is one of the groups of recent memory taking the city by storm. Ever since I became an active concertgoer in Las Vegas, drummer Michael Maysonet is someone who's always left an impression, not only behind the drum kit, but behind the art desk as well. The latest release from Bong, Destroy All Humans, not only features Maysonet's drumming, but he also created the artwork for the release as well! The album also features a guest appearance from keyboardist extraordinaire Michael T. Ross (Lita Ford Band, Hardline, Raiding the Rock Vault).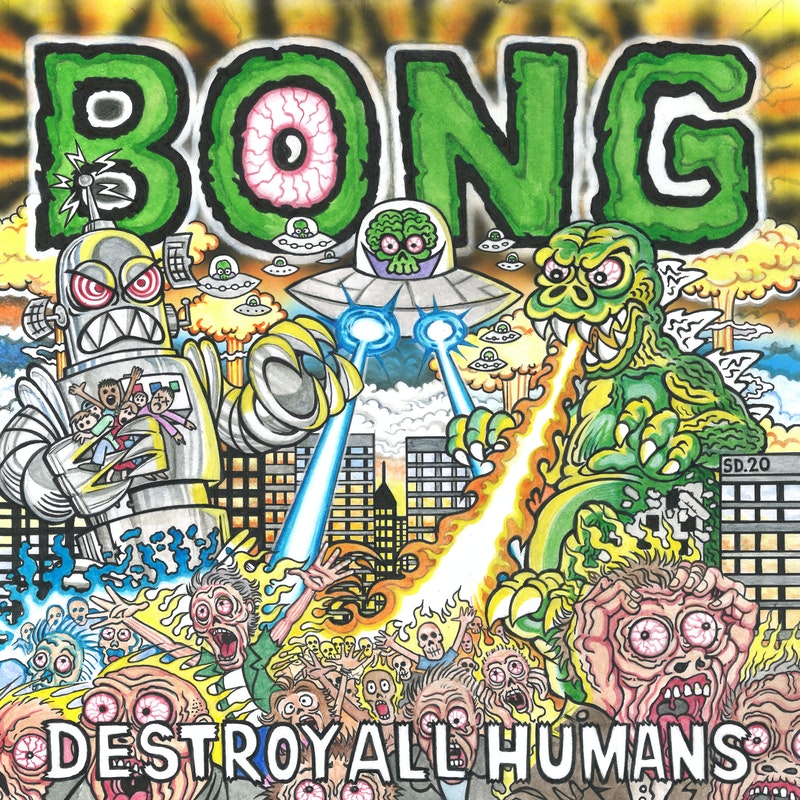 The group is one that's hard to classify because the influences come from all over the place, but let's just say that's a good thing. This "melting pot" of rock and roll continues to wow this headbanger, and it's no surprise the group continues to leave a lasting impact on fans here in Sin City. Destroy All Humans continues the group's foray into who knows how many different sounds. This record is a lot of different things, but boring is never one of them. In terms of style, I would liken what I hear on most of the record to classic 90s Stone Temple Pilots, but even that would be far too narrow of a generalization for how many diverse sounds the group crams into a mere 30-minute CD. If there's one complaint it's that it's over too quickly, but I'm sure we'll be getting more releases from these guys down the road!
You'd do well to check out Bong if you want a kick-ass rock and roll experience with elements from all over the place (in a good way). Support local Vegas rock, and don't hesitate to pick this one up.