Ordinary Man is the twelfth studio album from Ozzy Osbourne.
What a long, strange ride it's been for John Michael "Ozzy" Osbourne over the past half century! One of rock's most entertaining and controversial figures continues to entertain around the globe, and his popularity hasn't diminished. From Black Sabbath to his solo career, the legend of Mr. Osbourne shows no signs of letting down.
Ordinary Man is the twelfth studio album from Ozzy Osbourne, released in February 2020. It's his first solo album since 2010's Scream, and first recorded work since the Black Sabbath album 13 back in 2013. In recent years, Osbourne has faced several health scares, and has been forced to cancel tour dates. While Ordinary Man hit stores back in February, I admittedly didn't get around to hearing it until much later. Better late than never, I guess!
The album is produced by Andrew Watt, who also handles the good majority of the album's guitar work and much of the other instrumentation (guitarist Zakk Wylde, though still technically a part of Ozzy's solo/touring band, does not appear on the record). Musicians appearing on the album include Duff McKagan, Slash, Chad Smith, Tom Morello, Elton John, Post Malone, and Kelly Osbourne.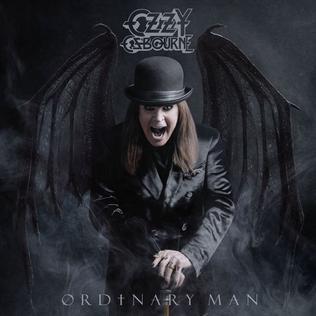 I had to do my research when reviewing this album, and was shocked to find that this was the first solo album Ozzy Osbourne had recorded and release in a decade! Admittedly, I haven't found any album since Ozzy's 1991 opus No More Tears to be a great record, though there still have been some songs that have stood as highlights in that time. How does Ozzy fare with his twelfth album, and is it one that restores the Prince of Darkness to his former glories?
Ordinary Man isn't a concept album or a rock opera or anything like that. But if there's one prominent theme present throughout the album (albeit not on every single track), it's Mr. Osbourne coming to terms with his mortality, and how his rock and roll journey, not to mention his life at large, will inevitably come to an end one day. It's a fitting elegy with more hits than misses, and even if it doesn't quite reach the heights of Osbourne's glory days, it's easily his best and most consistent album since No More Tears, nearly three decades ago. The record manages to deliver ten solid tracks (plus one bonus cut we'll get to later) and it entertains far more than it doesn't.
Yes, this is largely an elegy from Osbourne about the inevitable end of his road. But that doesn't stop him from retaining his signature sense of humor, even in old age. Sure, there are melancholy songs regarding the inevitability of death, but the Ozzman still finds time to crack fun at subjects like cannibalism, alien invasions, and defecation. It wouldn't be an Ozzy album without his humor, would it?
The record includes plenty of highlights. The title cut is a duet with the legendary Elton John (himself a musical artist that's seen his own share of horrors and falls from grace), and it works far better than you'd expect. Opening cut "Straight to Hell" is a fantastic rocker that gets the audience's attention from the very beginning. "Under the Graveyard" is a melodic rocker I couldn't picture anyone but Ozzy performing. And while cuts like "Eat Me" and "Scary Little Green Men" don't fit with the album's overall theme (if there truly is one), there's no denying they're pure Ozzy. "Holy For Tonight" fits the album's mood perfectly, and shows how musically diverse and melodic Mr. Osbourne can be. Closing cut "It's a Raid," featuring a guest appearance from Post Malone, is a great fast and frantic rocker that closes things out in fine form. If there's one minor complaint, it's that the album is a bit overproduced at times, though this could be more attributed to modern-day production techniques than a deliberate decision on Osbourne's part.
The CD and digital releases include one bonus track: The Post Malone song "Take What You Want;" a collaboration between the two that predates their collaboration on this record, also featuring Travis Scott (not to be confused with Judas Priest drummer Scott Travis) also appearing. This song doesn't really fit in with the album (seeing as how it's a Post Malone track featuring Ozzy Osbourne and not the other way around), but since it's more-or-less a bonus, that's no big deal. (Note that the vinyl LP does not include the bonus track, but the digital download code includes with it does.)
Ordinary Man is the best Ozzy album in 30 years, and that's no small feat. The record won't replace Ozzy's golden years, but it's still an impressive piece of work sure to make it into my top releases of 2020 when the time comes. If this is his final album, it's a damn good piece of work to go out on (though he's supposedly began work on another album with Andrew Watt, so we'll see!) Highly recommended.