Renegades releases on Friday, November 13, 2020. It's the first album from the Steve Riley version of LA Guns, and thirteenth overall studio album done under the name LA Guns.
LA Guns probably has the most turbulent history of any band of the last four decades when it comes to the sheer away of band members and different incarnations. There was the original version of the band that existed prior to releasing any albums, which was partially spun off into Guns N Roses. There was the reformed "classic" version of the band who released their first few studio albums, who is the best-known incarnation. Years later, there were separate Phil Lewis and Tracii Guns versions of the band (with drummer Steve Riley in Lewis' incarnation). Then, Tracii and Phil reunited into a new version. After that, classic drummer Steve Riley put together HIS new, separate version of the band.
Does your head hurt yet?
Mine does too, but that's not the purpose of this review. LA Guns history is a turbulent tale, and one we surely haven't heard the last of. The Lewis/Guns incarnation of the band that currently exists released two kick-ass studio albums. The Missing Peace, and The Devil You Know, which rank amongst the strongest albums in years done under the band name.
But… what of THIS version of the band?
Steve Riley's LA Guns, of course, features classic drummer Steve Riley on drums. It also includes fellow classic LA Guns member Kelly Nickels on bass. Rounding out the lineup are Underground Rebels vocalist/guitarist Kurt Frohlich, and lead guitarist Scott Griffin (Griffin was previously a member of the Phil Lewis version of the band several years ago, but was a bass player, not a guitarist, for that incarnation).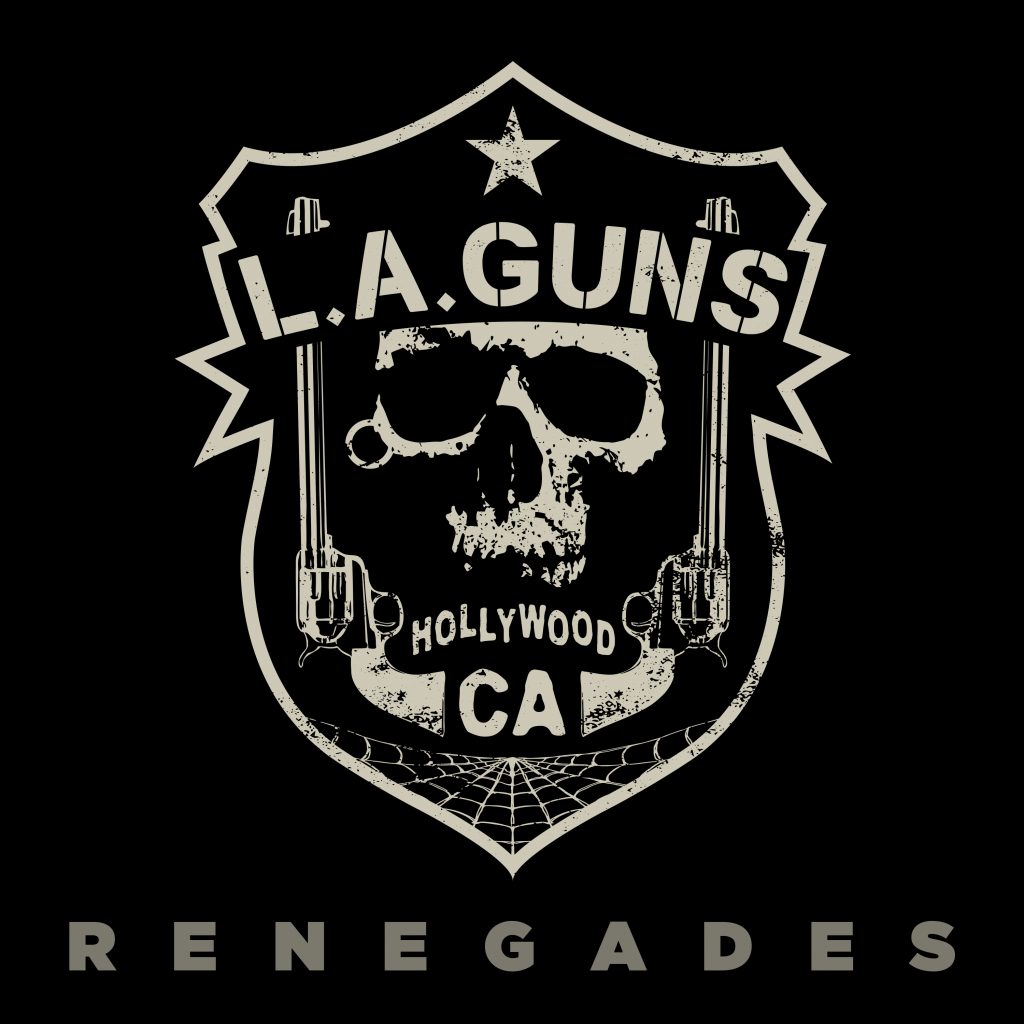 With Renegades, the lineup of the band combining the talents of Riley, Nickels, Griffin, and Frohlich finally gives us their first studio album of original material. I'll be the first to admit I thought the world didn't really need yet another version of LA Guns, but I won't for one second deny the talent of the quartet in question. Scott Griffin has been a long-time Vegas resident, and I've been watching him perform out here for years in bands like the Sin City Sinners and its spin-off act, Sin City Rejects. Frohlich too was a longtime Vegas mainstay for many years, having sang for the Underground Rebels, another fantastic group. The competition is fierce, with the other incarnation of the band reuniting Guns and Lewis. But how is the Renegades album?
I'll be honest. When I first gave this album a listen I didn't know what to make of it. While the Guns/Lewis incarnation of the group went back to the classic hard and heavy sleaze rock of the band's glory days, Renegades is a whole different animal altogether. This album opts for more of a power-pop/hard rock hybrid, having more in common with Griffin's work with the Sin City Sinners than with any older LA Guns material. But if you've ever had a chance to see any Sin City Sinners shows out here in Vegas, you know that's not a bad thing. I will confess; I do borderline prefer the Lewis/Guns incarnation's pair of studio albums to this one, largely because those stay true to the roots of the LA Guns name, but I'm not denying for one second that Renegades gives the listener some kick-ass power pop and hard rock, and you'll be glad to know the past influences aren't totally gone either.
I came into Renegades expecting an LA Guns album. After all, it includes the classic band's rhythm section plus one of the greatest members of a not-so-long-ago incarnation of the group. What I got instead was what sounds far more like a lost Sin City Sinners album. And that's not a bad thing! Many of these songs actually sound like they were written with Todd Kerns (the Sinners' former vocalist/guitarist who went on to join Slash's band) in mind. Everyone brings their A-game to this release, but the surprise standout player on the release is vocalist Kurt Frohlich, ironically the one band in this quartet who had no prior direct ties to any earlier version of LA Guns. His vocals allow for plenty of musical diversity, from slow rock ballads and anthems, to the gritter hard rockers. Scotty Griffin trades in his bass for a lead guitar, and he proves he can rock either axe with the best of them. From those slow-paced anthem/ballads like "You Can't Walk Away" to the gritty rock and roll of "Witchcraft" and "Lost Boys." I had my doubts about having yet another (how many does this make now?) version of LA Guns. But these guys tried something totally different and the gamble actually paid off. Sure, it's got more in common with the Sin City Sinners' hybrid of power pop and hard rock, but that's hardly a deal killer. Both LA Guns bands sound totally different, and I'm glad to see this one didn't simply mimic the other one or just go for nostalgia. The result is surprisingly effective.
Renegades is a surprisingly effective power-pop/hard rock combination, giving audiences the lost Sin City Sinners album they never know they wanted. As long as you don't come in here expecting a retread of the LA Guns days of old (there's another LA Guns band that does that well enough), you shouldn't be disappointed. Don't overlook this one!