STEALING CHAPLIN is directed by Paul Tanter. The film stars Al Sapienza and Simon Phillips.

Two down-on-their-luck British brothers living in Las Vegas are deep in debt to mobsters following gambling gone awry. With a deadline ticking down, they need to hatch a scheme to get money quickly. Upon discovering Charlie Chaplin, the legendary film star, is buried in Las Vegas, the two launch a hare-brained scheme to dig up his body, with the intention of either selling it or claiming the reward money. But when the story becomes a headline and the focus of countless sources of publicity, the duo quickly realizes they're in over their heads!

Whenever I hear about independent films being filmed in Las Vegas, I'm always interested, being a lifelong resident of Sin City. Not surprisingly, it's a great place to film, and this odd hodgepodge of fact and fiction certainly made for something that sparked my interest. STEALING CHAPLIN puts a fun fictional twist on the legendary story of Charlie Chaplin's body being stolen. The two leads and hilarious and likable throughout; they make the movie. Other sequences don't fare quite as well, but I won't deny that it's an entertaining film and one that's certainly worth your time. In many ways I found the movie to be reminiscent of the Coen Bros. classic FARGO – and I mean that as the utmost of compliments.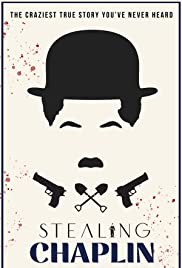 The Las Vegas scenery is great, but what truly makes this movie fantastic is its two leads. The over-the-top dialogue and scheming for them is what STEALING CHAPLIN will truly be remembered for. Whether they're coming up with a scam to get money to pay off who they're in debt to, or one of them is ranting to the other resulting in some hilarious arguments and snarky comments, there's no denying these two steal the show. I'd gladly pay full price for a ticket to see these two together in a movie again. Sequences with the brothers together are the best the film has to offer by far, making it all the more interesting with many factors threaten to put a wedge between the two. You haven't lived until you've heard one of these brothers debating what a "silent" film truly is, and if Charlie Chaplin's films meet the criteria. It must be seen and heard to be believed.

The film also jumps back and forth between comedic and dramatic/gritty territory, with the movie accompanied by Charlie Chaplin quotes that suit the matters at hand in the film, and even an omnipotent narrator. You know the film doesn't take itself too seriously when even the narrator is calling the two main characters morons, although I mean that in the best (and most hilarious!) of ways.

Unfortunately, other scenes in the movie, in particular those lacking the brothers, don't fare quite as well. We get stereotypical mobsters who feel like they could've been in any other movie (though I won't deny the actors here play them well), and brief but largely unnecessary police department scenes, and the obligatory "corrupt cop" subplot, which in this case really doesn't amount to much. Put simply, the brothers are the heart and soul of STEALING CHAPLIN, and when they're not on camera, the movie does have a tendency to descend into slightly more generic territory. For a movie that clocks in around 105 minutes, we do get a few too many characters and subplots, although this fan won't deny the actors hired to play these parts do them well.

STEALING CHAPLIN is worth your time, even if it does tend to suffer and slow down a little when its core brothers aren't on screen. Over-the-top and zany while still retaining some degree of grit and drama, it truly must be seen to be believed. Strongly recommended!

Rating: Three stars out of four.