Enuff Z'Nuff and Jeff Carlson Band played Count's Vamp'd on Friday, August 6, 2021.

Rock and roll is alive and well here in Las Vegas, even with the current crises facing the world. This is a city that will never stop rocking, and the action both on and off the stage on this night is proof enough of that. Enuff Z'Nuff has one of the best reputations of classic bands to originate in the 1980s. On the Vegas scene, the Jeff Carlson Band continues to grow in popularity, with a growing number of original songs. As a rock and roll fan, I knew this was a double bill I wouldn't be missing!
This was only my second live music show since the pandemic currently inflicting our world started (the first was Junkyard the previous weekend, also at Vamp'd), and despite widespread fears and paranoia from the current state of the world, plenty of people showed up at Vamp'd to rock out. This was a respectable turnout, and it definitely impressed this rock and roller by how many people are still willing to come out and support live music despite it all.
Jeff Carlson Band.
The Jeff Carlson Band (the frontman is not related to the guy writing this review) has been rocking Vegas for several years now. Prior to this night, I'd only seen them live one other time. I'm pleased to say that these guys are still kicking ass on the live stage, and with the release of their full-length album, YESTERDAY'S GONE, they've established themselves as a staying presence on the scene here in Vegas.
The group rocked the audience hard. Judging by how many people were in attendance wearing Jeff Carlson Band shirts and singing along to their songs, it's clear this isn't another "flash in the pan" scenario as it is with many other local groups who come and disappear without a trace or explanation.
This was a spirited and energetic set with some great original tunes, and the closer was a cover of the Foreigner classic, "Juke Box Hero" (according of Jeff's commentary between songs, the group recorded a cover of it with Tesla's Frank Hannon on guitar). A great opening set, and I look forward to seeing JCB doing their thing more over the coming years!
Enuff Z'Nuff.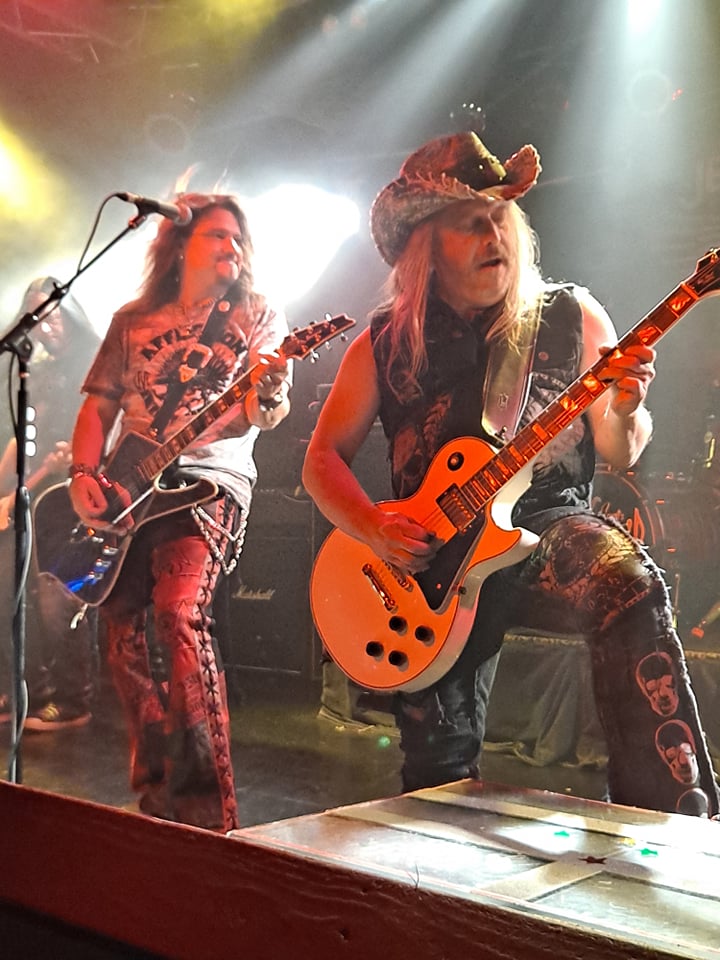 Following JCB's set, of course, was headliner Enuff Z'Nuff! Releasing their debut album back in 1989, the group was often lumped under the "hair band" umbrella with so many of their musical contemporaries, but the group had a power-pop sound more influenced by groups like The Beatles and Cheap Trick. This made for a truly unique sound, with that album spawning the hits "New Thing" and "Fly High Michelle."
Even as music industry trends changed, the group continued to record; they've got roughly 15 studio albums of material out which is a remarkable feat for anyone from their era. Bassist Chip Z'Nuff is the one remaining member from the group's classic lineup, having also taken up the mantle of lead vocalist as well, much to everyone's surprise!

Enuff Z'Nuff is a band that never does anything the "normal" way. Their intro when they took the stage even had comical old-fashioned "circus" music playing over the speakers! It didn't take long to see that the current incarnation of the band, Chip on bass/vocals accompanied by two guitarists and a drummer, could do justice to this extensive catalogue of material. These were all spirited renditions. Although I won't deny having a fifth member of the band playing keyboards would've been a nice addition; there were pre-recorded samples of sorts used for the songs that required them.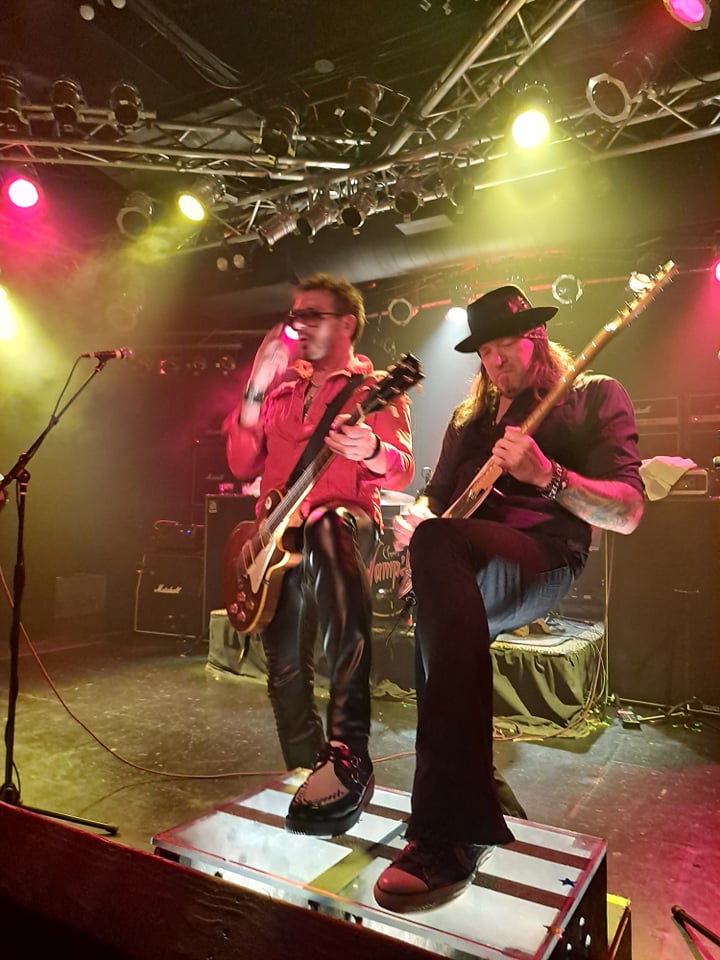 Feel of the Evening.
The "between song" commentaries from Chip were hilarious and enlightening alike; it's good to see the current version of the group has chemistry and personality alike. At one point Chip made a remark about how there are over 300 Enuff Z'Nuff songs on Spotify, leaving him to remark that there were so many songs and so little time to choose a handful of them to play on stage.
The setlist was surprisingly diverse; starting with a cover of The Beatles' "Magical Mystery Tour" (apparently the band is releasing an album of all Beatles covers) and pulling from releases that included their 1989 self-titled debut, 1991's underrated sophomore album STRENGTH, the more recent DIAMOND BOY album that featured Chip on vocals, and plenty in between from the countless other releases the group has put out in varying incarnations. Some of the most impressive portions were the instrumental sequences. There were the obligatory hits "Fly High Michelle" and "New Thing" from the first album played to close things out.
Missing Songs and the After Show.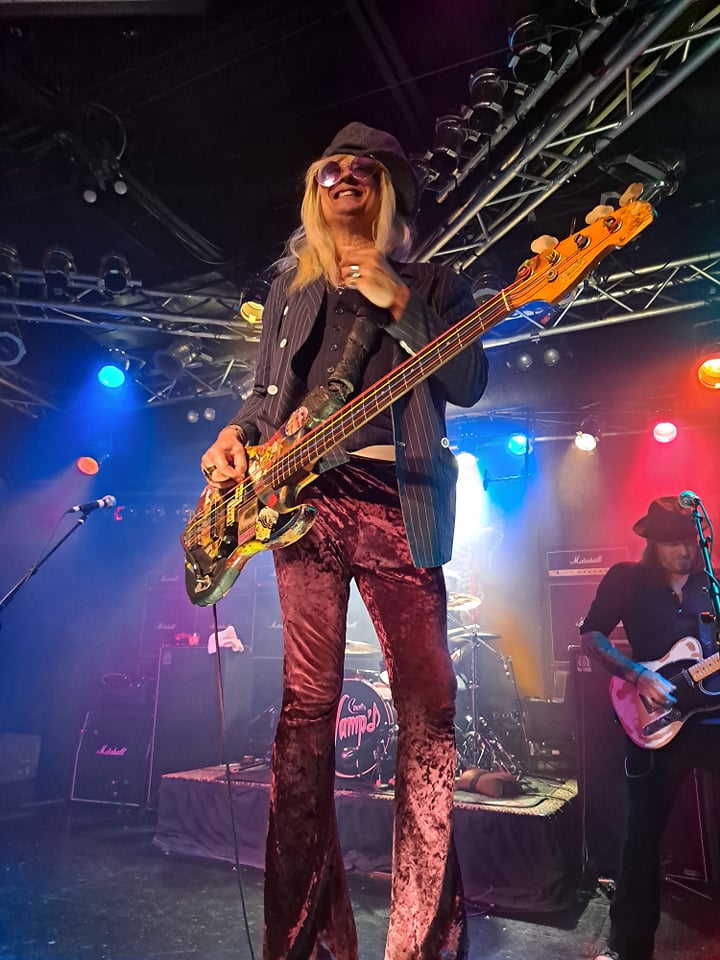 As with any show from a band that has a huge discography, there are bound to be omissions. The tracks I would've loved to hear that sadly didn't make the cut for this gig were "Hot Little Summer Girl" and "She Wants More" from the 1989 debut, and the classic demo track "Rockabye Dreamland" that finally saw the light of day a few years ago on the CLOWN'S LOUNGE album; the song is as strong as anything that actually made the debut record. Following the gig, Chip was quick to rush to the merch table to sign autographs and take pics with the fans in attendance.

Enuff Z'Nuff is still going strong in their current incarnation. The opening set from Jeff Carlson Band only sweetened the package. It's great to see rock is alive, and this night at Vamp'd proved that point in many ways. You definitely owe it to yourself to catch either band if you have the chance. Keep live music alive!
All photos in this review taken by David Childers. Used with permission.