The Punks are Back in Town!
First of all, I can't even tell you how excited I am to be out covering events again. And Punk Rock Bowling (PRB), is one of my most favorite things I look forward to photographing every year.
With that out of the way, lets run down some of the night! Punk Rock Bowling is doing some things different this go around. Designated COVID testing/vaccination checks were surprisingly very easy to find, and that process went very quickly. I was fully prepared for some delays, but there were none, which took away some stress as far as time is concerned. Anyway, I've never had the priviledge to cover a PRB club show and here I am! This year the photographers are running in shifts, and my shift for tonight was the two openers on the Fremont Country Club stage. Opening for Dillinger Four and Teenage Bottle Rocket; I had the pleasure of shooting The Uppers and Get Dead.
The Uppers
The first band to hit the stage were The Uppers, from St. Louis. I could not find anything about these guys other than their Instagram and bandcamp pages, but that's okay. They opened up the evening very well and definitely got the crowd amped up. By the end of their set, pretty much the entire Fremont Country Club floor was filled with people. I can't remember the last time I saw that place THAT lit up!
Get Dead
Next up were Get Dead from the Bay Area in California. I really like how these guys opened up their set. The singer could be seen messing with an electronic device near his feet. It makes sense now that they label themselves as electronic punk rock. (I don't always research the bands that I get to go out and see, sorry hah.) BUT, I did really, really like these guys. The energy reminded me of Throw Rag, actually. Who, I also saw on this same stage in 2017 at the PRB Kickoff for that year. Get Dead are a bit more aggressive though, and I dig that. It was about the middle of their set when I realize I could no longer easily roam through the room…. this is a good thing!
Predictions?
It's looking like it's going to be another quite successful event! After almost two years of virtual shows people are ready to get back out there and into the circle pits. (Or if you're like me- the photo pits!) Prepare for some long lines this go around, as everything going on this weekend is sold out. BUT, don't let that stop you from letting loose and having some fun.
Stay safe! See you all on the main festival grounds and at the after parties!
For ALL your Punk Rock Bowling information, head on over to punkrockbowling.com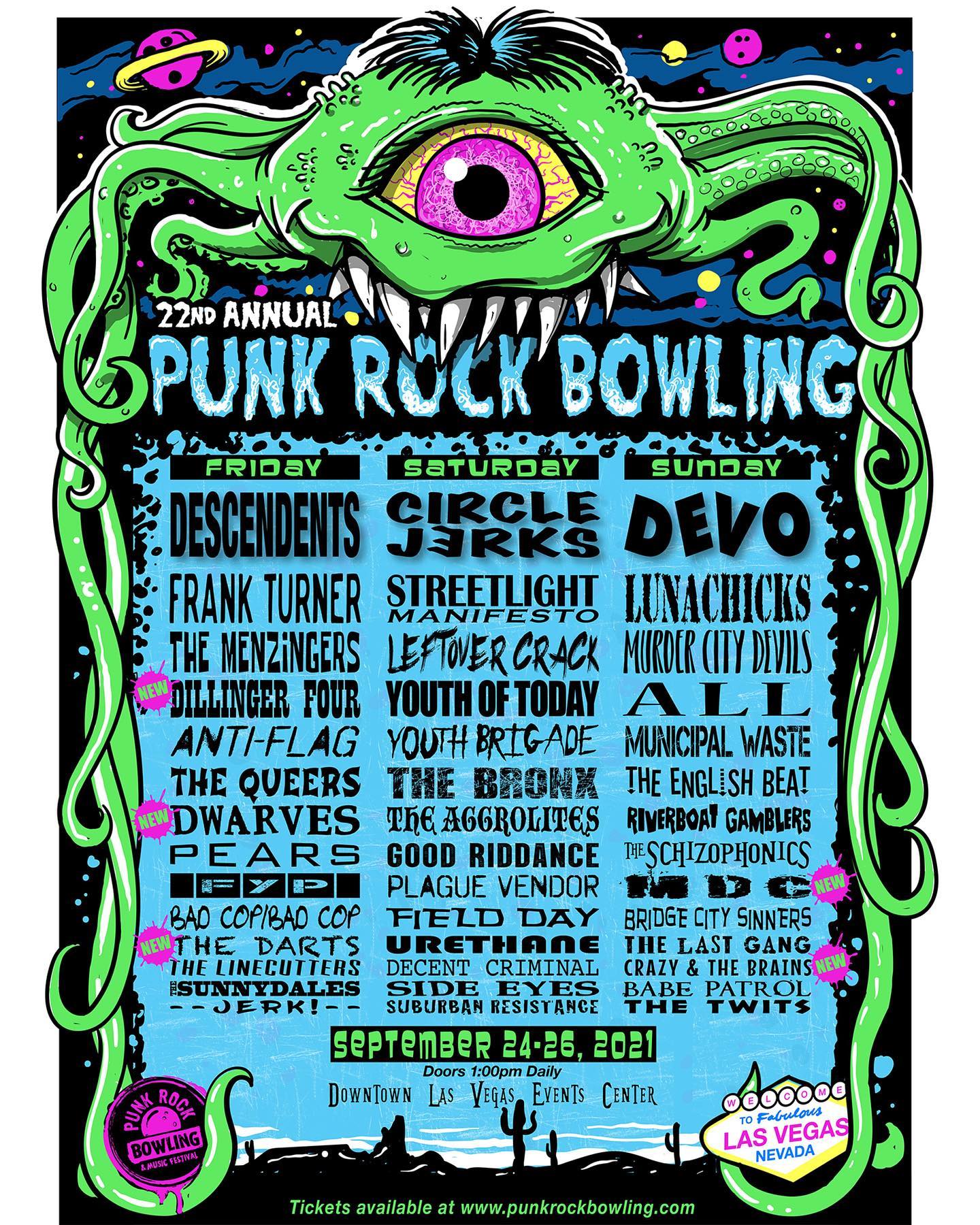 All live photos by Courtney Ware for ZrockR Magazine 2021, ALL RIGHTS RESERVED.