An Evening With Bruce Dickinson took place at the House of Blues inside Mandalay Bay in Las Vegas on Saturday, March 12, 2022.

Bruce Dickinson catapulted himself into heavy metal stardom with Iron Maiden in the 1980s, going on to front the group on some of the world's biggest stages and selling several million records, in addition to a solo career on the side. But the artist formerly known as Bruce Bruce isn't content to just "call it a day" when it comes to being a rock legend. He's become a pilot, a fencing champion, a cancer survivor, and plenty of other things. Mr. Dickinson is a man of the world, and certainly more than just a heavy metal singer.

When I heard Bruce Dickinson was launching a spoken word tour, I was immediately skeptical and curious in equal parts. What would he be talking about for three hours? Would people seriously be willing to pay and go see him speak, and would he deliver? I was pleasantly surprised that my brother purchased me tickets for this event for Christmas, and being a headbanger and a true Maiden fan, I eagerly awaited the day that this would happen. Wanting to be surprised as to the subject matter of the event, I even held off on looking at any other press, reviews, or reports regarding the event.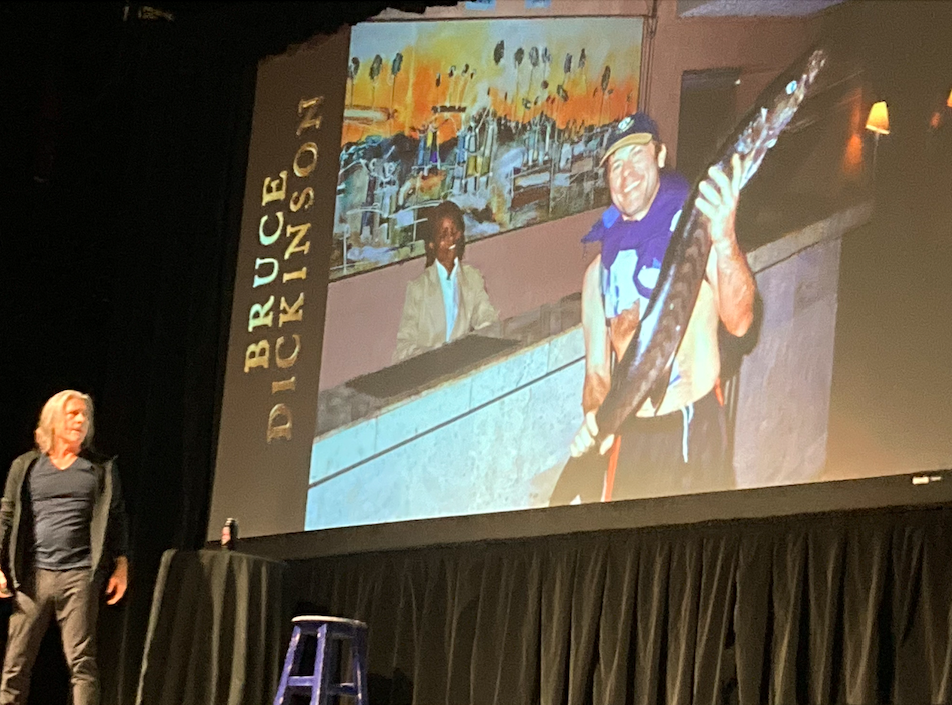 This was my first time seeing an event at House of Blues following the beginning of the pandemic in the modern world, and I'm pleased to see that very little has changed for the most part. It's still the same old mid-sized venue, able to pack in plenty of people. The locale can accommodate more people than the "rock bars" here in Vegas, though is still significantly smaller than an arena (although Mandalay Bay has one of those, too, where I've seen Bruce rocking the stage with Maiden on two occasions).

Two minor unpleasant things I have to get out of the way prior to delving into my review/comments on the show. Firstly, the people running the event made the absolutely bone-headed move of opening the security checkpoint to open the venue… without actually opening the venue entrance. HOB typically has an area outside the venue's entrance cordoned off which people pass through after the security checkpoint but prior to actually entering the venue itself; this area is typically used for merch booths and the like. As such, the area was immediately overcrowded and congested. There's no excuse for herding a bunch of people into a small space like this. If you're going to open the security checkpoint, open the venue entrance. Don't trap a bunch of people in a crowded space.

The other issue is that there was a small table outside the venue prior to entering in which people could write down a question Bruce would answer during a portion of the show. The problem here is that this process was never clearly explained. Due to the aforementioned overcrowding of the cordoned-off area outside the venue, people couldn't get to this table nor was the process explained property. Again, had the security checkpoint and the venue entrance opened simultaneously, this probably would've gone smoother and been explained better. It's also worth noting that the advertised start time was incorrect; the show was supposed to start at 6:30 but didn't until 7:30. These tickets/advertisements/etc. need to make it clear what's the "doors open" time and what's the event start time.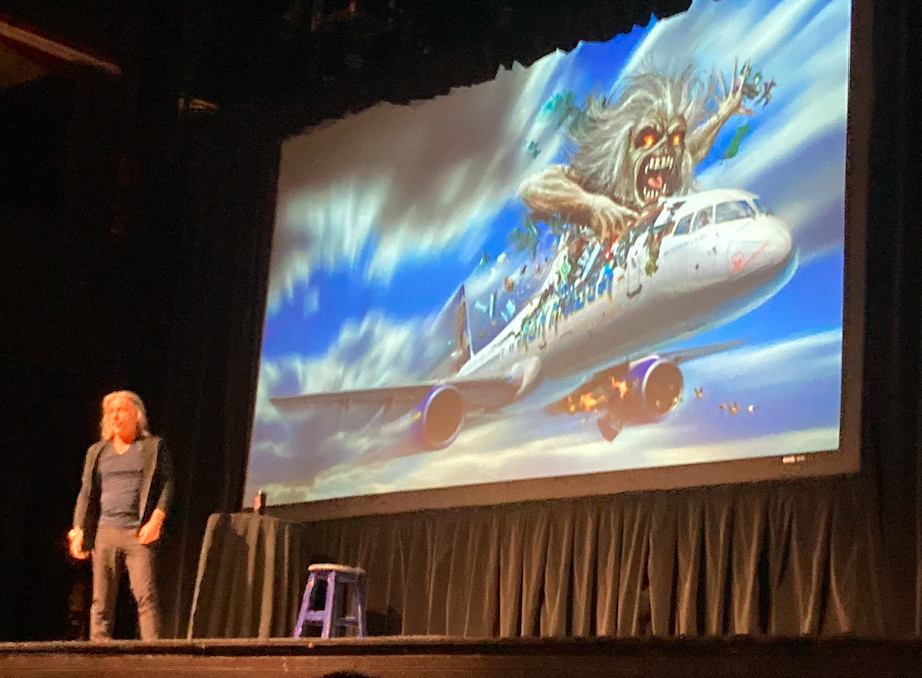 I am happy to report that, even though the mailed-out information for the event/with the tickets claimed that you had to have a Covid vaccination card for access to the venue, I was never once asked for this. That's hopefully a good sign that concerts in Sin City and elsewhere are headed back to normal.

The tickets my brother had purchased for me were on the floor. HOB typically has "standing room only" general admission tickets with no seating on the floor. I was happy to see that, for a change, this gig actually had floor seats. I was seated off to the right (if facing the stage) only about three rows back, which made for a solid enough view. You know the seats are good when you can see every one of Bruce's facial expressions. And believe me, this guy's animated enough!

And then we get to the actual show. The gig was essentially divided into two halves. The first half was Bruce telling much of his life story, and the second shorter half was him answering the audience questions mentioned above. There was a short intermission accompanied by an Iron Maiden music video from the band's latest studio effort. And from start to finish, the audience was roaring with laughter and applause from everyone, this fan included.

Probably the biggest surprise of the evening was how "animated" Bruce was. He rarely sat down despite the presence of a stool on the stage, and had all the physical energy and facial expressions of a full-on rock concert. Mr. Dickinson gives a hundred percent and then some in everything he does. This was no exception.

The "life story" half was extremely entertaining, with Bruce having a witty quip for any subject or thing he's encountered in his life. We heard about him attending a school with the wealthy and elite being groomed to be politicians and the like, with Mr. Dickinson referring to politics as "rock and roll for ugly people," his introduction to fencing, meeting the Queen of England, his old band Samson's drummer being confused for the Cambridge Rapist due to his choice in masks, him joining Iron Maiden and hitting the road, other hobbies off the stage, comments on his choice in fashion during Maiden's glory days, traveling to war-torn Sarajevo, and of course, his becoming a pilot. I won't go too into details here, as I want you to be pleasantly surprised and amused should you go to one of his gigs. If I have one minor complaint, it's that I would've liked to hear more stories about his solo career during his hiatus from Maiden, but that's a small criticism.

The two halves were divided by a music video being shown of a track from Iron Maiden's latest studio album. The issue I had with this intermission (and I totally understand Bruce needing one) is that literally nothing happened during it after the Maiden video. Sure, some Maiden/Bruce songs played over the loudspeaker in between, but this was just kind of bland. Couldn't they have shown some more rare video footage of Bruce during this time, or even older Maiden live performances/music videos? Anything's better than nothing.

Bruce filled out the latter half of the show with his comments on people's questions (again, I sadly didn't get to ask one since the process to submit one wasn't really explained). Here ,we got to hear about his favorite places to travel on tour, encounters with other musicians and celebrities, and answers to questions that included his studies as a pilot, as well as some more ridiculous ones; one question someone asked was literally "what time is it?" Of course, Bruce answered the question by saying what time it was in England, keeping his signature sense of humor intact.

This was an unusual but excellent and hilarious night of spoken words from one of heavy metal's mightiest frontmen, and he more than entertained this Vegas audience. If you're a fan of Bruce Dickinson, you owe it to yourself to catch him in this tour!

Photos courtesy of Angelina Cain. Used with permission.