The Hu & The Haunt
Black Thunder Tour
Brooklyn Bowl Las Vegas, Nevada
Sunday April 17th, 2022
After Easter Sunday celebrations are out of the way, what is left to do with your evening? Why not go and see Mongolian hard rock/metal band?
So Courtney and I leave the car at the Linq parking garage – now that was a mistake – and head over to Brooklyn Bowl for the first time since the pandemic.
I know very little about the headliners and nothing about the opening act and sometimes I prefer to write these reviews going in mostly blind and letting the band's live performance speak for itself. In the case of both The Hu and The Haunt they're better experienced live.
The Haunt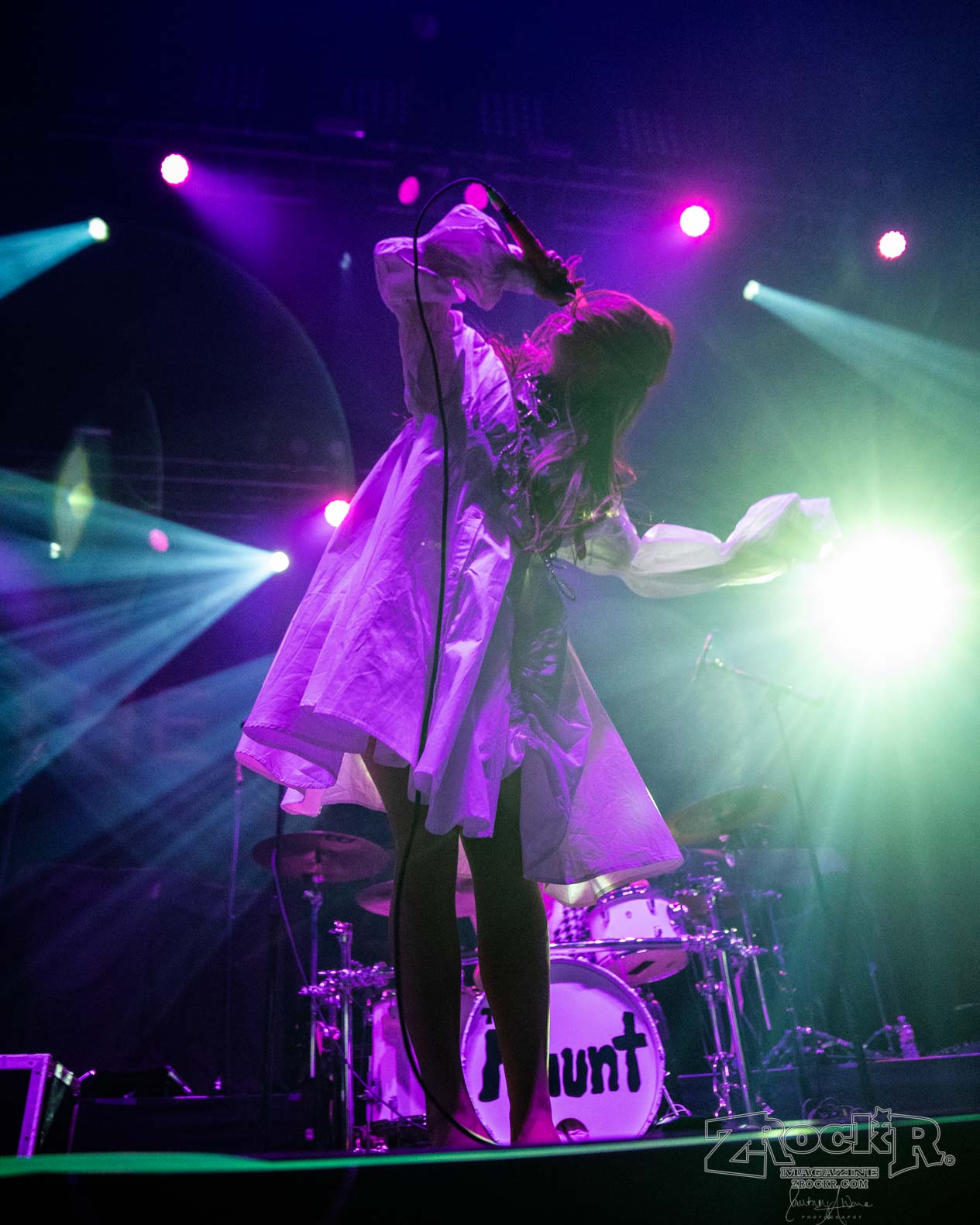 The Haunt is an eclectic mix of moody indie rock mixed with darker pop sensibilities. The band plays a fitting backdrop to the vocal talents of Anastasia which has a raspy texture to it that's missing from studio recordings. Her very physical performance – climbing on the bass amp, drum riser etc to contort her body in such a way of expressing agony is matched by her attire. The pure white nightgown and bare feet made me think of 'The Exorcist'. More fitting of the name The Haunt than her bandmates. 
Though what the fuck do I know about fashion anyway? I wear black jeans and band shirts everywhere outside my day job.
As much as I enjoy most of what the band has to offer and I appreciate the darkness of the music I have to say one aspect I hope improves are the lyrics. As I'm writing this part of the review I'm listening to "Love You Better" on repeat trying to work out in my head how exactly someone loves you better once they're dead. If there is an artist I'd like to point the members of The Haunt to as a recommendation it would be former Acid Bath singer Dax Riggs' solo work or his band Deadboy and the Elephantmen. Because even if "Living Is Suicide" is probably just as nonsensical it still seems to make more sense to me. 
Check out the Haunt on Spotify and be on the lookout for the soon to be released first full length album. 
Pretty soon after I started listening to metal I was searching out how bands did the genre their way elsewhere in the world. It started with Swedish death metal and Norwegian black metal but quickly I was searching out bands from all over the world and how they would insert their cultures' folk instruments into their music.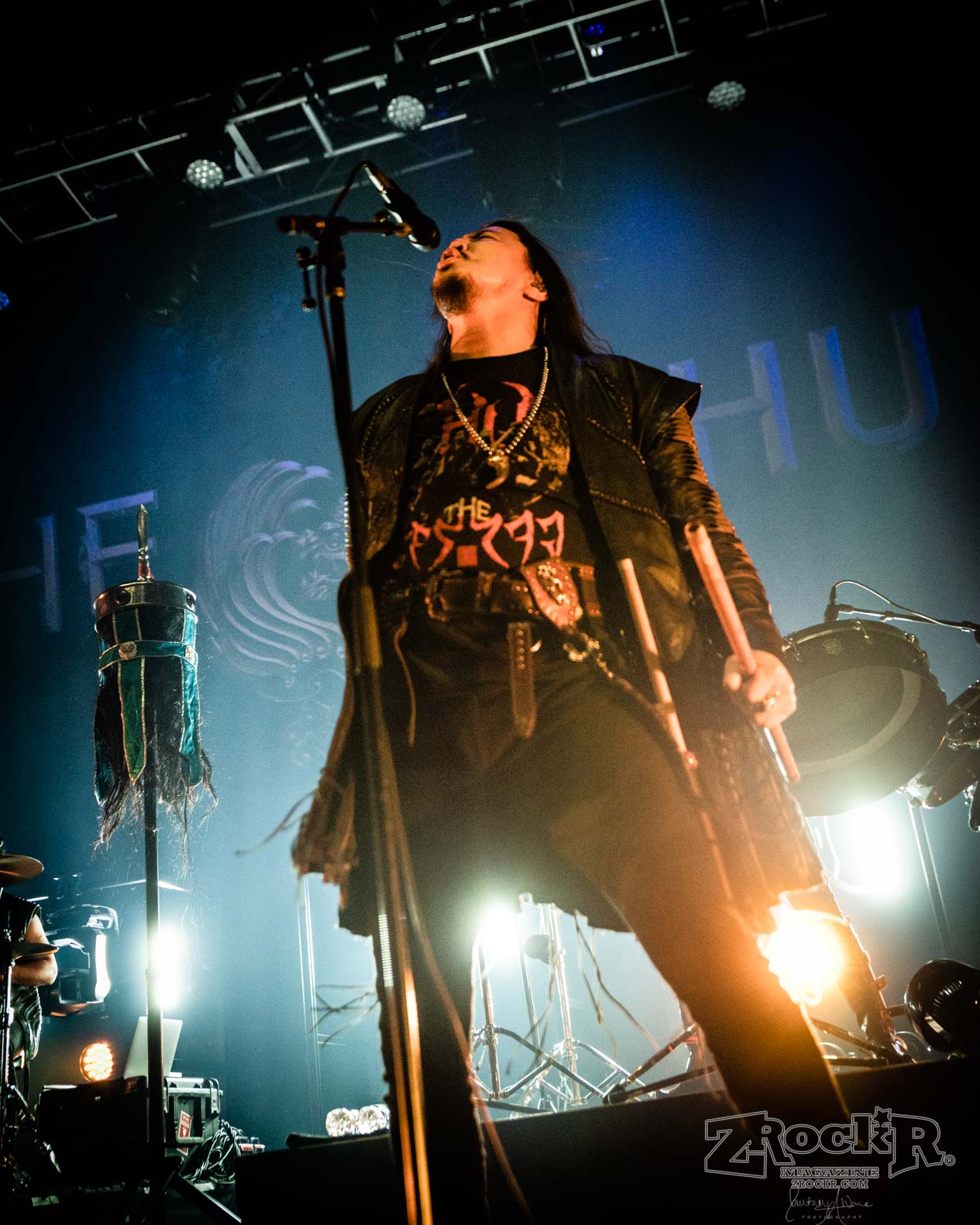 One of my favorite examples early on was Taiwan's Chthonic use of the erhu or hiân-á as well as their native folk songs and lore. As another example, as much as I love Panopticon's use of the banjo, Norway's Taake did it best with their song "Myr".
So all that said forgive me if I find your Baby Metal fandom more cute than anything.
So all that is to say that I'm not as easily impressed with the concept of rock/metal + insert cultural identity as I once was…
Except – wait for it… The Mongols. 
The Hu have managed to incorporate traditional rock and metal guitar, bass, and drums with traditional Mongolian instrumentation. As I implied before, The Hu are simply more impressive live than their recordings can really convey. The songs earlier in the set had a very droning quality that made the five or sometimes six voices sound powerful and absolutely massive.
This had the effect of setting up more melody centric songs later in the evening that would get the crowd moving. Speaking of which, it's impressive just how much the audience loved The Hu. The amount of times I've seen bands that pour their hearts out and practically have to beg crowds to look up from their phones is infuriating at times.
Okay, I may be exaggerating and as I said this is a problem The Hu didn't have this particular night so it doesn't really matter. That said – lady who had her phone up next to my ear recording the show: go fuck yourself.
My advice to you – check out The Haunt and The Hu's music and see if it's to your liking. Follow them on Bandsintown and check out upcoming events at Brooklyn Bowl and other venues. Support live music.
All live photos by Courtney Ware for ZrockR Magazine 2022, ALL RIGHTS RESERVED.