.38 Special played the International Westgate Theater at the Westgate Las Vegas Resort and Casino on Saturday, June 25, 2022. This is the venue previously known as the International, Las Vegas Hilton, and LVH, famous for being the stage on which Elvis Presley played residency dates in the latter years of his life.

Formed in the 1970s, .38 Special made an impact on audiences with their combination of Southern rock and arena rock sounds. Co-founded and fronted by vocalist/guitarist Don Barnes, who remains the band's remaining original member, the group scored several hits including "Rockin' Into the Night," "Hold on Loosely," and "Caught Up in You," all of which continue to receive plenty of classic rock radio play. Despite lineup changes and changing trends in the music world, including the retirement of former co-frontman Donnie Van Zant (younger brother of late Lynyrd Skynyrd singer Ronnie Van Zant), .38 Special still perseveres, having released their most recent studio album in 2004.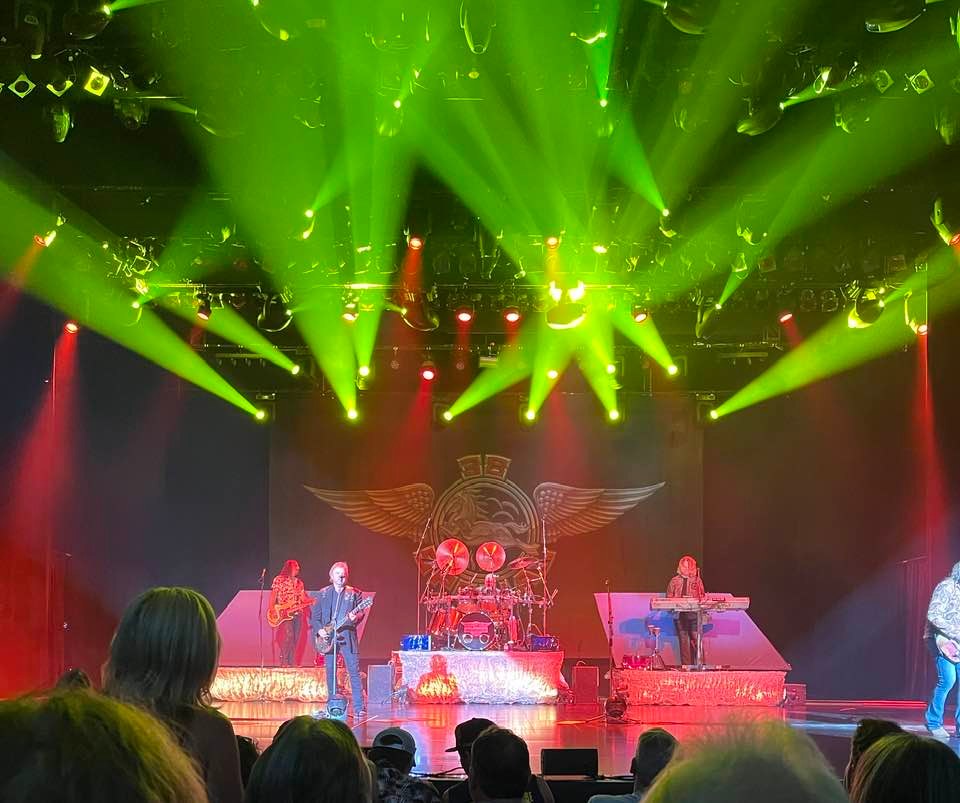 The current lineup of .38 Special consists of the following members.

-Don Barnes on guitar/lead vocals. The band's co-founder and lead singer on most of their big hits.

-Jerry Riggs on lead guitar. Riggs previously fronted the band Riggs, who contributed songs to the soundtrack of the early 80s film HEAVY METAL. He's the newest member of the band, having joined them in 2019.

-Bobby Capps on keyboards, who joined the band as touring keyboardist circa 1987.

-Gary "Madman" Moffatt on drums, a member of the group since 1997.

-Barry Dunaway on bass, who started with the band as a touring substitute in 2011.

Initially I hadn't planned to attend this show, but was given an invite from a family member who's also a die-hard music fan, so I ultimately decided to attend. This was my first time seeing .38 Special live in concert, and I'm happy to say that the band did not disappoint, putting on some of the best live rock and roll Las Vegas has seen in 2022, with a running time of just over an hour and half, and roughly 23 songs packed into the set (I'll include the setlist at the bottom of this review).

One of the first things that impressed me about this show was the fact that it actually started on time (something frustratingly rare these days), having been preceded by an "official announcement" of the starting time which was actually quite humorous. From the moment the band hit the stage, the action rarely let up. Another pleasant surprise was how crowded the theater was; it definitely puts a smile on my face to see this many people, particularly in a post-pandemic world, who want to get out and experience live music.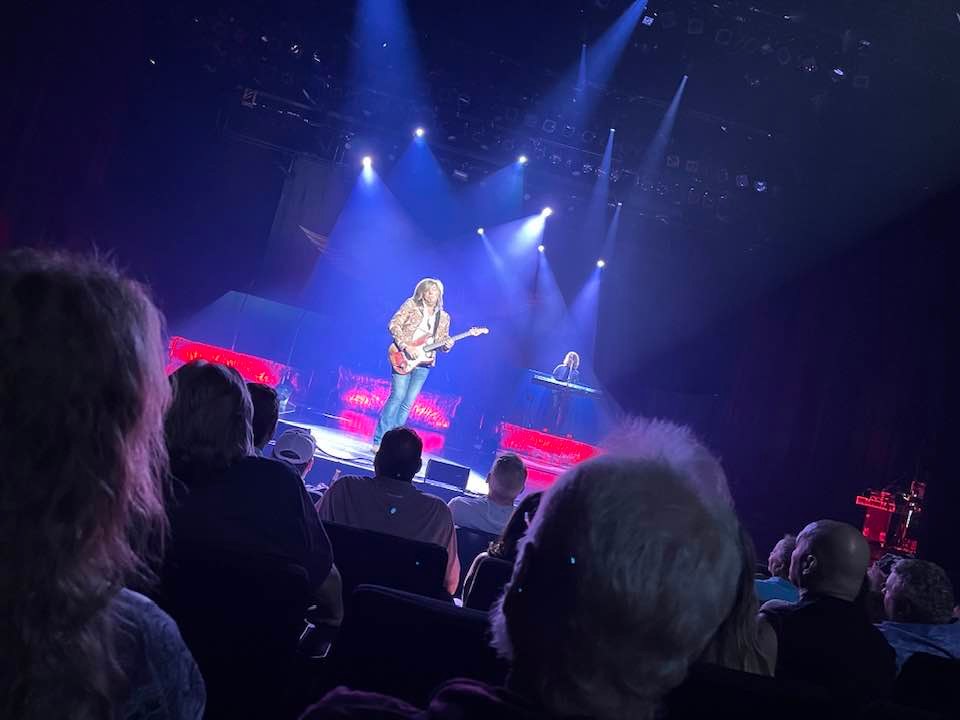 It's can be a hit-and-miss experience going to see aging rock bands; they don't all age gracefully. I'm happy to say that isn't the case for .38 Special; their current lineup proves to be one of the strongest they've ever had, and that's no small feat. It doesn't take long into a show to see if a band still has chemistry or they enjoy doing what they do on a live stage. These guys had smiles on their faces from start to finish and were having the times of their lives. Finding professional musicians who genuinely love what they do and it shows in their live performances is a breath of fresh air. It's definitely one of the reasons I loved this show so much. Having superb musicianship is a challenge unto itself, and these guys won in every category there. It was my first time seeing .38 Special on the live stage. It won't be the last.

The setlist was equally a star of the show with a wide and eclectic selection of songs spanning their career. Despite some very minor caveats, this was a great list of tunes, combining the major radio hits, some underrated deep cuts, and even soundtrack songs. As .38 Special hasn't released a new album of original studio material in nearly two decades, there weren't any "new" songs that the group had to fit in; the newest song that the band played was "Trooper With an Attitude" from 2004's DRIVETRAIN (their most recent album), something I was glad to see included. Obligatory hits played at the show included "Rockin' Into the Night" (actually written by the band Survivor but given to the band who made it their first big hit), "Hold On Loosely," "Caught Up in You," "Back Where You Belong," "Fantasy Girl," and "If I'd Been the One."

The band also proudly proclaimed their music being featured in various movie soundtracks in the form of songs like "Teacher, Teacher" from TEACHERS and Back to Paradise (written by Bryan Adams, Jim Vallance, and Pat Benatar) from REVENGE OF THE NERDS II: NERDS IN PARADISE. They even claimed to be proud (likely ironically) to have their earlier music featured in the 2001 film JOE DIRT, a movie largely maligned by critics; the audience clearly loved the band's sense of humor there!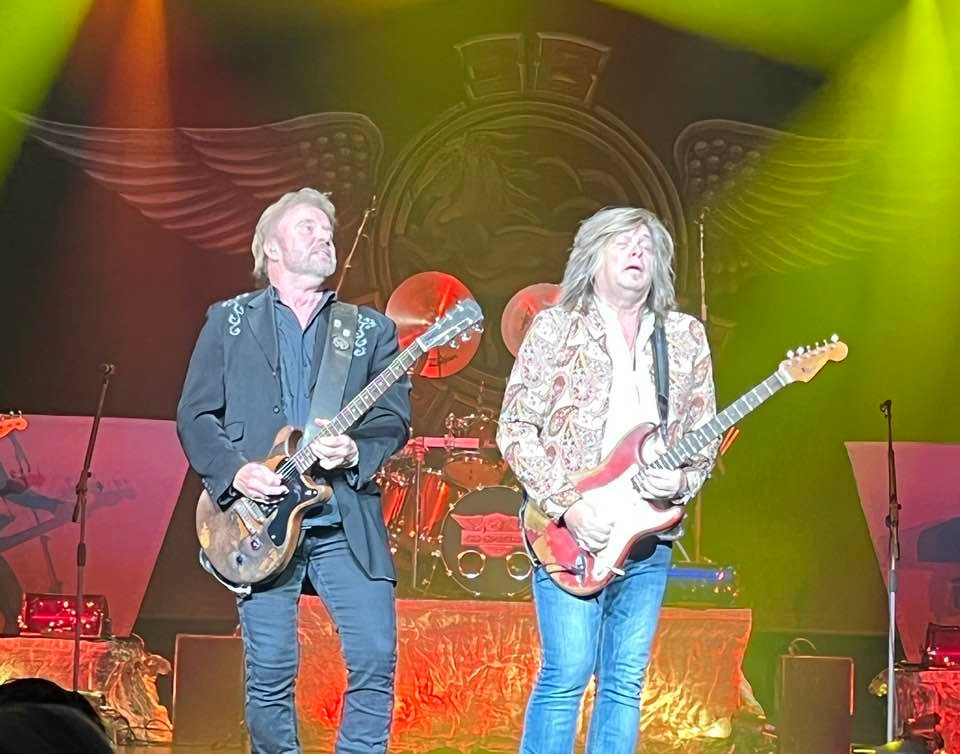 The one song the band did that fit both the "covers" and "soundtracks" category was "Radar Rider," originally performed by Jerry Riggs' old band Riggs for the classic early 80s adult animated film HEAVY METAL; a movie I've often described to friends as "the unholy bastard child of Saturday morning cartoons and porn." Other covers included "Good Times" from The Easybeats (an old band that featured George Young, older brother and eventual producer to Angus and Malcolm in AC/DC), and "Travelin' Band from Creedence Clearwater Revival, which gave Barnes plenty of chances to get the crowd participating and enthused (and believe me, despite the seating in the theater, the audience was on their feet for a good deal of this night!)

There were plenty of deep cuts spanning the band's career throughout the set, with some highlights being "Second Change" and "The Sound of Your Voice" from the band's short-lived Max Carl era; many thanks to the band for highlighting this oft-overlooked period! (Interestingly, "Second Chance" is actually the band's highest charting song; not one of the "earlier" hits that are better recognized.) Also truly epic was Gary "Madman" Moffatt's drum solo, which actually rocked harder than the drum solos I see from a lot of harder rock/heavy metal bands, and easily the best I've seen anyone do in recent memory!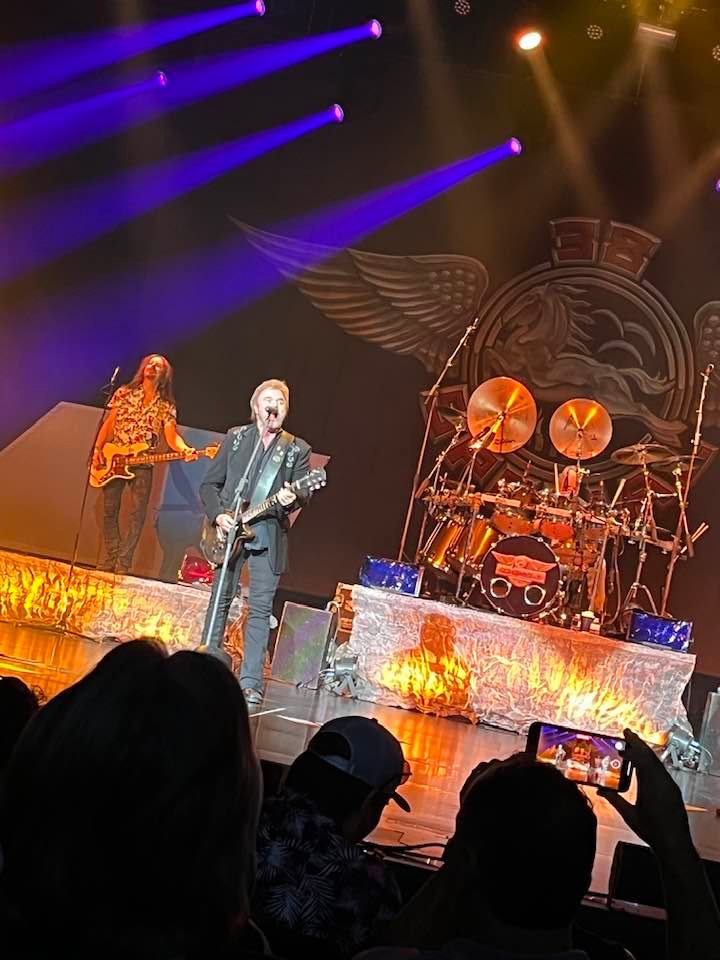 The only minor caveats I had with an otherwise stellar setlist were the omissions of "Twentieth Century Fox" (not a cover of The Doors song) and "Stone Cold Believer," as well as a lack of the band's first two Dan Hartman-produced albums (these didn't exactly spawn any hits, but I wish they'd gotten a single song thrown in for good career-spanning measure).

.38 Special gave Las Vegas fans one of the most epic nights of rock and roll this city has seen all year; it's easily one of my favorite shows in 2022. This lineup is a killer one, and the fact that Mr. Barnes sings as good as ever with the band clearly enjoying what they do and putting in 110% and turning it up to 11 throughout says it all. If they come to your town and you're a fan, don't pass up a chance to attend.



Setlist:
-Wild-Eyed Southern Boys
-Rockin' Into the Night
-Back Where You Belong
-The Sound of Your Voice
-Back to Paradise
-Honky Tonk Dancer
-Rough-Housin'
-Teacher Teacher
-You Keep Runnin' Away
-Somebody Like You
-Just a Little Love
-Second Chance / Like No Other Night
-Heart's on Fire
-Radar Rider(Riggs cover)
-If I'd Been the One
-Fantasy Girl
-Good Times (The Easybeats cover)
-Trooper With an Attitude
-Drum Solo
-Caught Up in You

Encores:
-Chain Lightning
-Hold On Loosely
-Travelin' Band (Creedence Clearwater Revival cover)