On July 1, 2022 MUNICIPAL WASTE released their 7th full length studio album, "Electrified Brain" via Nuclear Blast Records. If you're unaware, Municipal Waste is a crossover thrash band from Richmond, Virginia. They combine different elements from punk rock, hardcore, and metal to create their own version of modern thrash – and they've been killing it the last 20 years.
First Look
I can't speak for all metalheads, (nor would I want to) but album art is almost an essential addition to the overall aesthetic of an album. A first glance at Electrified Brain's artwork pulled me in before even giving the album a listen. The image of the zombie-fied head being impaled by a custom flying V was enough to get me excited for the album had to offer. That might sound silly. Whatever.
This 14 track album's songs are all less than three minutes long, (except for Thermonuclear Protection, which goes over by just a couple seconds) but do not fail to pack a punch that longtime Municipal Waste fans (or general thrash fans) will be pleased over. Channeling the vibes of Exodus and Death Angel can be heard in the title track and first single, "Electrified Brain". It hits hard and heavy with traditional old school thrash riffs and solos. There's no real slowdown as the record progresses, either. It's definitely an album that lives up to Municipal Waste's "party thrash" label that the general media has given them.
We got to catch these guys at Punk Rock Bowling last fall as well, and they were easily one of the most aggressive and intense sets of the outside festival band lineup! They absolutely crush it! Their diehard fans could be seen tearing up the pits and crowdsurfing up to the front of the stage the entirety of their performance. It was definitely a set to remember!
Punk Rock Bowling – Municipal Waste
While old school fans can easily be enticed by this record, I'd say absolutely fans of Havok, Toxic Holocaust, and Hatchet could find this record to be fitting in their collections as well.
Tracklisting:
1. Electrified Brain
2. Demoralizer
3. Last Crawl
4. Grave Dive
5. The Bite
6. High Speed Steel
7. Thermonuclear Protection
8. Blood Vessel / Boat Jail
9. Crank the Heat
10. Restless and Wicked
11. Ten Cent Beer Night
12. Barrelled Rage
13. Putting on Errors
14. Paranormal Janitor
Have a listen to the record below, and for all things Municipal Waste head on over to their website!
Tour Announcement:
Municipal Waste announced their 2022 fall tour plans today, (July 18th 2022) and while there's no Vegas date, this should still be a bitchin' run. I definitely recommend going to see them for a thrash fill if they're hitting your city!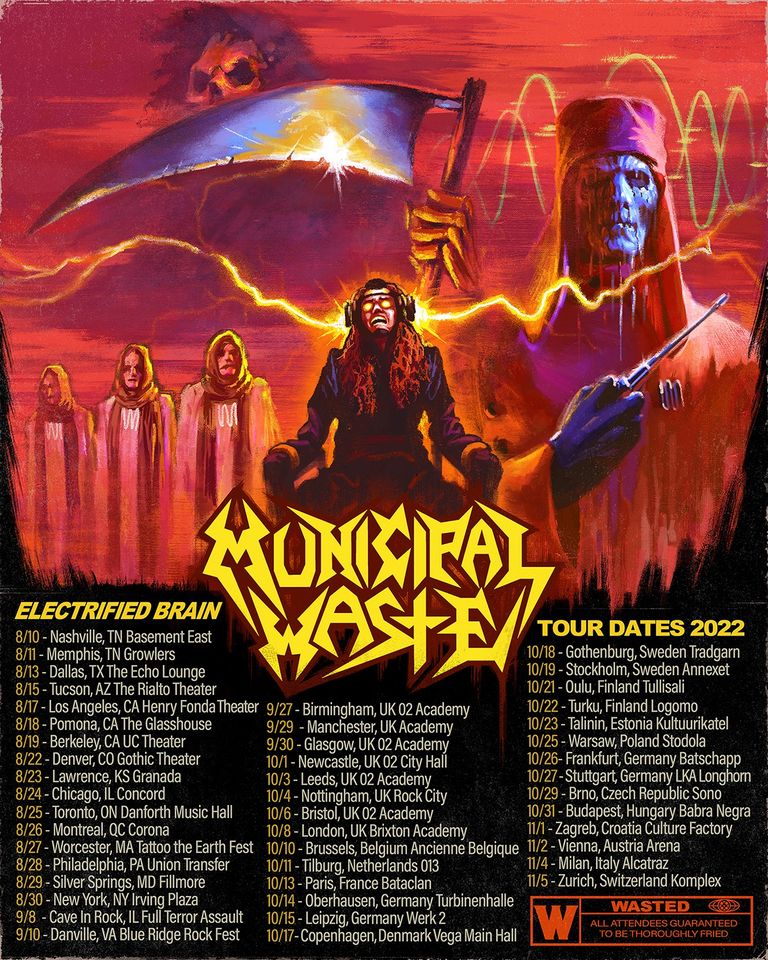 Live photos from PRB by Courtney Ware – All rights reserved.