July 10, 2022: It is very, very warm out here in Vegas right now. But despite that, we could not miss the guys in Left to Suffer play American Legion Post 8 in Downtown Las Vegas. The guys did a short run this time around for the release of their new EP, "And Dying Forever". With them they brought Mouth For War, I Declare War, and Ov Sulfur. For the Vegas date, we saw local support from our friends in Sheer Cold and Body of Filth.
Sheer Cold
We've covered Sheer Cold a number of times, and they've been on some pretty amazing shows since their inception. They are relentless with their delivery, and each time I get to see them I feel like they sound and look better than the time before. Sheer Cold is absolutely one of those gems in the heavier part of the Vegas scene that you should be keeping an eye on! Highlights from their set include friend interactions from another local band, The Cheeks, as well as Clayton Meade from Condemned coming up on stage and singing next to Preston.
Body of Filth
We unfortunately missed Body of Filth's performance due to the filming of an interview with the headliners. However, I could hear them absolutely crushing it from where we were outside! Since I don't have any content of my own, enjoy some fan content as well as their latest song, "Milk and Honey" that was released on July 4th.
Mouth for War
Oh there's something very special about hardcore bands. Mouth for War hails from Colorado, and this was the first time I had the chance to see them. They put on a very, very high energy set that really set the tone for the rest of the touring package. Trae Roberts could be seen jumping all over the stage, along with spending short periods of time knealing down and screaming into the microphone. These guys fuse metal and hardcore in a way that I couldn't even label them as metalcore. They definitely embody more of the energy that is prominent in the hardcore scene, but I could see these guys fitting in on any number of different combinations of concert bills.
The band formed in 2019, so they're still relatively new, but I'm definitely looking forward to seeing them again and seeing where this journey takes them!
I Declare War
What a treat this was! I had never seen I Declare War, despite them being on a number of bills through the years that I should have gone to. They formed in 2005 and are from Seattle. Highlights from their set include some of the most intense facial expressions and aggression from vocalist Jamie Hanks; another jump up on the stage from Clayton Meade, and Joe from Body of Filth was seen throwing money at the guys onto the stage!
Ov Sulfur
I cannot say enough really great things about Ov Sulfur. These guys crush their live performances every single time. The stage at American Legion Post 8 is very small; and Ricky is kind of tall so we could regularly see him standing on a mini riser with his hand on the ceiling. Because I've seen these guys and I'm always pleased, I don't have very much to add here. The guys did push through some technical difficulties towards the end of their set in which Chase could be seen chuckling off to the side where he was. At any rate, you all should definitely be checking Ov Sulfur out! They were recently signed to Century Media Records; and I really feel like they're going to be doing some big things in the future. I am excited and 100% here for it!
Left to Suffer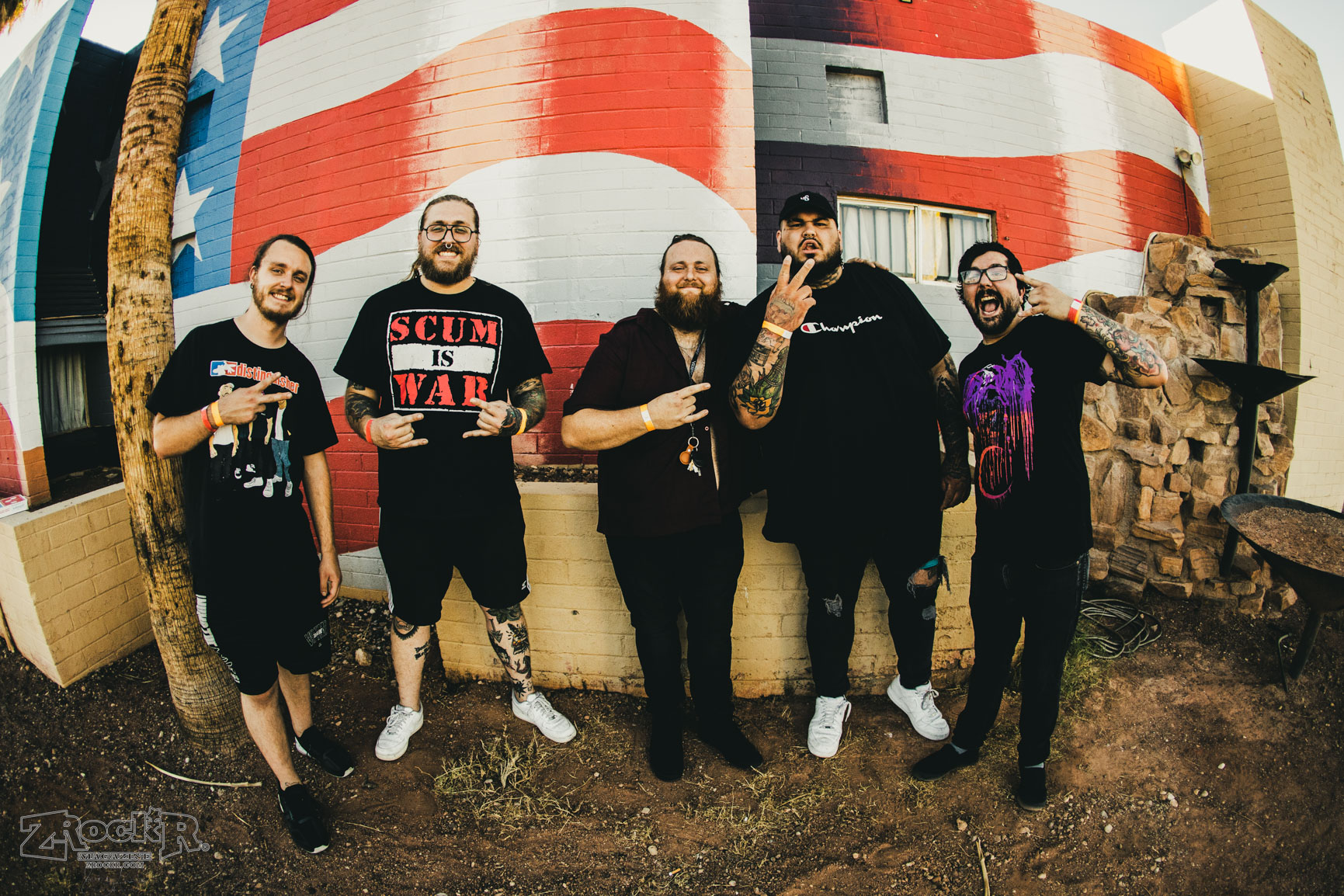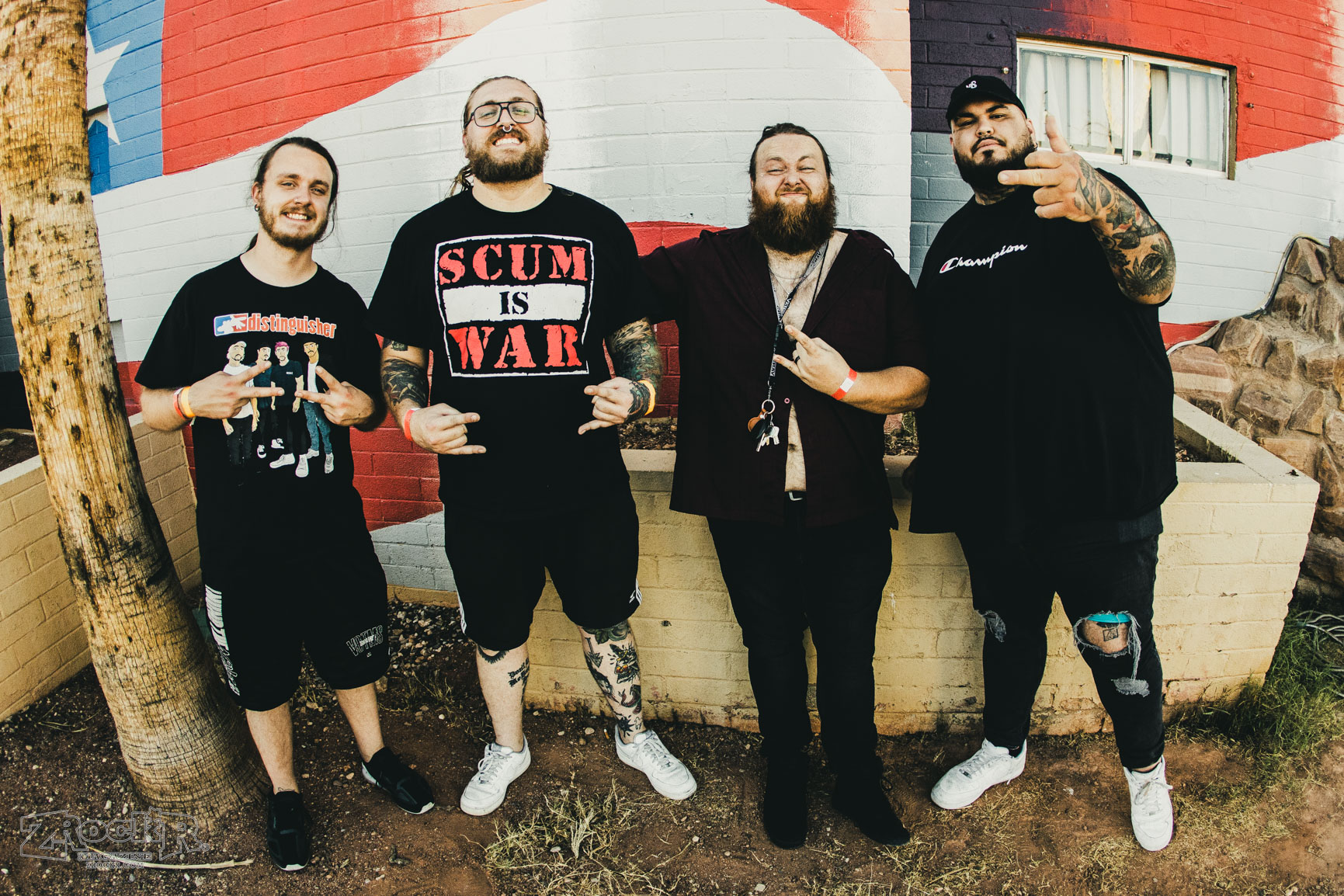 Alas! The headliner! Left to Suffer comes to us from Atlanta, GA and they class themselves as numetal fused metalcore/deathcore. As mentioned above, this small three day run was put together in support of their latest EP; "And Dying Forever."
These shows were pretty exclusive and special. Earlier in the day Preston Graff (Sheer Cold) and I had the opportunity to step aside with Left to Suffer for an exclusive interview.
Throughout that process, I couldn't help but notice how chill and genuinely kind these guys are. This was also Preston's first time collaborating with us here at ZrockR; and it was my first time filming an interview. (SO apologies for shakiness, I lost my tripod somewhere ha!)
Onto the show!
By this point in the evening, the it was SO unbelievably hot inside the venue. As Left to Suffer began their set, fans from outside could be seein pouring back into the venue. (I was drenched in sweat, myself. And I later compared it to how I felt that one time I was in Louisiana during summertime. Humid and swampy. I felt gross.) The heat however, did not stop anybody from hardcore dancing in the pit, or getting as close to the stage as they could.
Left to Suffer's line up consists of: Taylor Barber – Vocals, Peter Higgs – Guitar, Jacob Gordon – Guitar, Christian Nowatzki – Bass, and Levi Dunn – Drums.
What really stood out to me with this set was just how relentless these guys are. I don't think the intensity eased up at all throughout the sets entirety. Taylor and Jacob flawlessly interacted with the crowd as Peter, Christian and Levi completely dominated the rest of the stage. The last song of their set brought up someone special as well. None other than Ricky Hoover, from Ov Sulfur. This was one of the biggest highlights of the night. Those two radiated off eachother and kept the energy high and the fans ecstatic over it!
If you're interested at all, Taylor Barber and Ricky Hoover were recently on Suicide Silence guitarist Chris Garza's podcast, and it's a really great listen/watch!
Endgame:
As far as my final thoughts go for this show, I've got nothing but good feelings and vibes from these guys. Left to Suffer has some unique quirks that metalheads from all corners can get into. They are part of a new wave of evolution of the deathcore genre, and I really look forward to what they bring to the genre in the future!
Left to Suffer just announced another tour this past week; the guys will be heading out with Carnifex for the "Dead in my Arms" 15 year anniversary run with support from Spite, Oceano and Crown Magnetar.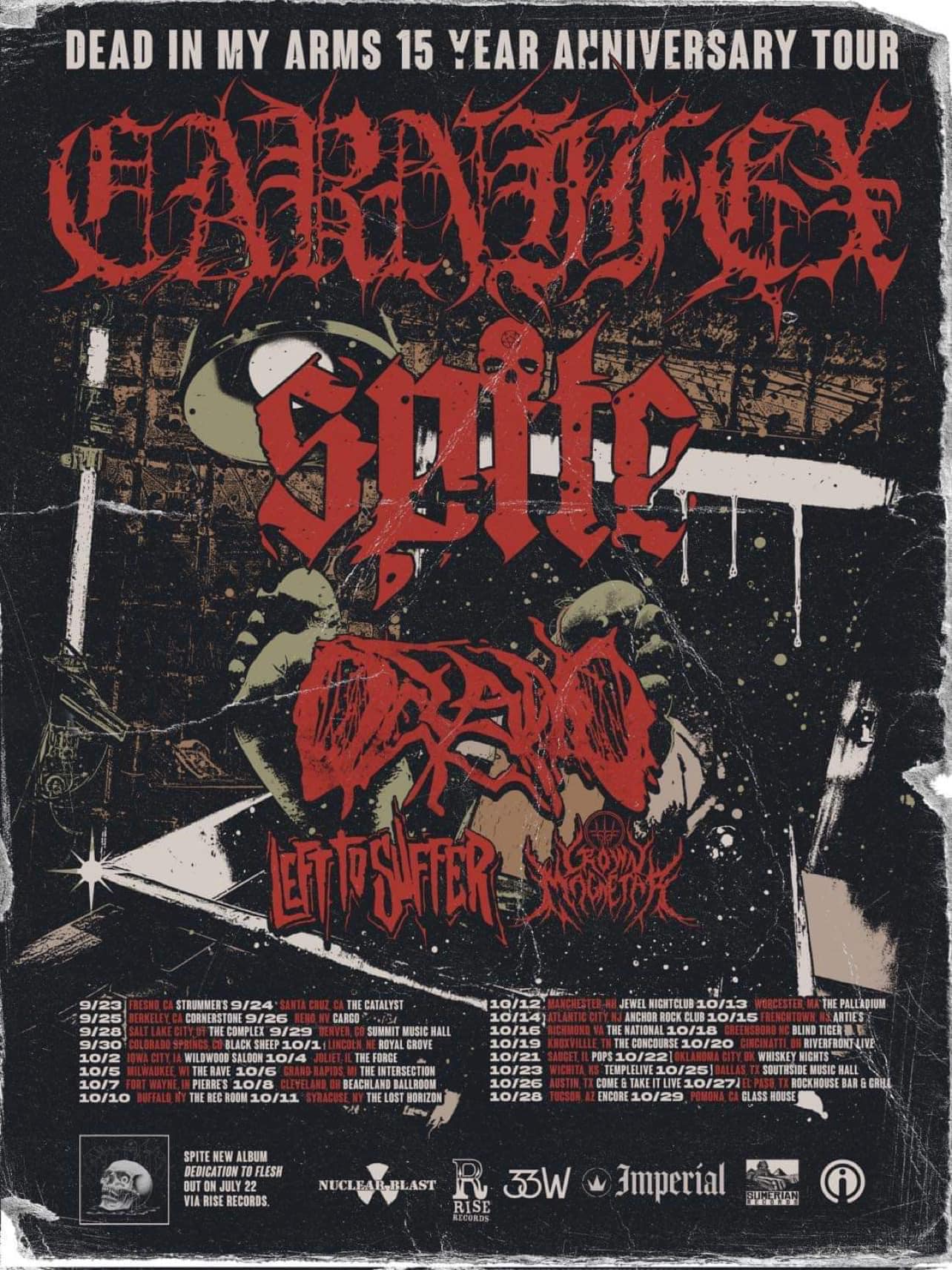 Check out Left to Suffer's And Dying Forever EP below!
All live photos by Courtney Ware for ZrockR Magazine 2022, ALL RIGHTS RESERVED.
Videos of Body of Filth contributed by Alexander Hall and Robert Jarman, used with permission.