Todd Kerns with special guest Zach Throne played Count's Vamp'd on Friday, September 16, 2022.

Todd Kerns keeps busy these days, between multiple ventures, side projects, and solo albums, not the least of which is being the bass player for former Guns N Roses guitarist Slash. I've been seeking this guy perform for years, and this rock and roll fan is still excited to see him do his thing on the live stage.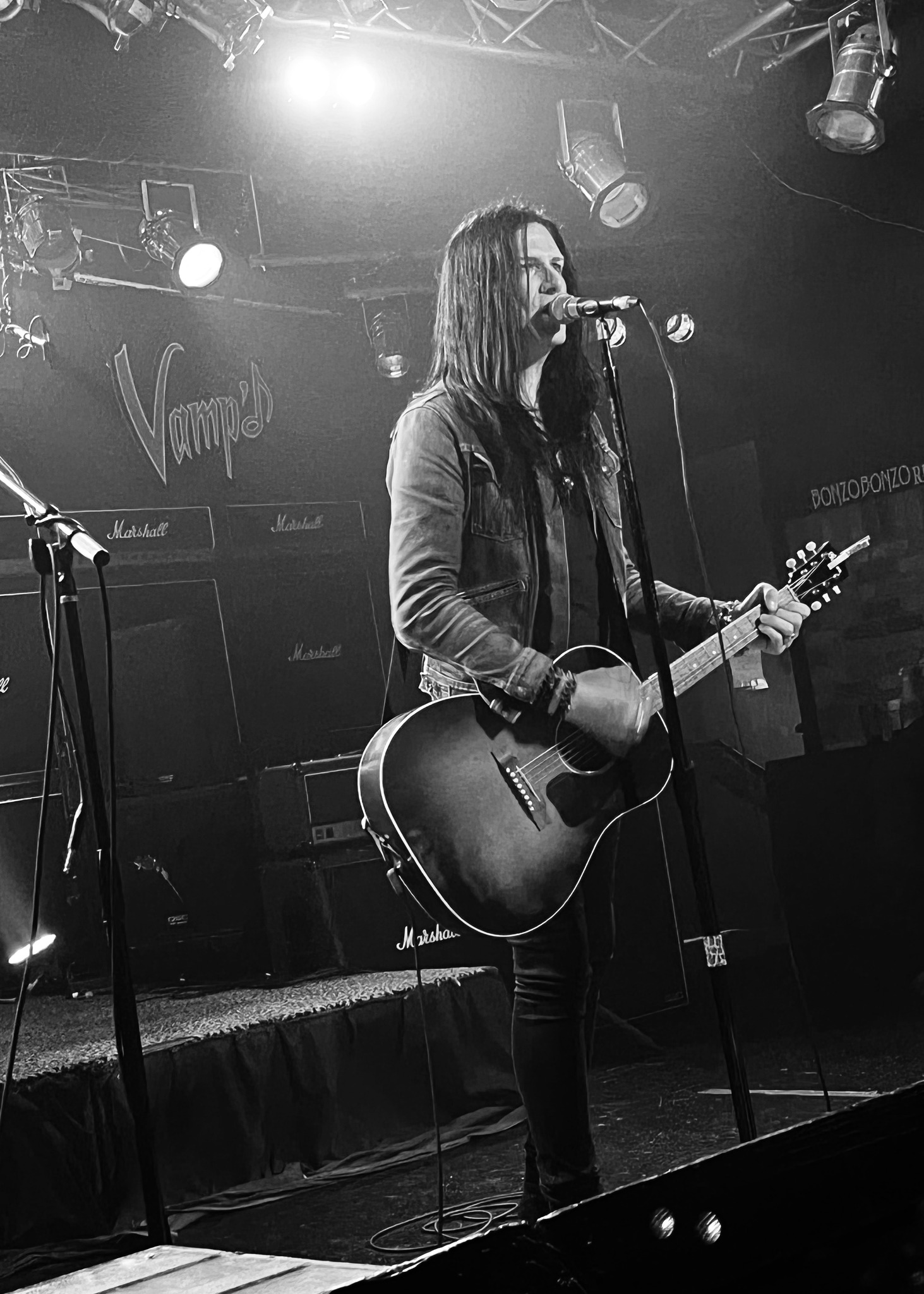 One of my favorite things to see Todd do is his acoustic gigs; he'd previously done one in June at Vamp'd. However, his scheduled guest Zach Throne, himself another fellow rocker who calls Vegas home nowadays, was unable to attend that show. Fortunately, Mr. Kerns scheduled another acoustic gig at Vamp'd, one of the top houses of rock in Vegas, and this time, Mr. Throne was in attendance!

This gig had two options for attendees; a $5 cover charge for admission, or $30 for a VIP package that allowed patrons to come to the venue early, receiving a gift, access to a sound check, and getting a photo with Zach and Todd. Being a fan I opted to do this, with the bonus gift being a signed 8×10 color photo of Todd. The "sound check" set largely consisted of Todd and Zach ad-libbing based on audience requests and shout-outs, plus a few surprises of their own. My only issue here was that the venue's ads for this gig said doors open for the sound check at 7:30, but by the time I was in line to enter the venue at 7:30, Todd was already on stage doing his thing. The ads should've claimed that this portion of the show started the same time the doors opened, though this is likely the result of a miscommunication. No denying this portion of the night was pretty damn entertaining for those who were in attendance.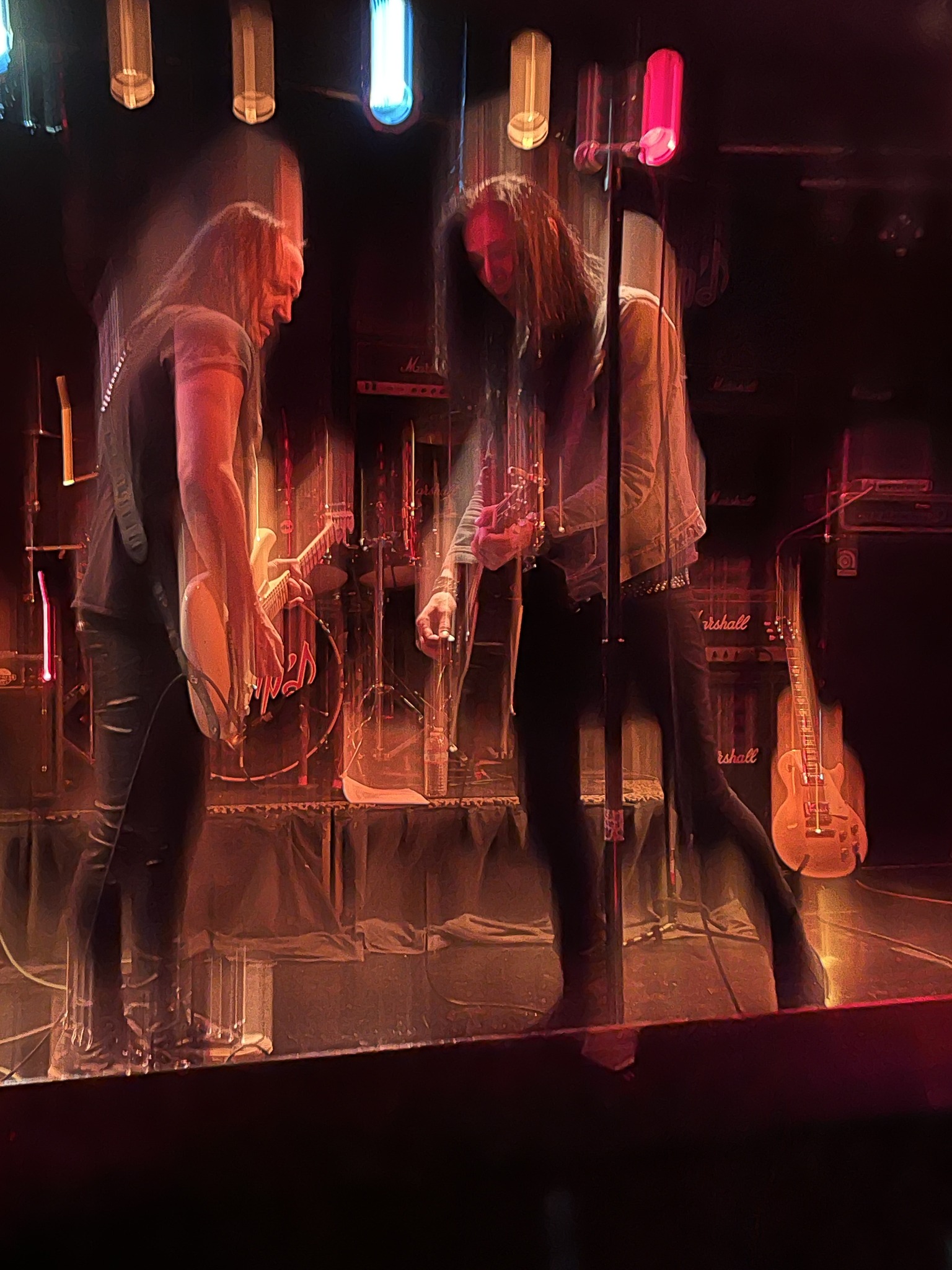 The support band for this show was Velvet Chains, the same band that had opened for Todd when he did his acoustic show back in June, and more recently, opened for Stacey Blades' band Crashing Wayward. The Vegas-based group consists of several members who originally came from South America, and their sound, heavily influenced by the alternative rock of the 90s and early 2000s, has been a hit on the scene for several months now.

As the last paragraph stated, I've seen Velvet Chains many times in the last few months at Vamp'd. The group has also been making headway elsewhere in the Vegas Valley, most recently at The Barbershop at The Cosmopolitan Hotel/Casino on the Las Vegas Strip. And once again, on the Vamp'd stage, these guys didn't fail to please, never letting up once during the evening. We got some unexpected and entertaining covers in the form of KISS' "Love Gun," Alice in Chains' "Would," and Audioslave's "Like a Stone," but where Velvet Chains pleases most is their original material. While I still need to get my hands on their actual releases, it's these original songs that have impressed me the most. These guys wear their influences on their sleeves, no questions asked, but they put their own spin on it, and that's part of the reason they've continued to entertain me so much in recent months.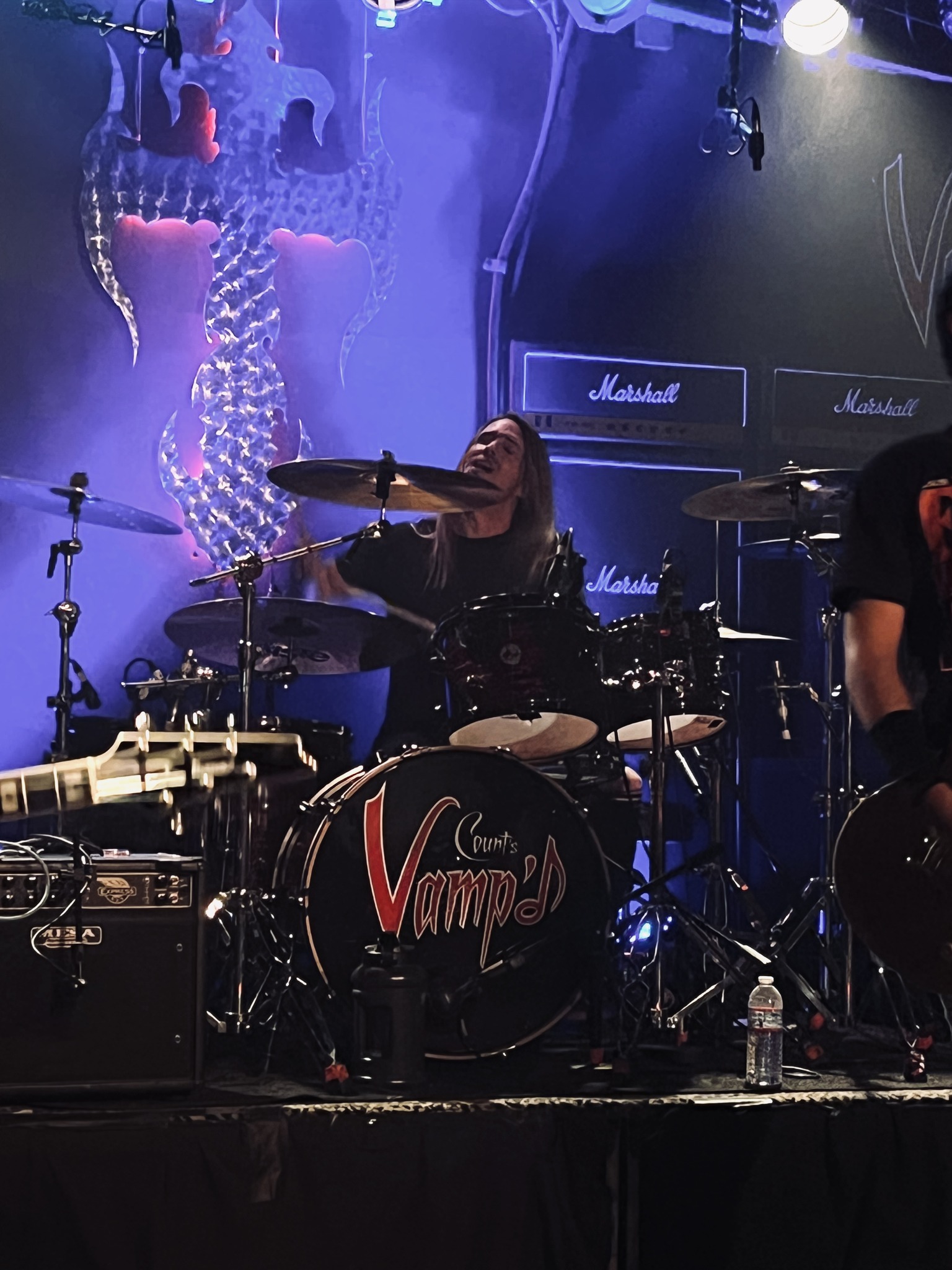 Throughout the evening, Todd Kerns referred to Velvet Chains as his favorite band in Vegas. Each time I see them, I'm getting closer and closer to agreeing with that statement (though it's hard to play favorites in a city that has so damn much good rock and roll). But these guys have become champions of the local scene and are one of the groups in Sin City doing the absolute best at keeping rock and roll alive. Here's hoping these guys get the big break they deserve, winding up on a tour and arena stages where they belong!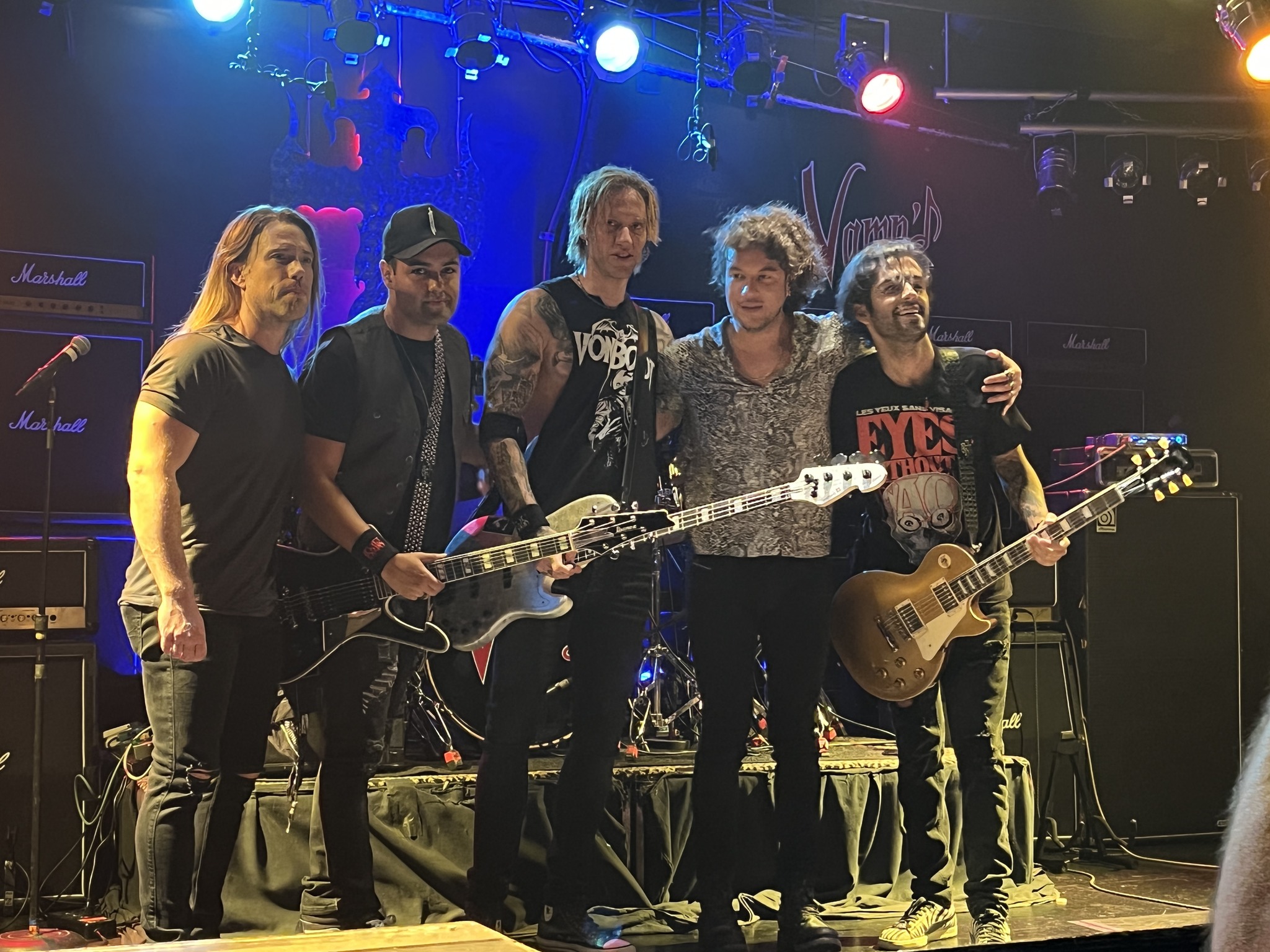 And then, of course, we come to Todd Kerns. The Canadian rocker has called Las Vegas home for many years now; I first discovered him when he was a singer/guitarist with an older Sin City Sinners lineup (that version of the band, which also featured Faster Pussycat's Brent Muscat, occasionally reunites under the name "Original Sin.") From there, I've discovered many of his other projects, including Toque, Age of Electric, and of course, the work he's done as the bassist and occasional vocalist for former Guns N Roses guitarist Saul "Slash" Hudson (Slash's band also features Brent Fitz and Frank Sidoris, both of whom live here in Vegas as well). Billed as "Todd Kerns and Friends," I was certainly eager to see who would show up and what all we'd get from everyone's favorite Canadian living in Sin City.

The thing about Todd Kerns acoustic gigs? There are literally no limits to what this guy will play. Whether it's digging into the vault or transcending genres, he's a man full of surprises! This gig was essentially divided into two halves. The first was Todd alone, and the second featured Zach Throne taking the stage to join him for several numbers (weirdly, during Todd's set, the drum kit was missing from the stage, even though Todd and Zach never utilized the space where it was for any purpose). In addition to his talents as a musician, Zach, the son of actor Malachi Throne, has also been an actor and voice actor, perhaps most notably appearing on the early 1990s series THE HEIGHTS, which spawned the hit song "How Do You Talk to an Angel?" I'd previously seen Todd and Zach team up in the latter days of 2021 at Vamp'd for a set of KISS covers with Bruce Kulick and Eric Singer; I declared that my top show of the year.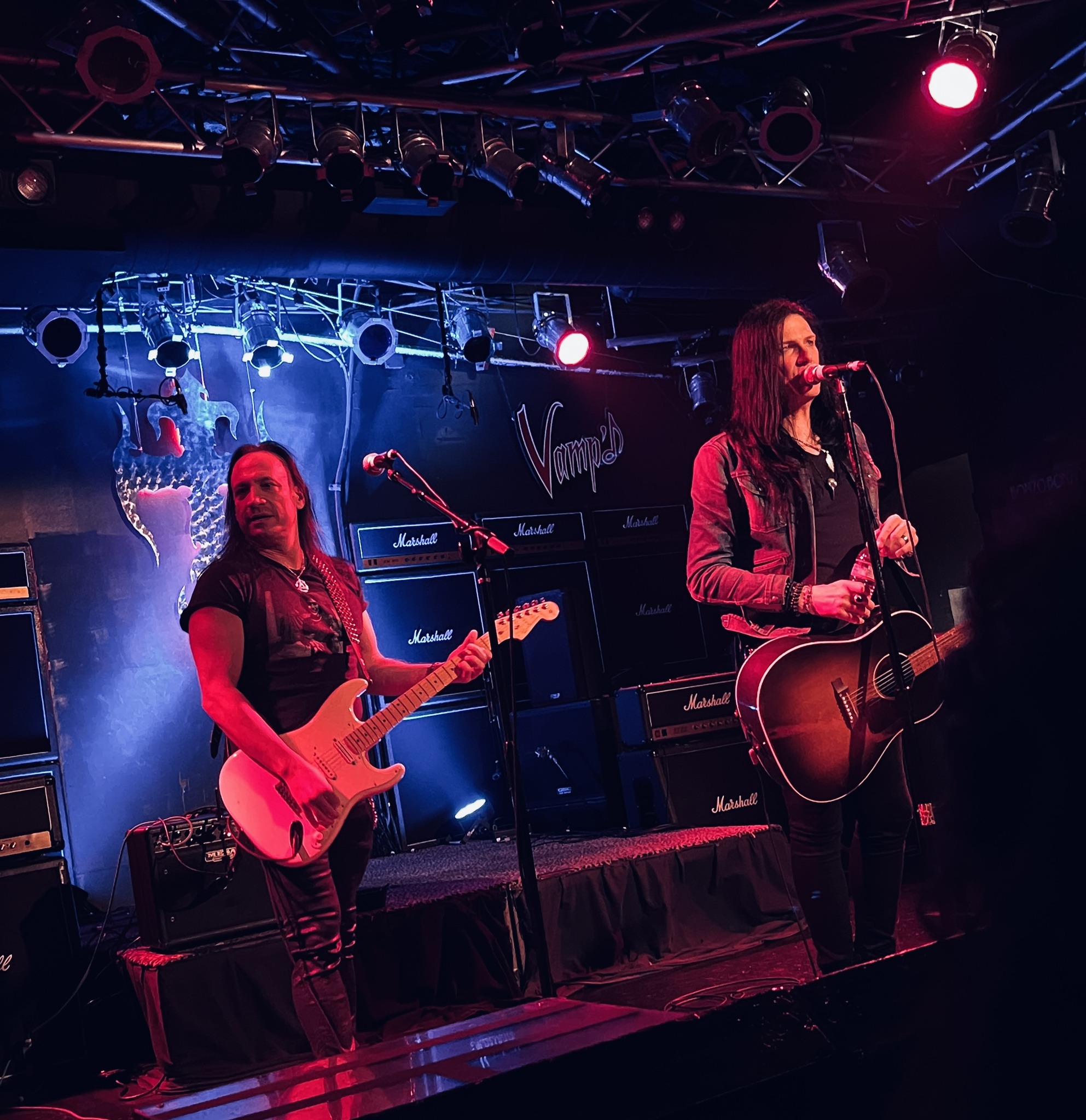 Todd, of course, kicked things off with "It's Not You It's Me," one of his classic anthems from his GO TIME solo album later recorded and regularly performed on stage in his Sin City Sinners days (four tracks from that album were rerecorded for that band's debut release, EXILE ON FREMONT STREET). Also performed was "The Devil in Me" from Todd's BORROWING TROUBLE acoustic solo album, and perhaps most surprisingly, "Heaven on Their Minds" from the classic Tim Rice/Andrew Lloyd Webber musical JESUS CHRIST SUPERSTAR! When I say Todd reaches deep into the vaults and transcends the boundaries of what you'd expect at a traditional rock show, I'm not kidding.

And that was just Todd's solo part of the show!

Eventually, we got the long-awaited arrival of Zach Throne, and this is another guy who always brings his best to the live concert stage. If you thought the opening portion of this gig was adventurous, seeing where the pair of them went musically was even more surprising! We got to see the twosome perform the Bee Gees' classic "Nights on Broadway," with the two proudly proclaiming it was "before they went disco." There was a cover of the old Righteous Brothers' hit "You've Lost that Lovin' Feelin'," of course originally recorded in the 1960s but popularized even more widely with its use in the 1986 blockbuster TOP GUN. And the duo decided to throw a curveball at the audience, doing an interlude incorporating a song with a similar beat, "Summer Nights" from GREASE, which they claimed was dedicated to the late Olivia Newton-John.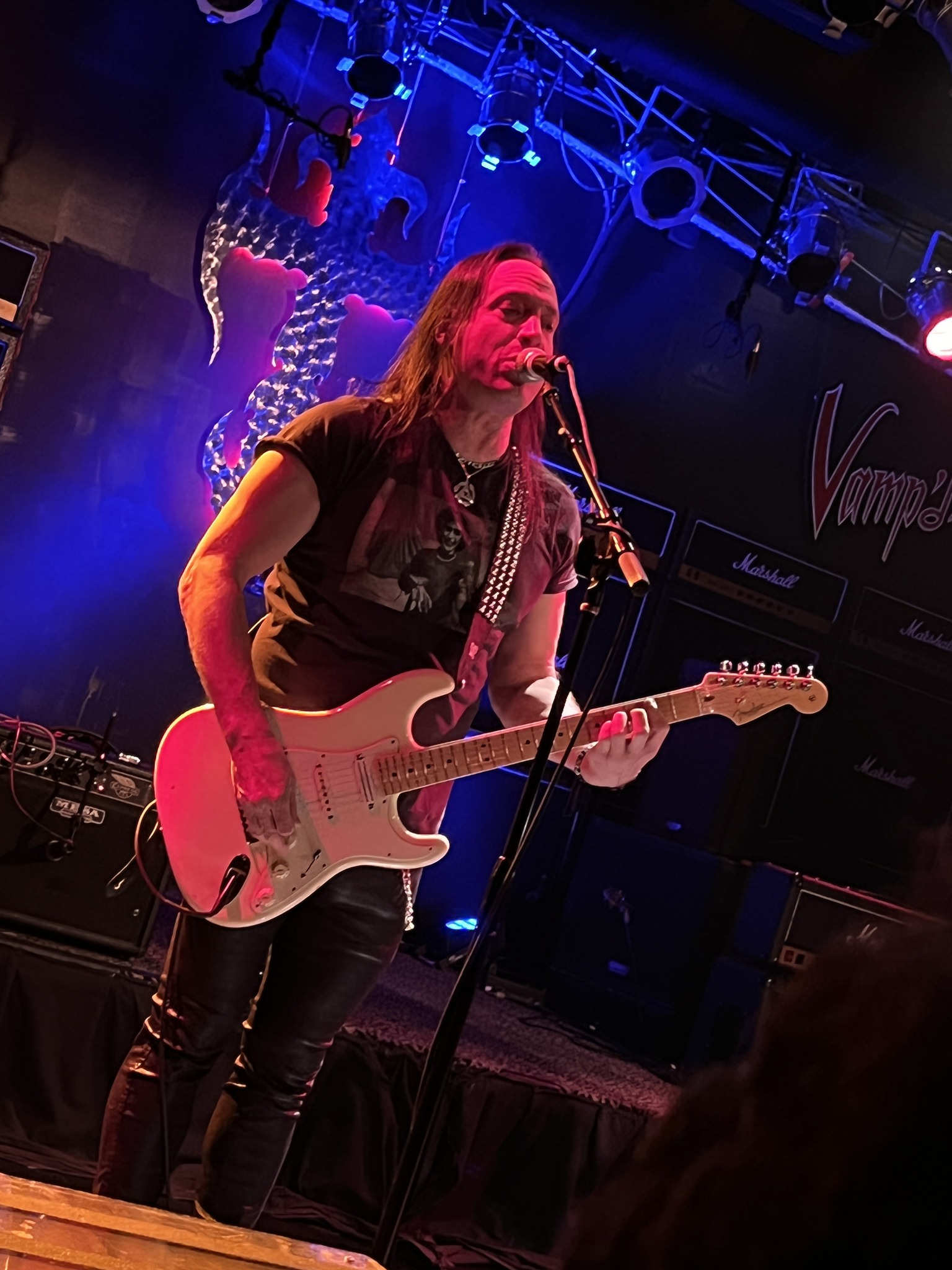 And that wasn't even the end of the ONJ tribute, with the two doing another one of the hits from GREASE, "You're the One That I Want." Like Velvet Chains before them, Todd and Zach dipped their toes into the pond that is the Alice in Chains discography (not sure if this was deliberate or coincidental), giving us a killer cover the band's lone number one hit, "No Excuses."

But the best part of the show was one I never would have expected in a million years.

The two claimed they were doing a song by "Phil and Phil," also throwing in some wisecracks about how that sounded like a restaurant name. I wasn't sure what song they were referring to, but it turns out it was the classic duet "Easy Lover," performed by Phil Collins and Philip Bailey (of Earth Wind and Fire fame). I wouldn't even call this a rock song, but Todd and Zach made it rock. What was truly surprising on this one is seeing how high of notes Todd could hit with his voice (if you've ever listened to EWF songs before, you know rivaling that band's vocal heights is no easy task!)
The only minor complaint I had with an otherwise stellar show was that the gig was billed as "Todd Kerns and Friends," which implies a revolving door of guest musicians, but Zach was the only person other than Todd on stage during his gig. One or two other guests would've been a nice addition and may have added to an already eclectic and entertaining setlist, though I can't complain much given what we got.

Todd Kerns always entertains, and seeing him rejoined by Zach Throne on the Vamp'd stage made for an intimate yet rocking night. The support set from Velvet Chains was a damn fine one as well; I'm looking forward to seeing where these guys go in the music world. A superb evening that's easily among my favorite live gigs of 2021.
ADDITIONAL VELVET CHAINS PHOTOS: