I'd like to start the review off by thanking ZrockR for the giveaways they do. I won the giveaway for the two tickets for this show. I had given my extra ticket to another fan I met who had gotten there early. He was super appreciative and we became friends. Big thanks to ZrockR for putting on these contests and giving back to the fans. You guys' rock!!! 
Bewitcher
Bewitcher took the stage, as fans were growing impatient for their need for some satanic heavy metal on their Friday night to kick off their weekend. They played for approximately 40 minutes. They spent none of those minutes standing and talking. As soon as they took the stage, they went in with all guns blazing. I feel like a lot of fans did not know what to think of Bewitcher before the show but as soon as they heard their melodic riffs and catchy rhythms; they were glued. At least a few minutes into the set the audience's attention was captured.
Mosh pits started forming and it gave the band the energy they wanted from Vegas. They got the crowd pumped up and ready for the Cavalera's!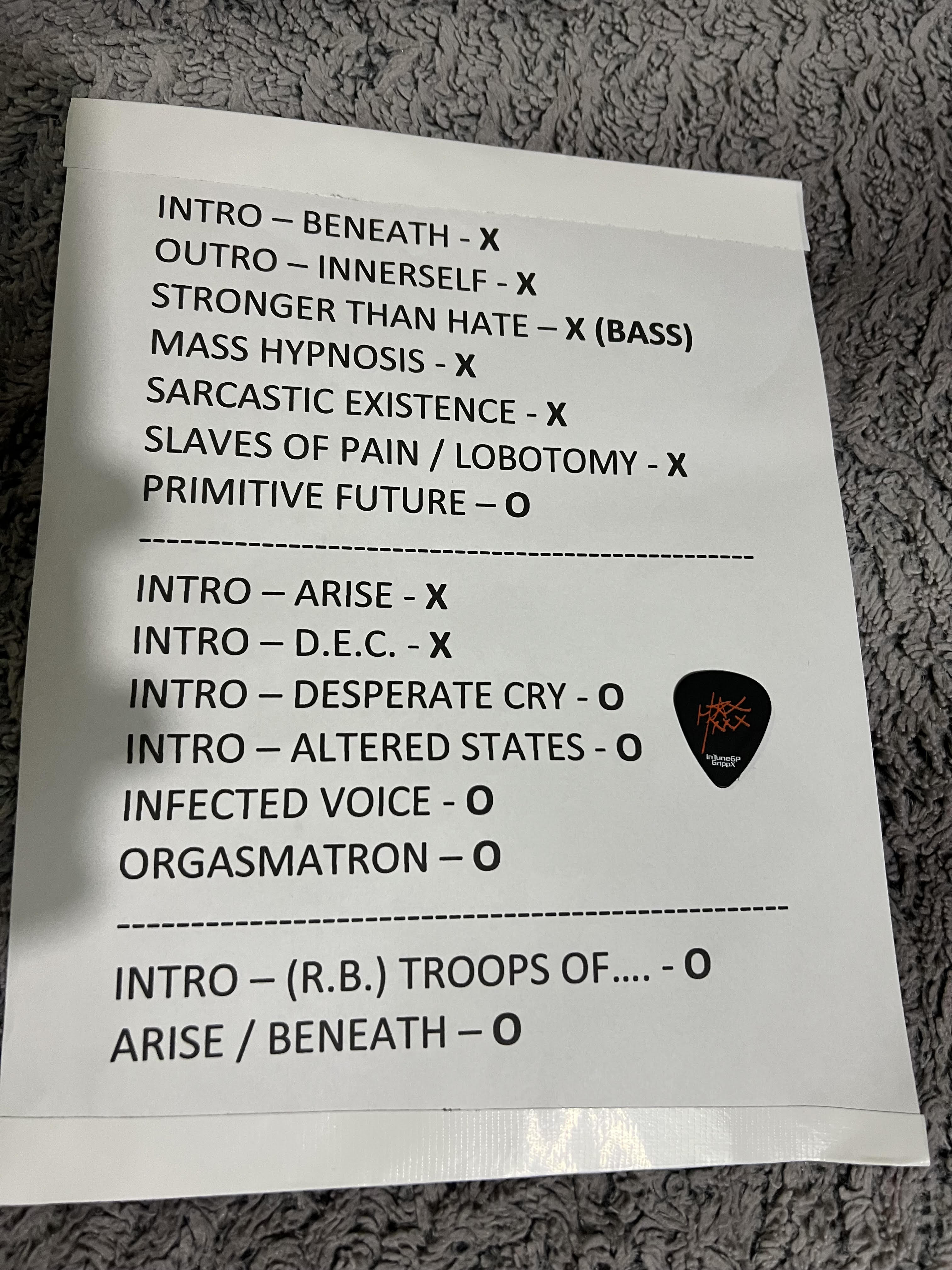 Legendary metal brothers Max and Igor Cavalera destroyed it. They played for around one hour and 40 minutes. On bass was Travis Stone, filling in for Mike Leon for the first few shows due to Mike staying with family during Hurricane Ian in Florida. Travis did great for a last-minute call. Travis and Igor held down that rhythm section tight all night. On lead guitar was no other than Daniel Gonzalez. Daniel is currently the guitarist for gruesome and death metal legends Possessed. Daniel played the solos and riffs to all the Sepultura songs they played that night like they were his. He never skipped a note and crushed every song. Daniel Gonzalez is a very talented guitar player and always amazes people when chosen for guitar duties.
Max and Igor brought the energy to Vegas. You can tell they love playing their past songs. They played 15 songs from a combination of both Beneath the Remains and Arise albums. It was definitely an amazing moment for a lot of fans in attendance getting to see two metal legends playing their classic songs that started it all for the Cavalera brothers and the influence that other bands gained from those two.
The crowd was very vocal singing note for note, the mosh pits were nonstop and the crowd very much enjoyed watching the metal masters at work.
Overall, the band sounded great and if you get the chance to witness this tour on any of the current dates, you must go. The history the Cavalera brothers have and watching them play their classic tunes is a really special moment. 
All words and thoughts + first gallery by Ian Allridge, second gallery by Jordan Kloepfer – Shared with permission.