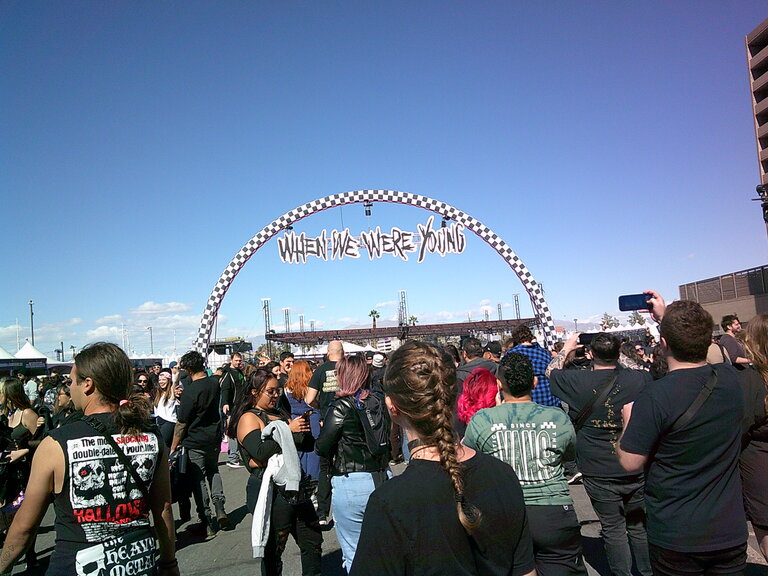 After mother nature decided that When We Were Young was not in the cards for Saturday, October 22nd, we were prepared to try again for day 2 on Sunday the 23rd. People were lined up all over the place to see their favorite nostalgic bands. I don't think I had ever seen so many people who looked like me in my entire life. (At least not here in Vegas- this event was expected to bring in about 60,000 people per day.)
I was dropped off at about 11:30 in the morning outside the main festival gates. This was slightly misleading, as you could see people lined all the way down Sahara Ave. Later on I kind of had the realization that it wasn't an actual line. If you had a ticket, you walked in, had it scanned, and off you went to enjoy the day.
The Beginning
My first complaint here comes at the box office. Being listed as media; I felt that it would have been much more efficient to have a completely separate line for press, photographers, and other people working the event for review purposes. Instead I was directed to the will call/VIP line. It took a full hour to get my credentials. After that, though… things moved pretty smoothly overall. I took advantage of being able to go in through the media/ADA line, which was virtually non-existent; and I got in just in time to watch Hawthorne Heights.
Hawthorne Heights put on a stellar set, as they usually do. The night before, they had performed a free show at The Strat with Armor For Sleep. It wasn't long before I felt a little overwhelmed by the amount of people on the festival grounds. I could not find any of my friends. There was virtually zero cell phone service, and it was very difficult to navigate from stage to stage. After watching Hawthorne Heights; I wandered a little bit to see just what the damage would be as far as walking around goes. Acceptance was in range. In the distance; I could hear the chorus to the song "So Contagious". Immediately I was hit with heart-string pulling nostalgia. I played this song repeatedly in high school around the time I met my husband. (He was my boyfriend back then.)
After a little while, I found myself back at the Striped stage as Atreyu was about to begin. This is where complaint two comes in. Earlier in the day at this stage; it sounded like there were some pretty rough technical difficulties on the sound front. I've seen Atreyu on many different kinds of stages through the years. It was disappointing that their sound was not on point this day. (Later in the day it sounded as if the Stripe stage and the Checker stage were competing against each other and seeing who could be louder.)
I've seen conflicting things as far as opinions of Atreyu's change in lineup and their performances now. Brandon Saller was the drummer and clean vocalist and is now taking on full time vocalist duties. Given that this is a relatively new-ish formation, I'm understanding enough to cut this band some slack. I hope they're able to find their groove again.
Wandering
After this I was back to wandering around, looking for familiar faces. I really wanted to catch Armor for Sleep, but couldn't seem to get back over that way in time. Somewhere in the mix I ended up sitting down on the big area of shaded pink grass near the big When We Were Young arch by the main entrance; where a nice chunk of food and bar vendors were. I listened to 3oh!3's set, and part of Senses Fail's. They were both in range, and they both sounded top notch from far away. Also, I finally found my friends! But this was the only time I would end up finding them. They spent a lot of time moving back and forth a bit, and I stayed more closely to the smaller stages on the opposite side of the venue.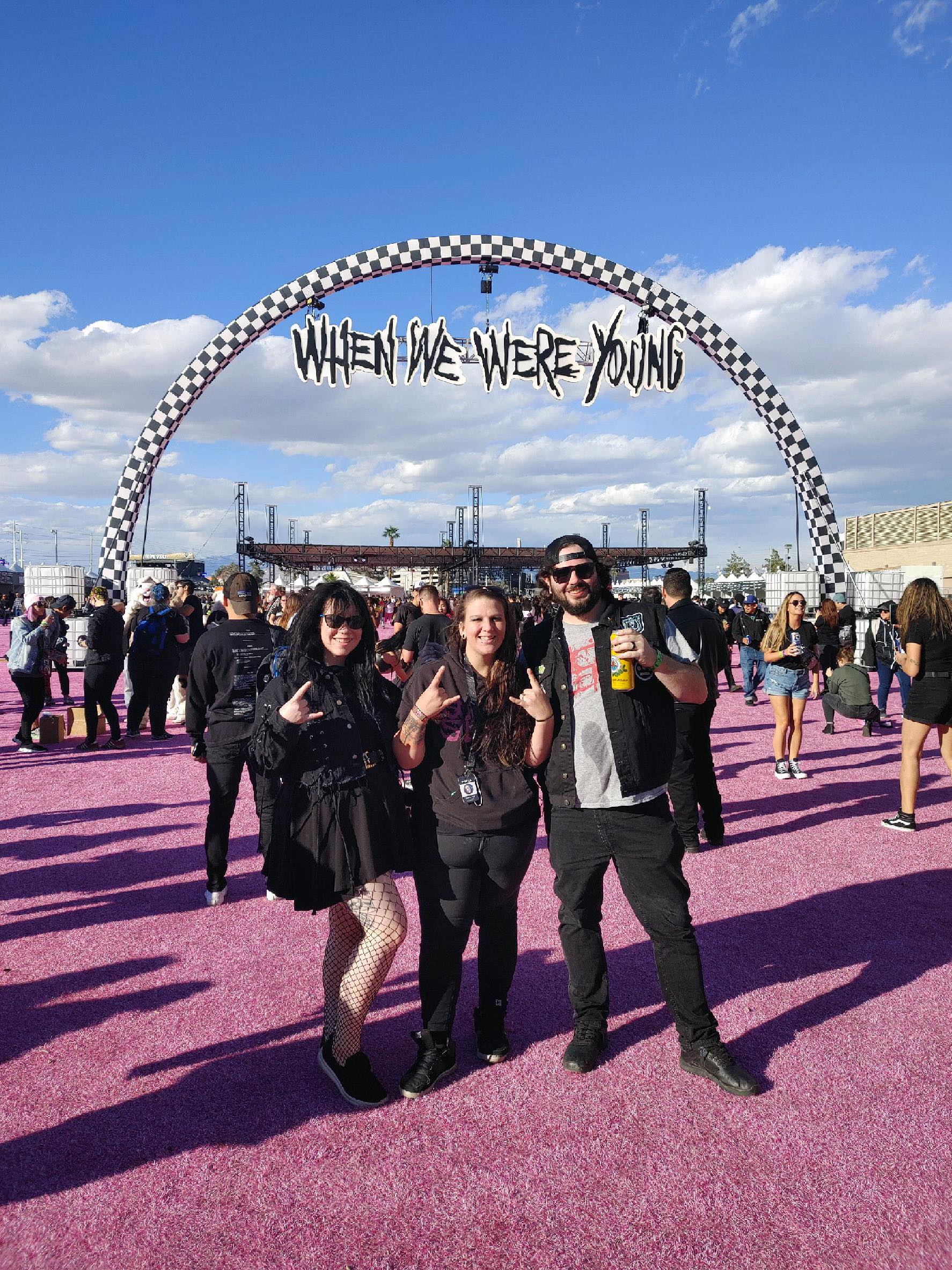 We all took a photo in front of the "When We Were Young" arch; and then were approached by bunnies that popped out of the press lounge. They were dancing around, and they had a team of young women with them. They were telling everyone, "Blink 182 is coming! Make sure you are too!" while handing out condoms. This is one of the funniest things of the entire weekend for me! It's also great promotion for Blink, who will be performing at When We Were Young 2023. (Although, I wouldn't say Blink 182 necessarily needs promotion. They're already legendary.)
Breaks
Taking a break inside the press tent was nice. There was air conditioning. And I definitely needed the water. After this break I was back to wandering around. I found myself near the bigger stages (Black/Pink) for part of AFI's set. I am admittedly not the biggest AFI fan. However, those guys are so good live. It was hard for me to take off and head back to the other side of the festival grounds. But I REALLY wanted to catch at least part of Silverstein's set. I only wandered back over to this side for the end of Taking Back Sunday's set. Adam Lazzara seemed a little goofy through this set, but I've heard that's nothing new as of late.. Unfortunately any good past performances are more than likely just happy memories with these guys. Which is a shame, really.
Upon leaving the AFI crowd, I found myself a nice little spot by a skull sculpture in between the Checker and Stripe stages. It was here that I happily listened to Knocked Loose at the same time as The Maine, and then Bayside and Black Veil Brides, The Story So Far, and Motionless in White. Another big plus in my book for this day? That just about everyone that I came into contact with was nice, talkative, and excited to be there. I had several, "these are my people!' moments and I always love how that feels.
So you think your parents are cool?
I hung out with my mother for a long while while waiting for The All American Rejects. I had found her earlier in the day, but lost her in the mix when she went to get merch, drinks, and food. And this is where complaints number three and four come in. The merch lines in particular could have been handled and planned for differently. The main festival merch line extended all through main walkways of the festival grounds, and easily was an hour plus long wait if you didn't have any of the fast pass options. Essentially, if you had a standard GA ticket; you were fucked unless you wanted to wait in line and potentially miss some bands' sets.
Since most of the bands on average played about 30 minutes during the day, an hour or two long wait in line for the merch, for me it's not worth it to have the merch if I have to miss bands I want to see. There was also no real separation from festival merch and performer merch. It would have cut down on some of the line madness if there were a separate area on the property for the individual band merch.
While waiting for my favorites…
The All American Rejects are another band that I'm admittedly not a huge fan of, but I know all the words to their music and they put on a really fun show. All around this set, you could see fans singing and dancing (including myself and my mother, while my step dad stood by rolling his eyes. This isn't his scene and that's okay.) Tyson Ritter has such great energy throughout the performance, and it's possibly one of the best When We Were Young sets on this stage for the day.
At some point my mother decided to disappear off somewhere else, I stayed over by these two stages and again watched bands that performed on both. I witnessed an absolutely stellar performance by Manchester Orchestra, while also seeing Sleeping with Sirens kill it on the next stage over. Alkaline Trio could have been better, I think I like them better in non festival atmospheres. They were wonderful when I saw them at Brooklyn Bowl a few years back. And I feel like sound wise, Dance Gavin Dance on the Stripes stage overpowered them quite a bit. At least from where I was sitting anyway.
Towards the end for me…
As Alkaline Trio was wrapping up their set, I began to make my way through the crowd at the Checker stage for Thursday. Thursday is probably one of my most favorite bands on this years When We Were Young lineup. I managed to make it about 10 people back from the front, and safely found a spot next to the middle barricade where I could take some video and photos from my phone. I felt the tears run down my face as they played Division Street, and Geoff Rickly made a nice little speech about reproductive healthcare and identity before dedicating the song Signals over the Air to everyone at this event. In my opinion Thursday is one of the most underrated post hardcore bands out there, I was extremely happy to see them play this festival. I just wish they would come back to Vegas more often.
I ended up leaving after Thursday's set. It was still windy, and it had gotten cold. My lips were chapped and my body was sore. I heard wonderful things about My Chemical Romance's set, as well as Paramore's set. I had also heard bits of Avril Lavigne and A Day to Remember off in the distance during the times they were on, and they sounded lovely. (ADTR is always great live, I just didn't want to fight the crowd over at those stages.
Great things can also be said about Bring Me The Horizon, although I am sad to hear that after a full decade, some of those fans just lack crowd courtesy. I heard these fans were not letting people get in or out of the crowd and that is disappointing; especially since I had experienced that same thing with their crowds back when they first got super popular. Nonetheless, I am extremely happy for BMTH and the success they've achieved through the years. They've come a long way from being one of the popular scene/deathcore bands at their inception.
Main pros and cons
Pro –
Bathroom areas, (the only ones that were pretty bad were over by the box office/entrance)
Hydration stations for easy and convenient water bottle fill ups.
Grass/Turf/Shaded areas.
Food variety, (although super expensive, there was something for everyone.)
Designated trash/recycling all over the festival grounds for easy disposal.
Good sized stage screens on all stages that allowed for you to see the action without fighting the crowds.
Cons-
Slightly unorganized at the box office, should definitely have a designated line for press/photo/media guests.
Merch lines, I would love to see a completely separate area for band merch to avoid crowd clutter as well as a different system for the actual lines to get this merch.
Sound issues, although this could have very well been from all the wind, but I hope there's some all around fine tuning for next year.
Over-crowding, while I loved seeing so many of my people, it was extremely hard to move through the crowd at some points, possibly lowering capacity on some level would help this.
Overall I had a good time, myself. Many points of the day made me feel like I was 17 again. It reminded me of Extreme Thing minus the local XPOZ stage. I'm looking forward to next year, and to see if some of these kinks can be worked out!