Friday, April 28th Backstage Bar & Billiards (Triple B/BBB) was the place to be.
Walking into the venue, it didn't look too packed, but as the night went on it got to the point where it was difficult to move in the place.
I made my way to the bar to order a PBR and said hi to my friends in Crimson Riot, who kicked off the night.
Crimson Riot.
If you aren't familiar with this Las Vegas trio, then you've been missing out for a while. Formed in June 2017, this family affair (vocalist/guitarist Roxy Gunn and vocalist/bassist Chris Reject are actually married and Roxy's younger brother RJ Moon brings the back beat on drums), is severely high energy.
I've seen them play multiple times over the years, and this night was probably the tightest and most fun set I've seen them do.
The awesome thing about Crimson Riot is you never get bored watching them. Roxy commands the stage with a smirk, and even though she's usually stuck behind the microphone, her personality shines through in her delivery. Chris never stops moving and dancing, at one point even jumping into the crowd to help get it moving. There's only one way to describe RJ's drumming, and it's that he becomes the kit. He's sticks and hair and smiles, never missing a beat.
Highlights of the set for me personally were "Time", which the band dedicated to the late, great bassist of Adolescents, Steve Soto, "I'm Not Punk" featuring Chris on lead vocal, "Here's the Bad News Laura (The Shake Machine Is Down)", and their closer of "Hurt".
The band has two albums out currently – Classy Punk for Trashy People and It Took an Apocalypse, which is available on all streaming services, and highly suggested, as both are in my regular rotation.
Gallery.
The Ghostwood Murder.
Next up was The Ghostwood Murder from Arizona, who I was pleasantly surprised by. The band has a multi-genre kind of vibe, fusing together punk, folk, and country. This 5 piece, comprised of two guitars, a standing bass, violin, and drums was a bit less energetic than Crimson Riot, but their overall presence was amazing.
I was a bit miffed because the sound mix during their set was a bit muddy, which made it hard to hear them properly. Additionally, their set was cut short and when they began trying to play through their last song, their sound was cut completely, which was kind of a dick move to me.
I've had a chance to go through and listen to their catalog, and their spooky lyrics and mixed sound have made me a fan. One song that stood out most to me was "Graveyard", which you can find off of their new record A Lick & a Promise.
I really hope they make it back to Vegas soon so I can check them out again.
Gallery.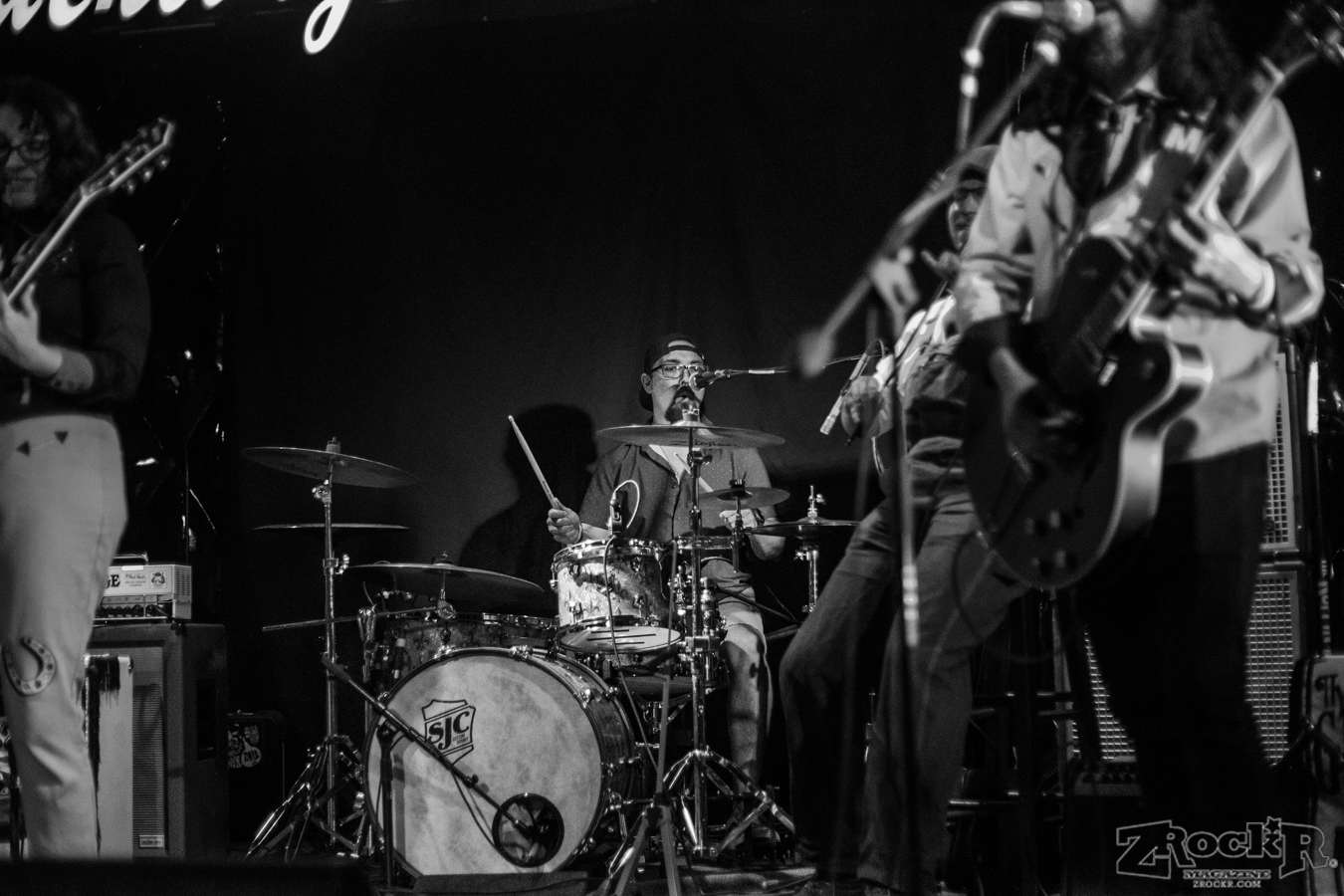 Blvd Bullies.
Taking me by surprise was the third band of the night, the also local BLVD Bullies. The band formed in 2018 and it's current incarnation is comprised of Alex Sanchez on vocals, Jimmy Clemons on lead guitar, RJ Biesecker on rhythm guitar, Nick Garcia on drums, and Josh Michalosky on bass.
With a beer in hand the entire set, Alex never stopped moving, and neither did the crowd – at one point breaking into a circle/skanking pit during one of the band's ska-esque (sans horns) style songs.
The majority of their set was off of their new record R.P.M., including "Say Goodnight to My Liver", "Whisky", and a cover of ELO's "Mr. Blue Sky". I feel it is important to mention that the band joked about the fact that they forgot to write a setlist, and did so before their set on a Post-It note. That poor little Post-It ended up in the crowd numerous times, but was always kindly returned to the stage.
The band closed out their set with a sing-a-long of the Golden Girls theme "Thank You for Being A Friend", which one would not think could work as a punk song, but it did.
I definitely look forward to seeing them again.
Gallery.
The Koffin Kats.
I don't know what happened, but I blinked and all of a sudden was pushed right against the stage when The Koffin Kats took the stage. I did not expect it to get that packed, as this was my first time seeing them, even though they've been in my rotation (and of course on my annual Halloween playlist) for a few years now.
This trio from Detroit never stopped moving. Vocalist/upright bassist Vic Victor flipped his glittery black and silver bass around like nothing, jumping on top of it and dancing with it, while guitarist Tommy Koffin interacted with the crowd, getting up close and personal. Drummer E Ball Walls never stopped smiling and did his best to interact with the crowd from behind the kit as well.
The crowd of course went crazy for songs like "Graveyard Tree" and "Chainsaw Massacre", but this year fans will have more music to look forward to as the band is currently working on new material to celebrate their 20th anniversary.
If they come to your town, do not miss it. I surely will not be.
Gallery.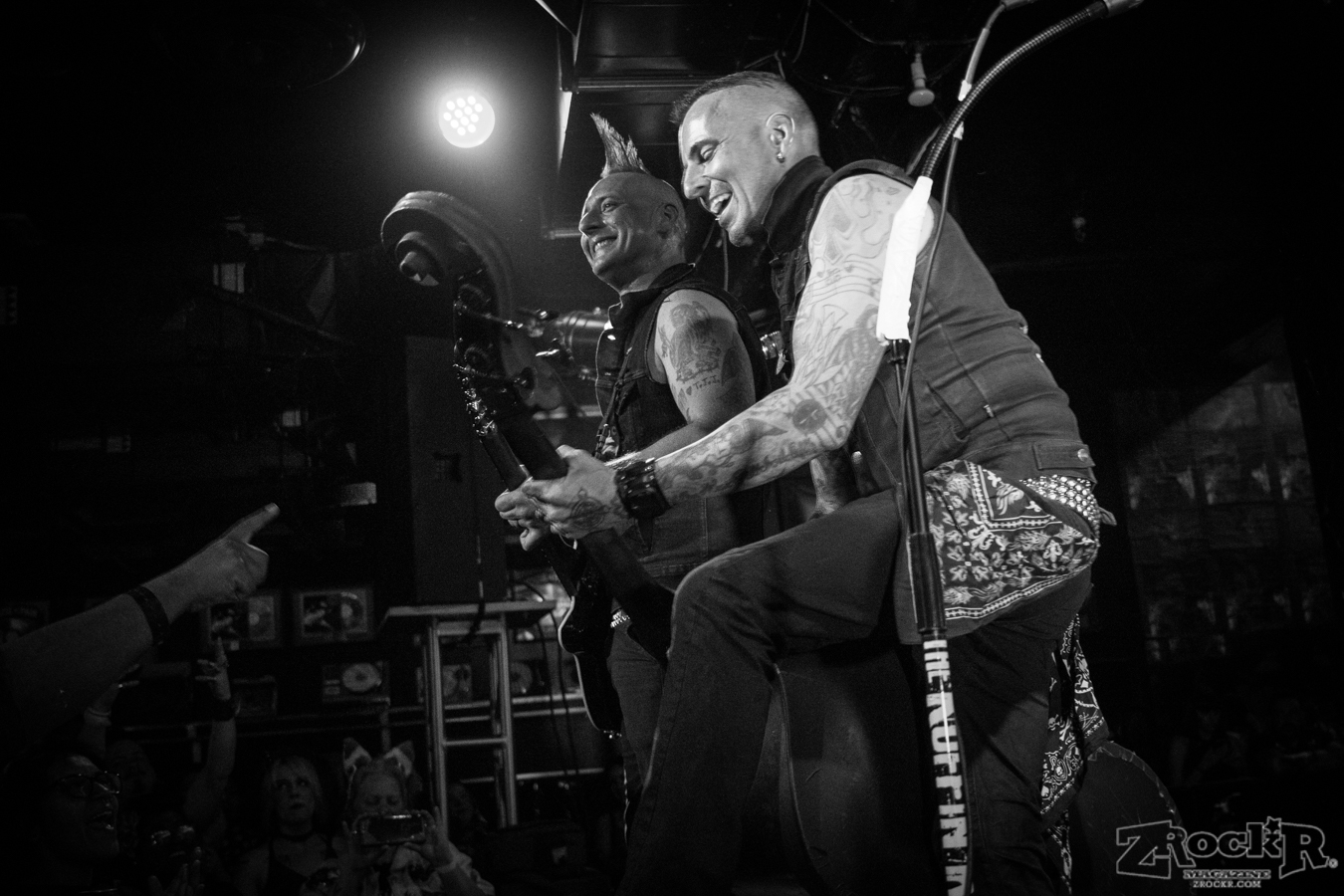 PHOTO CREDIT: All photos by Stephy Muzio for ZRockR Magazine – All Rights Reserved.