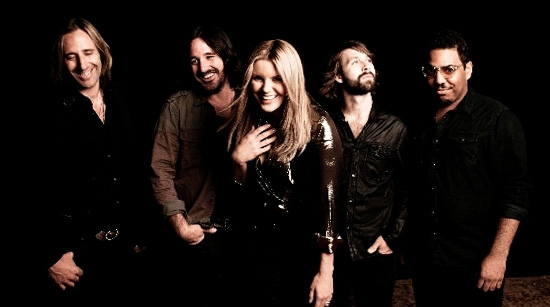 Grace Potter and the Nocturnals rolled into Vegas for another visit in June, this time at the Mandalay Bay Beach; prior stops have included gigs at Green Valley Ranch, Aliante and Red Rock Casino. Their current tour mixes in headline dates with opening slots for other, more established artists like Robert Plant and the Allman Brothers Band in certain areas, but tonight was all about these scrappy road warriors from Vermont who keep plugging away in an age where few even bother to buy albums.
Opening appropriately with Hot Summer Night, Grace came bouncing on the stage with an enthusiasm shining as bright as the rhinestone covered dress she was wearing. First running around like the daughter Janis never had, then hops behinds her trusty organ for the playful Goodbye Kiss. An acoustic is strapped on for One Short Night, and by the time the next number rolls around (longtime staple Stop The Bus) it's her signature Gibson Flying V and she's rocking as hard as some of your fave 80's arena rock acts of yesteryear. And she's not the only multi-instrumentalist in this band; other members of the Nocturnals also take turns breaking away from their main instruments, in this case guitar for Scott Tournet and Benny Yucco, drums for Matt Burr and last but not least bass for newest addition Michael Libramento. Tournet and Libramento both take turns playing keys at points in the show, and Grace isn't the only one who can strum an acoustic on this stage, everyone but Burr does on this evening. In an age where new stars abuse fads like auto tune, and many legacy acts feel the need to augment their line-up with replacement players or huge bands to back them up (the Beach Boys reunion tour last summer needed 10 additional musicians on stage to recreate their sound), it's nice to witness a band who can actually play and seem to enjoy doing so. There are no backing vocal tapes to synch up to, nor giant video screens or explosions or back up dancers to distract you from the musicianship, and none of it would be needed anyway.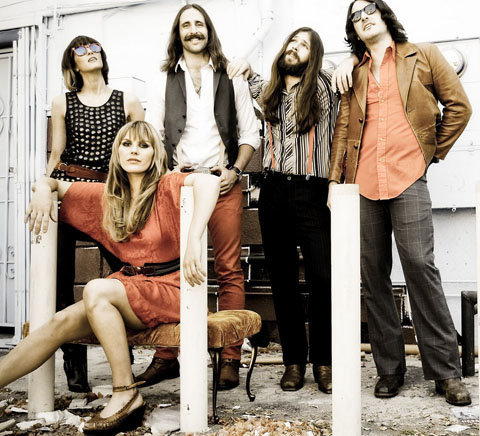 It's common knowledge Grace and the Nocturnals like to keep their setlists fresh; they do this by rotating songs in and out on various evenings and making sure they have a healthy dose of covers in their repertoire, and on this particular tour taking requests via Twitter (at one point in the evening it's announced that this particular show was entirely made up of fan selections). Another apropos number in the form of Oasis is played out here in the watery confines of the Mandalay Bay Beach. The mood is once again slowed down for Big White Gate before surprising everyone with a relatively early appearance of Medicine, arguably one of their most well known songs. Not forgetting exactly where they happen to be, Roulette is played from the deluxe edition of latest release The Lion The Beast The Beat, and both Keepsake and Stars from the regular version of said album follow. But things really get cooking when the sultry rarity Sugar starts reverberating around the venue. This segues seamlessly into a rocking cover of Blondie's Heart of Glass, before once again flowing effortlessly back into the Blondie chestnut.
Nothing But The Water starts out with Grace singing over nothing but her V and amps its plugged into, before crashing into a full on rave up with the rest of the Nocturnals. Another surprise cover is Tom Petty's American Girl, with Grace looking every bit the part while reciting the Petty classic. After that it's The Lion's title track, and Paris (Ohh La La) closes out the main part of the night with the crowd singing along so loudly it seemed to overwhelm the band.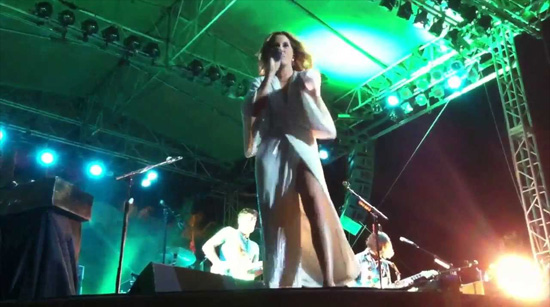 The band returns to the stage and finishes the evening with three covers to show their diversity: Devil's Train (an old Hank William's number which can be found on the Lone Ranger soundtrack), a version of the Grateful Dead's Friend of the Devil which Grace sings so beautifully there's hardly a dry eye in the house, and finally a fiercely rocking War Pigs that gives even the mighty Black Sabbath a run for their money.
And just like that, it's all over. The band has left the stage and you're left wondering if you really witnessed a band playingHank Williams, Grateful Dead and Black Sabbath tunes back to back and able to do so convincingly. If you missed this talented bunch, shame on you. Do yourself a favor and make a point to catch them next time.
                                                                                                           ~ The SmirK

Photo Credits: Screenshot from Video- Publicity Photos of Grace Potter and The Nocturnals © 2013 Hollywood Records