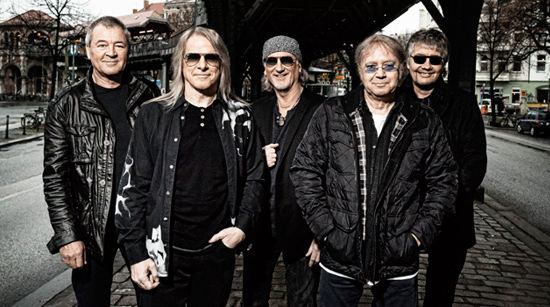 19 albums in their now 45 year span… Deep Purple are still rocking, well.
Not too many bands have consistently stayed on top of their game, or have even stayed together long enough to sustain a legendary iconic status well into almost 6 different decades. While there has been numerous line-up changes through the years (what long running band hasn't?), they do have 3 out of 5 original members. Not a bad ratio.
The keyboard-heavy dirty riff melodic heaviness with occasional mild hints of trippy-ness that's been a staple ofDeep Purple since the beginning is still very much in tact. The guitar work is always phenomenal, yes, even without Mr. Blackmore. Ian Gillan's voice is still pleasant to the ears and hasn't lost any edge.
In a general sense. Now What?! could very easily be placed in 1973 and I think it wouldn't have really raised any eyebrow's in terms of questioning "is this Deep Purple?"… But don't get me wrong. The album certainly doesn't sound dated. It sounds as fresh as anything they've ever done. Which is a positive. The music they're known for making is that little thing we call 'timeless'.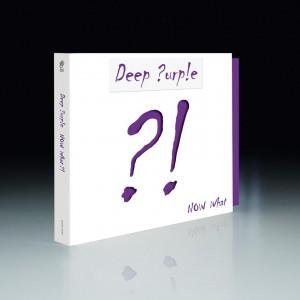 The 1st track, A Simple Song, starts off in the vein of the classic Soldier of Fortune before turning into a full on keyboard rocker. Weirdistan's drum tone alone should bring some flashbacks of John Bonham with DP's musical formula over it and if you don't know what I mean by that, I question why you'd even be a fan of classic rock and listening to and/or reading this review. In reference to the 'weird' in the title, they live up to it with some laser beam sounding keyboard solos. Followed by an impressive guitar solo. Out of Hand is another Zeppelin-esque tune that's actually reminiscent of Kashmir in many ways. Hell to Pay is a standard slightly more uptempo rocker. Above average, but nothing special. Body Line is a little ZZ Top, a little early Aerosmith, and really, just a neat little bluesy bar jam that'd make anybody having a good time, have a better time. Above and Beyond sounds straight out of the 70's in a lighter-hearted kind of way. A sort of moody tune, maybe in a Kansas kind of way? I think it's safe to say that Uncommon Man is the epic of Now What?! in a classic Foreplay/Longtime sense, I'd put a * next to it. Après vous is another by the number's DP mid-tempo pure rock track. All the Time in the World is probably one of the best showcases for Ian's vocals. I can't explain why, it's not a ballad really. I just find the focus on his voice to be the strong point. Vincent Price could make you feel like you're playing Castlevania, then you almost expect Ozzy to start singing Mr. Crowley. Guess there's worse songs to compare it to, eh? The bonus track, It'll Be Me, is Deep Purple in pure honky tonk form. I see why it's a b-side. But it's still listenable!
Look. If you're already a fan of them. There's no reason why you wouldn't want it in your collection. You know what you're gonna get with Deep Purple a large majority of the time. If you're a new fan, it wouldn't be the top choice to start off with, but it surely wouldn't be a bad one to get an idea of their sound. Either way? Enjoy veterans doing what they do best.

7/10 m/
~Marcus Miller