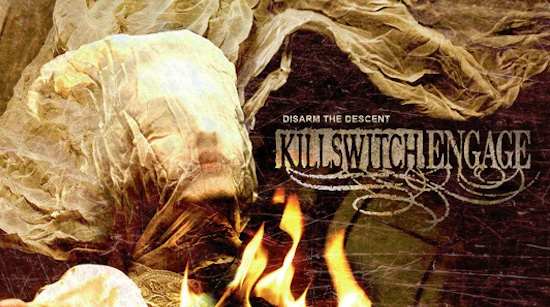 It doesn't matter which vocalist you prefer, Jesse Leach or Howard Jones. Killswitch Engage are a band that knows how to write songs that are as melodic and catchy as they are aggressive. There's that joke that's been running sinceThe End of Heartache album that they're the "Def Leppard of Metal". I understand exactly what that means since bothDef Leppard and KSE are my favorite bands. There's plenty of Hysteria within Killswitch's style of metalcore. Not so prominent, of course, on their first 2 releases (Killswitch Engage, Alive or Just Breathing, respectively.)
So. In 2002, shortly after AOJB was released and directly in the middle of a tour, original vocalist Jesse Leach abruptly quit the band via e-mail due to depression as well as constantly blowing out his voice. With the blessing of Roadrunner Records and numerous friends from other bands, they were able to pull in Howard Jones (Phil Labonte, singer of All That Remains, being a VERY close 2nd) to continue their tour for their very highly praised new album. Before you know it, time had passed, hundreds of shows had been played. And it was time for a new record. During that time, Tom Gomes had left the drum position and in came Jones' bandmate from Blood Has Been Shed, Justin Foley. This became the line-up for Killswitch Engage until 2012, when Howard Jones had to exit the group for a few reasons. After 3 successful albums, a Grammy nomination, plenty of praise, and a hell of a vocalist in Jesse's replacement, Howard….. who could take the lead vocalist spot again?! Rumors started flying immediately. And the top 3 names being suggested by fans were: Jesse Leach, Phil Labonte, and Tommy Vext (formerly of Divine Heresy and Snot). Any fan would've been, and was, excited at the possibilities. But. What if… a new guy nobody knows came in? Speculation was monstrous for a month. Hell. I even considered throwing my name in the hat. I didn't though.
Adam D. and Jesse Leach, the previous year, had released the long awaited Times of Grace CD, Hymn of a Broken Man (what I consider the lost KSE album or bridge between KSE2 and DtD); Which in many ways was the reunion so many fans (including myself) had waited nearly a decade for. The tour also included Joel Stroetzel on guitar. 3 members of the original KSE line-up, playing music very similar to KSE, but not playing any official KSE tunes. It was exciting. It also proved that Jesse was more than capable of stepping up to the plate again. February 6th, 2012 comes. AndKillswitch Engage announce their brand new vocalist by simply posting a photo of the band. Jesse Leach was back. And the news was over-whelming.
It took more than a year before an album was finally released, on April 2, 2013. Disarm the Descent. The melodically heavy metalcore that the band produced with Jesse on the first 2 albums helped spawn thousands of imitators, as well as helping revive interest in the Metal scene in general. A major player in the "New Wave of American Heavy Metal". But with the introduction of Howard Jones' soaring epic crooning, their reliance on sing-y catchy choruses became a HUGE part of their sound. Something not so forcefully touched upon in the early material (My Last Serenade, Life to Lifeless,The Element of One being the best examples). With the influence and expansion of KSE's sound during the Howard-era, how was Jesse going to fit in?
The Hell in Me starts fast, strong, loud, and to the point. I'm sure there's a reason it was chosen as the album opener… if you can't notice. You wanted a showcase for Jesse's vocals in modern Killswitch? Beyond the Flames is the song that balances heavy and melodic so perfectly. Vintage KSE. My choice for the 2nd single. The New Awakening is essentially balls to the wall, kick in the nuts, rip your… ok ok. But it does slow down for the choruses. The 1st and so far as of this review, only single, In Due Time, is as purely Killswitch Engage as it gets. It has a very solid groove. A little 2 step action. Very catchy chorus. Jesse uses all of his well known ranges. You get somewhat of a breakdown with a guitar solo after it. It's all their best trademarks in 1 song. A Tribute to the Fallen is probably one of the most passionate songs vocally that KSE, and Jesse, has ever produced. Very aggressive and one of my favorites. Turning Point starts melting faces from the start with a heavy breakdown groove. The song itself kinda reminds me of My Last Serenade/When Darkness Falls mixed with Temple From the Within. What is very likely to be the fastest track of theirs to date, All We Have, is very violent, then when the chorus hits… you somehow feel like you're listening to All That Remains. Even vocally Jesse sounds like Phil in the chorus. It's not a negative by any means. You just feel like you know it. You Don't Bleed For Me is stereotypical KSE. Solid. The Call is this albums answer to To The Sons of Man. By far a favorite. I love singing over blast beats. No End in Sight was the 1st taste of new music we got last spring when the song was 'leaked'. It grew to be one of my favorites once really knowing the album. Numbered Days + Daylight Dies? Always harkens back to lines in The Element of One and The Forgotten One and is essentially a sequel to both. Time Will Not Remain, Blood Stains, and Slave to the Machine are the weakest links of the album but are still worthy listens. They just happen to be very run of the mill songs for the band. For a band on their 6th album in and only really having, in my opinion, maybe 10 songs total that are simply "average" and nothing below that is something to be proud of. Not everything can 100% be a winner every single time. They prove to be consistent.
On a side note, this is far and above the Killswitch Engage album with the MOST guitar solo's EVER.
Jesse Leach is back. The band sounds inspired, refreshed, and even excited. Most of the music was already written before Howard left the band, however, he had no part in the process. So as good as this album is musically, honestly, I'm REALLY looking forward to the next album when Jesse will have a part in the process. In the meantime. Look up his previous and current bands, Seemless, The Empire Shall Fall, and Times of Grace.
9/10 m/
~Marcus Miller