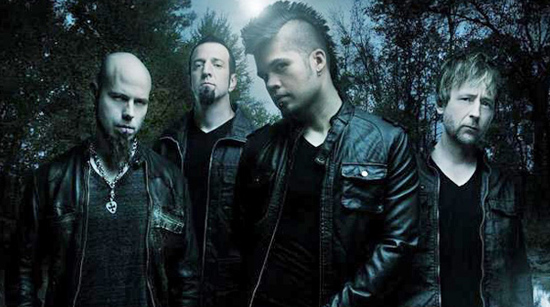 A band I've followed since 2001 and haven't turned my back on. 4 vocalists, 5 albums. Had original (and best) vocalistDave Williams not tragically died from an unknown heart condition in August 2002 during the Ozzfest tour… who knows how far their immediate success would have taken them. Even still, no vocalist has been able to match his charisma and singing ability. It can be said though that Drowning Pool has finally found their best singer SINCE post-Dave in Jason Moreno.
Live is where it's really at for Jason. He's able to pull off the previous 3 vocalists VERY well, while retaining his own identity.
As for the latest cd? It doesn't reinvent anything. It's not going to impress you with flashy over the top thrills you've never experienced before. It won't put a shiver down your spine. But it will make you bang your head, throw your horns in the air, and sing along. I still believe the band is underrated, especially in comparison to other bands that rule the airwaves. I hope things continue to progress smoothly with the new guy, Jason because there is potential for them to further forge their identity in the mainstream rock world.
The most stand-out tracks of Resilience are Anytime Anyplace, Digging These Holes, Broken Again, Die For Nothing, and Low Crawl. In typical Drowning Pool fashion, these are mostly more up-tempo jam songs with the focal point on the vocals. If you're more of a "radio rock" only type of fan, and you want the sing along hit single cheese, One Finger and a Fist is where it's at. I don't mind it at all. It's obvious it was completely written to be what it is. And yet it still will never reach the success of Bodies, which surprises me actually. Due to the 10 year anniversary in August 2012 of Dave's death, the band wrote a song for him, fittingly titled In Memory of. Saturday Night is the other single of the album, and while it's not as processed as OFaaF, it's completely meant to be the good time fun love party rock song for the year. And again. It most likely won't have much radio play for whatever reason. The Powers That Be like to continue playing the same ol' bands over and over again. I'd love to see Drowning Pool achieve higher success because they stuck with it, persevered, did what they did best, and have (in my eyes) been consistent in being just a fairly solid kick ass modern rock band.
I believe nothing they'll ever do will outdo Sinner, musically or vocally. And I don't believe Resilience is even their 2nd best in their discography (I'll give that to the previous self-titled 4th album, 2nd and final with Ryan McCombs who went back to Soil). But I have faith in them to atleast put out another 2-3 really damn good hard rock albums that keep them going and eventually put some ears back on their tunes.

7/10 Horns Up m/
~Marcus Miller