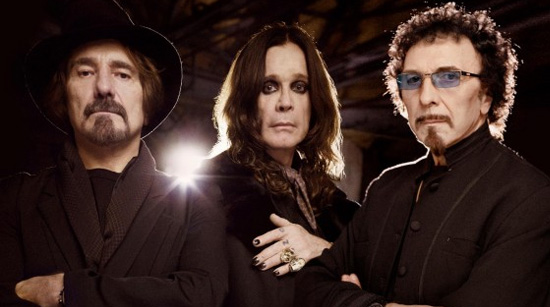 When it was announced on 11/11/11 that the four original members of Black Sabbath were going to reunite once again for a new album and tour, many were skeptical. There had already been an aborted attempt a decade earlier in 2001, what was different now? Almost immediately the first setback came: guitarist Tony Iommi had been diagnosed with early stages of lymphoma and would have to undergo treatments in his native England. The previously announced 2012 summer tour was whittled down to three concerts, and the new lp wouldn't be released until 2013. Doubt continued to grow when long-time on again, off again drummer Bill Ward pulled out of the project, claiming he wasn't given a 'signable contract'. The group (or management, depending on who you talk to) called his bluff and replaced him for the live dates with former Rob Zombie skin basher Tommy Clufetos, who conveniently happed to be drumming in singer Ozzy Osbourne's solo band at the time. The shows were played and then Brad Wilk of Rage Against the Machine fame was drafted for the record. Things kept rolling along in the Sabbath camp, but it was obvious the godfathers of heavy metal were just as dysfunctional as they had ever been.
Fast forward to Fall of 2013, and it's hard to believe there was any reason for strife in the first place: They're playing to packed houses in support of a new album (simply titled 13) that not only debuted at number 1, but will more than likely occupy the top spot in many critics 'best of' lists at the end of the year. After a rocky start for Osbourne vocally during the early part of the run (band management blaming "monitor issues"), their well received and attended 13 tour made it's way to the MGM Grand Garden Arena for the second to last US date of what could possibly be the final curtain call for this legendary act. Beyond this there's a month-long break (while Iommi receives more treatments), then South America, Europe and finally the UK to wrap up the roadtrip. There have been no plans announced for next year.
The house lights dim and the familiar air raid siren let's us all know that War Pigs is about to kick in. Osbourne sings about "Generals gathered in their masses" with the shadow of Syria looming over us, and the Vietnam era classic sounds just as poignant and vital as it did when released back in 1970. They delve deep into their catalog by pulling out Into the Void and Under the Sun, both delivered with the force of a sledgehammer. Tonight's show is a celebration of Sabbath old and new, and Ozzy makes sure to thank everyone for giving the band their first number one record in the States, after which he states: "We're gonna do a song now, it's about a habit we used to have when we were young punks. It's called Snowblind." He then gives an impish grin and says "Cocaine!", just in case you weren't sure exactly what habit he was talking about.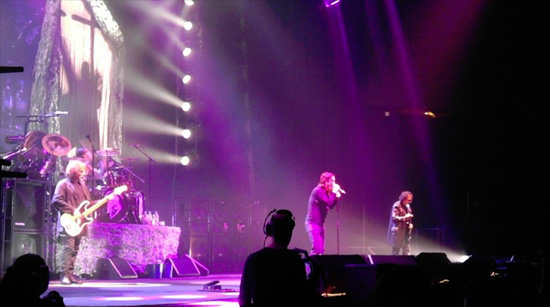 The new songs aired this evening: Age of Reason, End of the Beginning and God Is Dead? are all played with the same fire and enthusiasm as the old classics, the riffs just as crushing and doom laden as the old numbers, keeping the usual beer/bathroom exodus during unfamiliar numbers to a surprising minimum. Sabbath has fun with their role and reputation as heavy metal grandfathers, a fact made clear when namesake number Black Sabbath is introduced with the reminder that the tune is "one of the first songs we ever did together…back in 1903 or something.".
Behind the Wall of Sleep segues into a short Geezer Butler bass solo and then N.I.B. from the debut album fills the arena while Osbourne leads the crowd in chants of "oh yeah!". Fairies Wear Boots is followed by instrumental Rat Salad and a drum solo - which no one really wants to hear a replacement member play, however we realize his bosses aren't young men anymore and more than likely need a rest.
Ozzy has the entire arena throwing peace signs while singing in unison during Iron Man, showing he still has as much charisma as he did when the group started in the late 60's, and nearly as much energy. It's only during the last two numbers of the main set where fatigue finally starts to show, with Osbourne's voice noticeably straining during back to back numbers Dirty Woman and Children of the Grave. The former sounds especially rough, and one has to wonder why it's still in the setlist while perennial fan favorite Sweet Leaf (a song more suited to his unique vocal style) is out. To make matters worse there were Sweet Leaf t-shirts for sale, leading many to assume they would be hearing the song.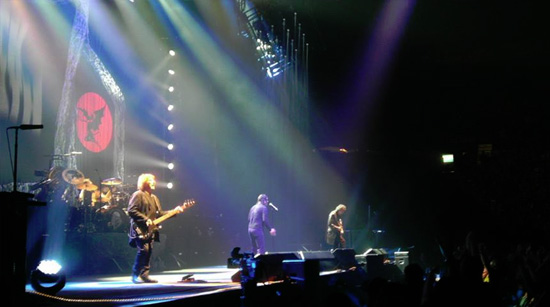 All is forgiven once they tear into encore Paranoid though, and after it's over everyone leaves the MGM fairly satisfied. If that was indeed the last visit for Black Sabbath to Las Vegas it certainly was a fun one. But let's hope it isn't.
~ The SmirK
Live Photos: courtesy of The SmirK ©2013 ZRock*R Magazine