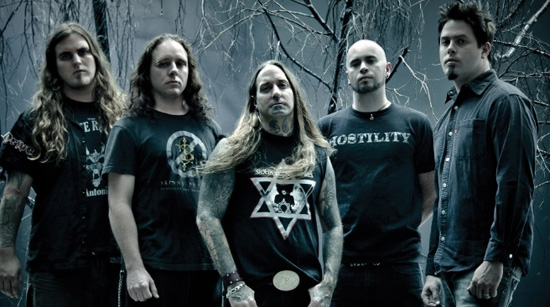 Dez Fafara and crew are back with album #6, just in time for their 10th anniversary. Which for me is insane since I've been following them since their inception. Has it really been 10 years???
Between the release of Beast and Winter Kills, Dez reconvened with his previous band, Coal Chamber. I actually didn't get into Coal Chamber until after the 1st Devildriver album (though I knew who they were). If CC ever happens to come to town, I would gladly see them. I've seen Devildriver 6 times, so it'd be a fresh Dez experience for me.
Always being one of my favorite bands, I have to say that since the last album... I've noticed some slipping in the quality of songwriting. I can't pinpoint the exact things. I just know it's a combination of various little things. They've always had an amazing balance of groove, brutality, and including melody (musically, not vocally haha)... and nothing has changed. Devildriver is Devildriver. But the songs on the last 2 albums now just haven't been consistently as high quality and catchy as before. They don't grab you like Clouds Over California, Pure Sincerity, or End of the Line do. Relentlessly catchy while stabbing you in the neck with awesome.
Interestingly, Devildriver covered Awolnation's Sail. I LOVE the original song, so of course I was curious to hear a metal version. And it really isn't bad at all. I still prefer the original, but it's definitely neat to have the alternative for when the mood strikes. It's also one of the few highlights of Winter Kills (which is kind of unfortunate).
Devildriver has a sound, a style, and a formula. You know what they do and they stick to it. Occasionally throwing in little things here and there, but always firmly rooted. Winter Kills is no different. As a whole, the album is purely Devildriver. But the individual songs aren't AS great as they should've been, or what you'd expect them to be.
The Appetite stuck out to me the most. It's in that vein of Head on to Heartache, Resurrection BLVD, and You Make Me Sick. That dark undertone where the music itself has emotion in it. It was the 1 song that had what I was really looking for. Ruthless is the 1st single, and I can see why it would be chosen. It has the right elements. It has some Sabbath in it. Though my ears tell me something about it is one of their weakest singles to date despite how hard it hits. Gutted reminds me of a slightly more uptempo version of Monsters of the Deep. Certainly another highlight of the album and possibly a live staple from now on if they choose to play it. Curses and Epitaphs, Carings Overkill, Human Refrain, and Back Down to the Grave are the other "the better parts of the album" that I suggest listening to.
I know I'll never be really disappointed in Devildriver's work. But after 4 home-runs, and 2 good but not great cd's... of course you're going to wonder if they'll perk back up a bit. I KNOW they have it in them to create their absolute masterpiece. I know they haven't hit their creative peak yet. Something tells me that it's there, deep within. I just hope it hits by the next one (2015 if they keep up with the every other year aspect!) In the meantime, I look forward to catching them live for the 7th time!

6.5/10
~  Marcus Miller