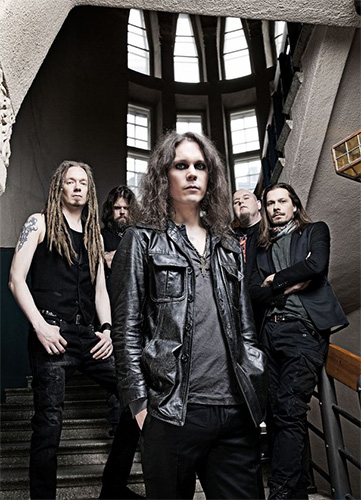 We walked down the long hallway, coming to the room in which our subject waited. It was dimly lit by a bathroom light and a TV showing the opening band's set on the screen.
Lighting a candle in front of the typical backstage type of mirror, stood Ville Valo of H.I.M. He seemed slightly surprised at our arrival, and having recently found an ashtray, asked if we thought that he was able to smoke in the room.
"You can smoke pretty much anywhere in Las Vegas," we said.
After all smokes were lit and small talk was out of the way, we proceeded with the interview. I did not expect the humbleness or the answers to the questions at all. Not your typical "rock star" personality. It was like catching up with an old friend. You'll see why: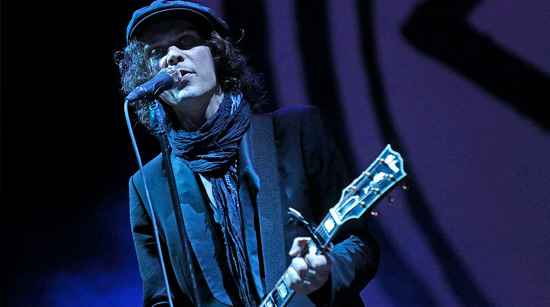 ZR: Did you ever expect to get the amount of success that you guys have had?
Ville: More. I would have expected more.
ZR: Really?
Ville: Oh yeah. You have to think about when you start out, whatever you are passionate about, you want everything. You could be the first band playing on the moon, or you could want all of the stars in the sky. Obviously though it's a bit of a gamble in the realm of art. So, no, we just started a band because we had the innate need to do so. That's the way it goes. If you want a band you need to get people together and then you need a rehearsal space, you need songs, and things like guitar strings. There are little steps that a band takes. It never really happens super fast. Then you play your first gig or get your first demo, and then obviously one of the biggest things is to get a record deal. It expanded in baby steps. We started touring back home in Finland and then over in Sweden and then Germany. It's been quirky in a sense that we've never had one album that was successful all over the place. It seems to be that there's one that is successful here in the states or one that's successful in the UK, which currently keeps everyone on their toes within the band, and then it's a challenge to tour because it's not that everyone is wiping our asses driving around in limos. In some places we play for 400 people and others it's 4,000 people and everything in between so that makes it quite interesting. So, no, we did not have a clue, but also there's no expectations. If you have too many expectations you're just going to get disappointed. The best way is to just go with the flow, and do the best you can, and work super hard.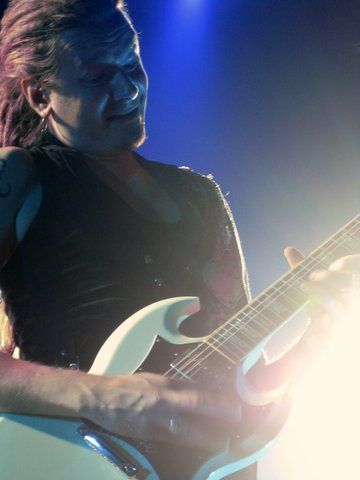 ZR: How have you guys stuck together after all this time?
Ville: It's fucking tough. The special thing about our band is that we grew up together. I've known the guitar player and the bass player since we were 8 years old. We went to the same school. So, that's one big deal.
ZR: That's an anomaly in itself.
Ville: Yes it is. Since we've been together approximately 20 years I think the only way for a band with 5 different kinds of personalities to survive is to know each other really well. We know when to leave somebody to their own peace and give space. Humor is a big deal that keeps bands together because, well, we've talked to so many bands where often times it's 4 or 5 individuals who are just on their own ego trip. So, they always use the band as a vessel towards their own personal greatness as opposed to a collective one. At least in Europe a lot of times bands don't start playing music just because they want to be rich and famous. They start playing music because they love to play music. I'm always saying that it's so cold in the winter that hard rock is the only thing to keep us warm. It's so physical, headbanging and such.
ZR: What was it, or who was it, that got you into rock n' roll and doing what you do?
Ville: Well, it wasn't really one specific moment. My parents told me about banging on bongos at family parties while one of our friends would do Elvis impersonations in the late 70s, but I started playing bass guitar at about 8 or 9 years old because of Gene Simmons. I was a huge KISS fan, and I thought bass and them were so fucking cool because when you're that young it's the visual aspect. I didn't know shit about music. Then through KISS it was cassette trading in school, things like WASP and Twisted Sister and Iron Maiden. I was born in '76 so all of the 80s hair metal stuff was a big deal. Ozzy Osbourne and such. Then I started skating, and got into all the stuff on the Santa Cruz and then a lot of indie stuff like Black Flag and Dinosaur Jr. and all that shit. So, all of a sudden that happened, and then in the 90s it was Nirvana and through them it was Soundgarden, Screaming Trees, and all of the Seattle stuff through which I found Black Sabbath and Led Zeppelin because they were always talking about those bands. So, it was a big mish mash. I used to play all different kinds of music. I had several bands, and I was a bass player and a drummer for a long time. So, I'd play jazz, reggae, pop, etc. It's been gradual. I was a huge Jane's Addiction fan, and since I thought Perry Farrell's voice sounded so odd in his vocals that maybe I had a chance to start singing. So, I started singing to Ritual de lo Habitual and Faith No More's "Angel Dust" and some reggae stuff, and then we formed H.I.M. and originally I was supposed to be the bass player, but we couldn't find a singer. So, I wanted to try it out, and we did our first demo with me singing and one of my best friends came back from military service, who is still with the band, Mige, playing bass. Music is very Las Vegassy, very Odyssey and roulette in a way that it's completely up to chance and luck. It's not like Excel shit or a Power Point presentation, you know.
ZR:So far who has been your favorite band or people to tour with?
Ville: We love Australians. They're a funny bunch.The Danish are a bit quiet, Volbeat, but they've been touring shit tons. They've been touring the past 2 years straight so I imagine they are tired. They play a great show though and people enjoy it. Musically it is such an eclectic bunch and so different. Airbourne is like a modern day AC/DC meets The Darkness. All That Remains is kind of that Swedish, Gothamberg influence. It's very melodic death metal. We and Volbeat share some similarities. We come from that kind of melodic Misfits background, and no one has been talking about it, but he sounds a lot like Keith Caputo of Life of Agony, when he's singing in the lower voice. It's very cool. They're all good in what they do, and they're all very different which is the cool thing about the tour. However, it's very fucking tough with the audience. Who's going to like all 4 bands? That's been the main challenge for us especially. At times there are a lot of H.I.M. fans, and at other times there's none. Sometimes the fans do the whole "Fuck you! Get off the stage!" thing, which is fun! Why ruin your voice before the actual event you came for, you know? It's a good challenge for us because we haven't toured since 2010, like, lived in a bus. It's exciting that it is not too easy. After this tour we're going to go back and do a headlining tour in Europe which will be very different, because we know that the people are there for us whether it's sold out or not. It's a different cup of tea. You can play different sets.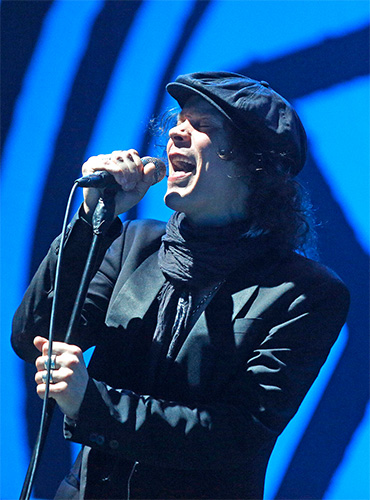 ZR: With this tour are you guys trying to do a little bit of everything?
Ville: We always try to do a little bit of everything otherwise it's boring. When bands release new albums and then just play new shit it's fucking boring. Tonight we are doing about 15 songs and we're playing about 4 new ones. Everything else is from the first album until now. We are missing a couple albums. We aren't doing anything from Screamworks because we toured for that albums and this time it just didn't fit. We are also doing "Passion's Killing Floor", which is a bit more like Black Sabbath, which is good. It fits in better, because none of these bands on this tour are sissies. No one is really poppy.
ZR: You guys have been considered "Love Metal". How did that term come about aside from it being the name of one of your albums?
Ville: You know, it's getting crazy, all of the sub-genres in metal and rock n' roll. When we started out we were hugely influenced by Type O Negative, Paradise Lost, bands like that. In music you should have a bit of humor even though it might be gloomy. When we played Chris Isaak's "Wicked Game", we realized we weren't afraid to be emotional yet have balls of steel. That's the combination you have to have. Like, I love Fleetwood Mac, Neil Young, Cat Stevens, and Roy Orbison, but at the same time I love Krokus and death metal and all that stuff. When we started this band we didn't want to draw down on a paper that we can't do this or that. So, that's why we sounded like we sounded, and that's why people have trouble categorizing us. Are we a goth rock band? Are we a metal band? People here in the states started calling us an emo band, which I don't understand! At the end of the day the whole term "emo" comes from emotional hardcore. It's the old school hardcore bands who didn't sing about politics, they sung about the matters of the heart. So, I was lost. Then there was white metal and black metal. That's the reason for the cover of Love Metal it was our take on Venom's Welcome To Hell . Then we had t-shirts printed like the Norwegians did with black metal. On their albums they'd print "True Norwegian Black Metal". So, we did something similar with Finnish Love Metal. Very tongue and cheek which is essential to rock music in general because it shouldn't be too serious. It can be emotional and life changing, but like I can't take Iron Maiden 100% serious. There's that sense of fun to it. Them and KISS. "I'm 93 and you're 16, can't you see I'm goin' blind" it's like what the fuck?
ZR: You guys have done a few covers, for example "Solitary Man" and as mentioned earlier "Wicked Game". Any cover ideas for the future that you'd like to do?
Ville: We did one on XX: Two Decades of Love Metal by an artist called Ke, and the song is called "Strange World". You have to try to retain the emotional essence without destroying it. We've done so many, so none in the plans right now. It's also boring to play covers. Then you turn out to be a Top 40 band.
ZR: Your symbol, the heartagram, has been very prominent in your videos. For example, the recent video release of "Into the Night" has the giant heartagram at the end, similar to "Funeral of Hearts". Where do you come up with your video concepts as they are vastly different? You go with "Gone with the Sin" for example, it's this gorgeous video with the Jack Daniels joke at the end.
Ville: Yeah that was a joke between me and the director. Usually we develop relationships with all sorts of professionals whether it be video directors or cover illustrators, and we tend to do more than one thing with a person. Budgets used to be crazy where you could put hundreds of thousands into a video, and now since YouTube and the lack of video music channels things have gone digital and now the budget is less so you really need a good idea. "Into the Night" was done by the director for "Funeral of Hearts", and the idea was to do something simple and bring the heartagram back in because we had been quiet as a band for a while. So, it's good to show yourself. There are a lot of bands people forget quickly so it's our way to have people go "Oh, it's that band!" We just kind of sat down in my kitchen and got absolutely drunk and wrote the ideas down. You just improvise and meet the right people at the right time. People these days have the opportunity too of being anonymous on the web which is a fucking curse. Everybody's a fucking critic. Back in the day you had to go to school and study to do things, and these days no one likes anything. People want you to shoot a new video for every day and even that wouldn't be enough. I hate Facebook and Twitter and Instagram. It takes all of the mystery out of rock n' roll. You can Google lyrics and meanings now instead of going "Wow, what did he mean?" I like when it is a journey and you have to find out for yourself. A lot of times when you think of people like Geezer Butler who wrote a lot of the lyrics for Black Sabbath, like I haven't the slightest idea what he meant. I have my own interpretation of it and it makes it special to me. It's like comparing a book to a film. You have to have space for imagination to do some of the work. I do understand social media's value, but it's not my forte.
ZR: You guys have done so much. How do you find the creativity and inspiration to keep going as the 20th anniversary of the first album approaches in just a few years?
Ville: Oh lord. It has been that long. I think it goes back to that it didn't happen globally for us. It took us from 1996 to 2003 to be able to tour in America for the first time. It doesn't feel so old because of that. We still haven't even gone to Latin America. You can't tour all the time as it will wear people out. If you tour too much you won't feel creative. It's a passion that pays. With songs it's a lot of times when you feel empty it's for a good reason. You've given everything you have and then doing the work via touring it drains you. I find inspiration when I go back home because you know, maybe I can't stand the song I just played or the latest album we did. When you play a song 150 times you get to the point where you go "Fuck it. I want something new." You pick up the guitar and strum something new. If there's not an idea just give it a break. When a lot of people are young they push no matter what. If something doesn't work they act like it's so serious they want to kill themselves, but I found a lot of times working on a song for hours and hours is worse than not working on a song for a week because you're subconscious does the work for you. Then you just pick up the guitar when it's ready. That's very important to leave spaces between work. It sounds lazy, but at the end of the day everyone works a different way. Some people need the constant, but a lot of people have jobs and that's their free time. We don't have jobs. This is what we do. Travelling the world playing music and meeting new friends and old friends doesn't seem half bad. What makes it tiring is travel. You get the lack of sleep and shitty food, but it's worth it. It's fun.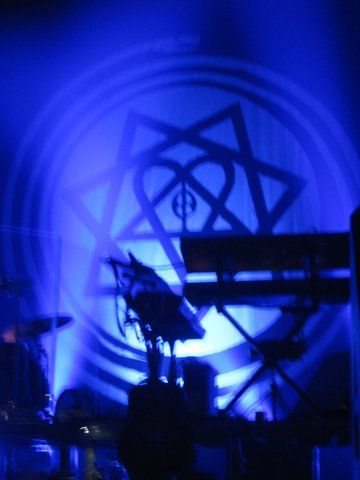 ZR: You guys have accomplished so much. For example, you were nominated for a Golden God award and won. How do those type of things feel? Is it a new rush of surprise or shock?
Ville: Well, I think one really important thing with this band is that we understand that we are not really going to do something 100% original. If we are recognized for something it's a hats off to our idols as well. Thank you Gene and Steve Harris and Peter Steele for being good inspirations for us to kind of steal some vibes or ideas and make our own concoction and spread the word around. A lot of bands are kindred spirits. The vibe is there. The Golden God thing was not just for us. It was for the whole rock n' roll scene. It's cool that there are still people that are dedicated. That's the difference between the rock world and the pop world is that people will follow bands for a long, long time. Even though all the social media is there and people have downloaded shit and do Spotify and what not, there's still remains of the old culture when the new albums come out of getting the album or the t-shirt. That's something spectacularly rock n' roll, and I know that because I am a fan. I still have my t-shirt from my first concert in 1986 when Iron Maiden played in Helsinki. Where we come from, there were not many bands touring. It's amazing to buy a ticket.
ZR: Do you have a favorite song that you like to perform, whether it's warming up or performing live; yours or another's?
Ville: I don't know. I do fall in love with one song usually whether it is new to me or an old classic. On this tour it's probably "More Than A Feeling" by Boston. That's what we've been humming to. We also found this crazy good song produced by Rick James for Eddie Murphy called "Party All the Time". That's fucking awesome! We dug the video. I'd never seen it before so it was like, "What the fuck is going on?" It seemed so sad so we looked up the lyrics. She parties all the time and Eddie is buying her like diamond rings and champagne, but she just wants to party. It is a melancholy song, and it'd make a great cover. Once again though, different albums have different levels of success. In Germany, Switzerland, and Austria "Join Me in Death" was huge in 2000. In England, Love Metal is the album that put us on the map, and in the U.S. it was Dark Light. So, when we play "Wings of A Butterfly" that kind of creates a bit of something. At times it's also that the stars align in a way that even a song the audience doesn't know just seems to work. That's the magic of rock n' roll. It's great.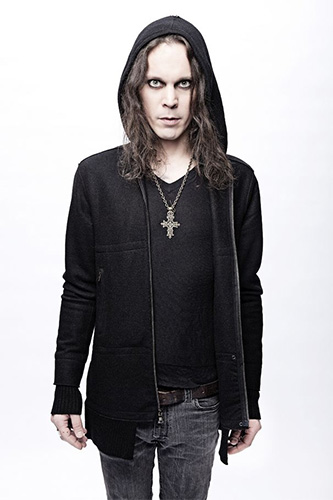 The magic of rock n' roll was truly shown that night. Although, due to the mix of bands, there didn't seem to be too many HIM fans floating around, but that just made them give more of their all. A blue stage, similar lighting to that in the video for "The Sacrament", backed the members as they proved to the Joint in Las Vegas that after 20 years, they could still rock.
HIM performed everything from the hit "Join Me" to a song I've actually never seen them perform (so it was quite a treat!) "Souls on Fire".
HIM still puts so much energy into their set and fails to disappoint. Never before seeing them for the first time on the 2004 tour in support of their album Love Metal, and never since have I seen a band so tight on stage. You can tell that those guys truly love what they do, and what a delivery!
Sadly, HIM's set seemed to go by too damn quickly. After a version of "Funeral of Hearts" that started out as acoustic and then broke into the electric, the band left the stage, and the HIM fans seemed to trickle out of the venue, making way for the last band of the night, Volbeat, to take the stage.
 ~ Stephy Hayward
Photos:  Promo photos Courtesy UMG Deutschland Live photos by:Sven-Sebastian Sajak ©2013: Some Rights Reserved  and Adam Liberti for ZRock*R ©2013: All Rights Reserved