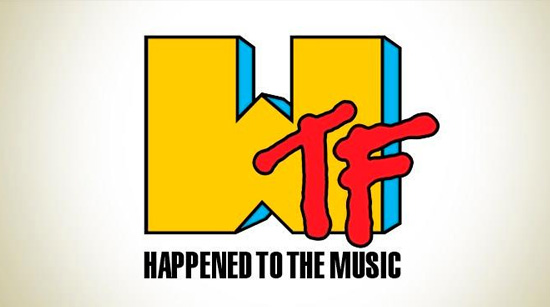 Opening up the MTV VMAs with the first performance of the night was none other than Lady GaGa. I will fully admit that this metal head loves the GaGa, but I felt that this song choice and performance was a bit lack luster compared to her previous ones. The constant costume changes seemed to prevent her from really belting out the song, and it was overall distracting. Other than that, I look forward to hearing what else she has in store, and I am glad this Italian chick finally has some meat on those bones!
Next performance of the night was Miley Cyrus. All I can say is: Her parents must be so proud, and I mean that in the most sarcastic way possible. Performing her song "We Won't Stop", artists like Drake wouldn't even look at the stage. Rihanna had a look that could kill. Rubbing your face in a woman's ass in a teddy bear leotard? REALLY? During her performance with Robin Thicke performing his hit "Blurred Lines", it was just… uncomfortable. She was in a flesh colored bikini, grinding against him and touching herself, and touching him. It was disgusting. In her interview before the show talking with MTV VJ Sway, they spoke of Madonna passing the torch to Britney Spears, and it possibly being passed to Miley. Miley Cyrus does not have the class nor the talent of the queens of pop before her. News flash kiddo- put on damn some clothes and quit twerking. It's not attractive, and you will go nowhere. Billy should beat some class into his kid.
Now, I do not want to step on any toes here, but what the hell, MTV? Two performances in and I was ready to turn my television OFF. I can't even remember the last time I saw a music video on MTV. What is the point of having an awards show at this point in time? The VMAs are about as important as a 'certain nationally known guitarist' receiving an award for his "contributions to the Vegas music scene" by another publication here (that left many wondering why and what the guy ever did for the Vegas music scene!). The most exciting Moon Man has always been for Best Rock Video, which was presented BEFORE the awards even began! Congratulations to 30 Seconds to Mars and all, but what the fuck? There wasn't even a host to keep people intrigued this year!
Kanye West was the 3rd performer of the night. Auto-tune and all. Jared Leto of 30 Seconds to Mars introduced him as a music God, and even mentioned Jimi Hendrix in his opening speech. After referring to him as a "rock star" I won't even begin to go into how much vomit was being held in my mouth. Really Jared? REALLY? I HOPE he was reading from a teleprompter. During the "performance", a silhouette against a spooky background could be seen jumping around to silence due to half of the song being edited out. What a fucking disappointment. Not like I was surprised, but still, a shit performance nonetheless.
Best female video went to Taylor Swift, who has swept awards ceremonies for the past couple years, who although she was very deserving of this, and I dig the song, did you really have to put in that dig at the end? We all know that every song you write is written about some dude. How about a song about real issues going on with 20 somethings right now? Something about how our generation can't pay for college, or how a lot of us are already burying our parents, or already homeless due to war? No? Just a thought from a fellow 20 something year old female. I've had my share of heartbreak, but you don't see me feeding off of it.
Justin Timberlake was next to perform after being called the President of Pop, which I could not agree more with. All pop artists today need to take a hint from JT, who has continued to stay talented, classy, and entertaining, all while balancing the sexy factor. His talent and professionalism was the only saving grace for the entire show. All of today's pop "musicians" should've been taking notes while watching him as the performance was the only one that actually gave me some hope for today's so-called music. It took me a good minute, but I realized he was going backwards in time with his song choices, finally being joined by the 4 men who went to the top with him. Opening up their return with their hit song "Girlfriend", NSYNC joined Justin on stage, rocking it better than any other boy band out there today. Those guys proved that they still have it. THAT is what a reunion is supposed to sound like! They sounded perfect. After performing "Bye, Bye, Bye", Justin went solo again, performing the singles off of his new album Suit & Tie, "Suit & Tie" and "Mirrors". During the performance of "Mirrors", he did not even have to sing. You could hear the crowd going wild for the first time that night, especially when he received his award for Video Vanguard. I don't know who was more excited, the crowd, or presenter Jimmy Fallon, who made me slightly depressed that JT did not perform "Dick in A Box". It was also refreshing to see a speech for the first time of the night that actually had heart as he thanked the other members of NSYNC, and shared his award with them.
Then the happy, redeeming moment was ruined by comedian Kevin Hart, poking fun at N*SYNC's performance, calling Kanye a God yet again, and talking about wanting to stick his face in GaGa's ass, proving that MTV lacks class and professionalism. Now, I know that the VMAs have not necessarily ever been considered as a "family friendly" show, but seriously?
New category award "Best Song of the Summer" went to the proof that the UK doesn't ALWAYS have good music, boy band, One Direction. Not a big surprise that they won, beating out seasoned and talented musicians such as Robin Thicke and Daft Punk. Just one disappointment after another.
Following this disappointment was a performance by Macklemore & Ryan Lewis. This again redeemed the show with the song "Same Love", a pro-gay rights song featuring Mary Lambert and Jennifer Hudson. I ranted and raved that pop "musicians" could take lessons from Justin Timberlake. Same goes for hip hop artists of today. If you enjoy hip hop- these guys are the next big thing to look out for, bringing love back to the genre.
Next performance was Drake, who was introduced by T-Bozz and Chili of TLC. Granted, the dude can sing, but I was not impressed by his overall performance, nor am I impressed by his music or soul. Singing his song "Started From the Bottom", all I could think was, "Started from the bottom? Dude, you were making money 10 fucking years ago on Degrassi. Started from the bottom my ass." It was during this that Motley Crue bassist Nikki Sixx posted, "Would it be too much to ask to see just one song on the VMA's tonight that had some guitar in it?" Couldn't agree more Nikki.
Best male video ended up going to Bruno Mars for "Locked Out of Heaven". Good song and all, but how did that beat out "Mirrors" by Justin Timberlake and "Blurred Lines" by Robin Thicke? Another heartless speech, for winning his first moon man, he seemed distant and uninterested, almost rapping his speech. After winning his award he performed his new song "Gorilla". Watching it reminded me of Jennifer Lopez's 1990s video for "Waiting for Tonight". Nothing but a bad laser show. The lyrics to this song were straight up disgusting. What seemed like a sweet love song at first was just a grotesque sex song. If you're going to write a song about "making love like gorillas" why don't you make it about MAKING LOVE? Lyrics like "give it to me baby, give it to me motherfucker!" are not something a lady wants to hear. Take your own words that open the song, "I got a body full of liquor with a cocaine kicker", and snort another line Bruno. How any woman with class would want to sleep with someone like that is beyond me.
The biggest and most anticipated award of the night was for video of the year, which was won by a happy and surprised Justin Timberlake, earning his 16th Moon Man for the song "Mirrors". He was probably the most deserving of this award, delivering another amazing speech. Come to find out the video was inspired by his grandparents, and his grandmother was who he dedicated the video to. He gave a shoutout to all of the other people who had been nominated and performed that night, showing everyone yet again what they should be acting like: Classy, thankful, and professional.
Final performance of the night was Katy Perry with her new song "Roar". Yet again I was disinterested in the show. I am not at all a Katy Perry fan, but I still listened and watched the performance. Remember that episode from the sitcom Friends where Monica is in sweat pants the entire time trying to get Chandler to work out? The two of them covered in sweat ACTED a more convincing performance of someone exercising and such than Katy did. She appeared tired and out of breath. Aside from her obvious exhaustion, she donned a tiger striped sports bra, the chorus beginning with the lyrics "I've got the eye of the tiger", obviously an homage to the song by Survivor. A shit ending to a shitfest.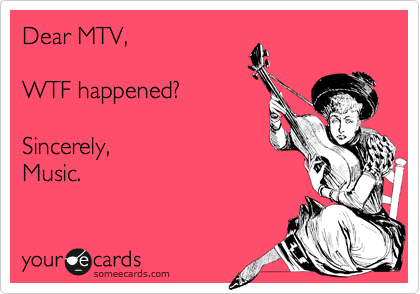 As I was trying to wrap my skull around the atrocity to music that I had watched, which proved that today's "artists" stayed with the "no class theme", and in result trying to figure out how to close out this rant of an article, I was scrolling through Facebook when I saw the best quote of the night to describe the VMAs which all credit for it goes to rock photographer Robert M. Knight, and I will leave you with his perfect words: "The only thing that sucked more than the VMAs were the people that were on it!"