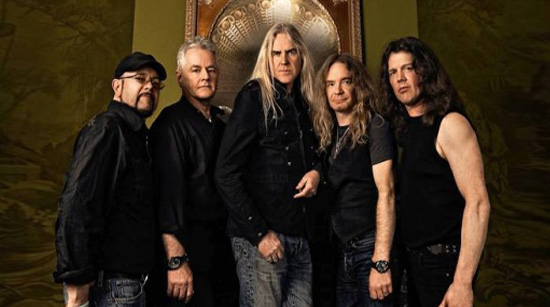 Legendary metal. That's the it. That's the review.
Ok I'm kidding. Sort of. Since 1979, this band has now put out 20 albums.
They've carved their own legacy and always essentially stuck to their guns. And in many ways... got better with age. Like a fiiiiine fine metal wine.
Procession opens the album with a mildy epic industrialized moody march-like build up into classic bad ass mid-tempo biting riffage in Sacrifice which in many ways reminds me of slightly more melodic modern Exodus. Don't let the intro to  Made in Belfast fool you. More dirty riffage quickly comes in and offers a somewhat melancholic slower groove. Oh, you wanted to get a pit going in your living room?  Warriors of the Road will satisfy your needs of rocking out with your c... oat off? 😉 An insta-favorite. Guardians of the Tomb delivers pure classic NWOBHM vibe, modernized. It's got that ballsy-ness to back up the melody. Eddie Van Halen? Noooo no, Stand Up and Fight just opens with a little doodle to prepare you for yet another NON-filler track! Don't worry. We'll always stand up and fight for the purity of our metal love. Walking the Steel meets somewhere between AC/DC and Judas Priest... terrible bands to ever be compared to. Night of the Wolf starts with a thrashy riff over a slower beat, and actually ends up being a fairly "pretty" song. Come on, the build up to the solo and the delivery of the solo? There's heart in it. Wheels of Terror might sound like it kicked your door in initially, but really, it just wanted to pick you up and go for a cruise around town while you jam out to Saxon. Standing in a Queue then closes Sacrifice with some Scorpions-esque groove.... and listen, Mr. Byford. I know what to do. I know to never be disappointed with an album from your world class band. Super mega financial success may not have been Saxon's calling card, for whatever reason. But for 35 years, you've been flying a flag over the world of respect and purity and die-hard fans have always had your back. 11 years ago at age 15, I first got my samplings of Saxon. Never thought I'd be able to see them live, but life throws a few unexpected surprises and I can soon cross that name off my list!
20 albums? 30 albums? 50? It doesn't matter.
Saxon = quality.

9/10
~ Marcus Miller
Saxon is currently touring the USA- check tour dates at Saxon747.com or if you are in Vegas- make sure to catch them at Vamp'd on Wednesday October 2 with Fozzy and special guest Halcyon Way-  doors 8pm-  $20 advance/ $23 day of show~   ed.