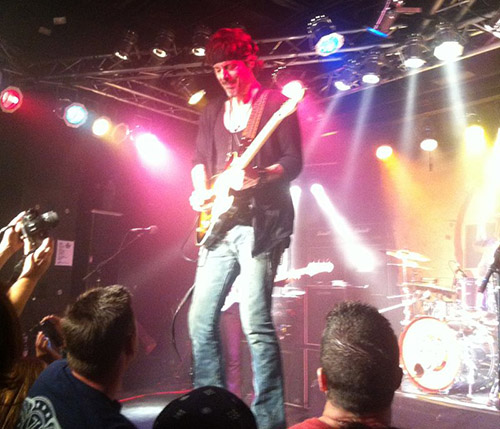 They say a fine wine improves with age. This is definitely the case with The Winery Dogs. On a brisk Friday night in Las Vegas, The Winery Dogs (Richie Kotzen, Mike Portnoy, Billy Sheehan) took over Vamp'd in a way I had never seen before. I'll admit I hadn't listened to the album previously, just a song or two – I wanted to experience it all first at the show ever since I had heard they were coming to Las Vegas.
There was little room to move or breathe as they took the stage after a brief introduction and crowd-pumping by the awesome Eddie Trunk of "That Metal Show" fame. Shortly after, forget about breathing or moving, I didn't want to blink for fear of missing something awesome.
As Eddie welcomed the band to the stage the entire venue erupted with cheers and screams, hands in the air anywhere you could see. Mike Portnoy, on a surprisingly small drum kit immediately launched into the first song; a driving, energetic tune perfect for getting the already pumped crowd into the show. Richie Kotzen's vocals, which Stephy Hayward described best as "The perfect mix of Chris Cornell and Myles Kennedy" soared through the venue with a certain grace over the hard and dirty basslines thrown down by the legendary Billy Sheehan.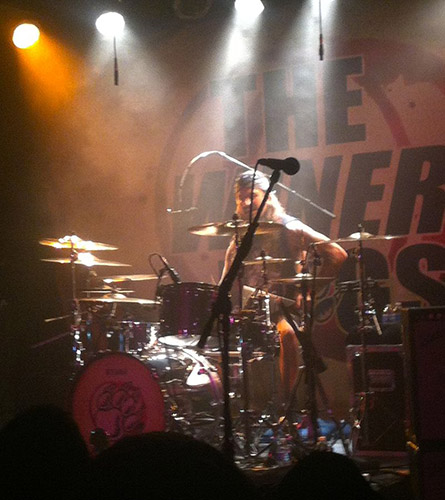 Billy held down the groove the entire night except for when he took his little bass solo leading into the song "You Saved Me". I'm not sure how to describe what he did to that bass guitar, but it was purely awesome both visually and aurally. Richie's guitar playing was soulful and tasty yet full of style and plenty of chops. Mike's drumming was as powerful as I've always expected it to be – Never truly getting to see him live before in any of his many bands, I had only wondered what it would sound like. I wasn't disappointed.
As awesome as the music was as you would expect from such a massive lineup, the power trio did more than just play awesome songs. Mike commanded the crowd from behind the drum kit in a way I've never seen from any drummer before. You'd expect his kind of stage persona from a lead guitarist, not a drummer. Billy's eyes rarely left the crowd, always finding someone to look at while he completely shredded his iconic green Yamaha bass. Richie took on an acoustic guitar for quick tune by himself as Mike and Billy took a short break, and they came back up and launched right back into the explosiveness that began with the very first song of the night.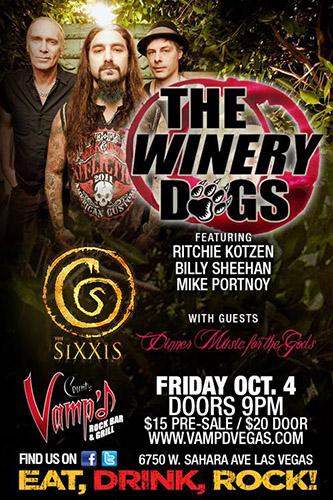 Having played the stage at Vamp'd a few times myself, I had some concerns that a band consisting of a legendary bassist, an iconic drummer, and a massively talented and highly regarded guitarist playing a small and intimate venue that they might be slightly overwhelming, but that was not the case. For a couple of hours, The Winery Dogs transformed Vamp'd into Vegas's own little Madison Square Garden.
~ Jon Mills