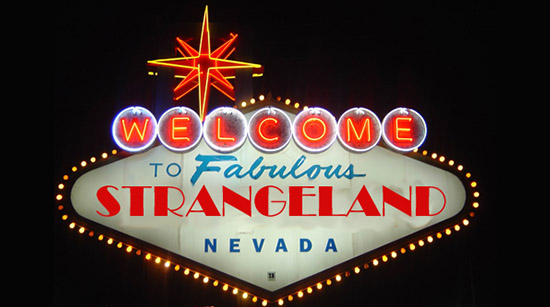 When I was 13 years old I was into a lot of grunge, punk, and metal bands that got me through my day, until one morning I was riding my bike to school and the toughest rap song I'd ever heard started playing from this car next to me at a red light. It had a broken voice saying the words "E-e-e-ein-ein-e-e-ein-ein". I thought "Wow that sounds pretty cool!" Next thing I knew I was peddling as fast as I could, hanging on every rhyme that dropped from those speakers. The driver actually stopped at one point and asked what my problem was and in a voice of admission I told him, "I've never heard anything like that before! Who is that?", and in a chant he yelled "Tech N9ne!" then sped away. I couldn't wait to get out of school that day to get home and download every track from Tech's discography, and it did not disappoint one bit.
From his most infamous release Absolute Power to the recent Something Else, Tech never backs down from anyone and continues to put up a big middle finger to an industry that treats him like Rudolph the Reindeer (emphasized in the track Red Nose on Sickology 101). In days when some of the only recognition a rapper gets is by how many tweens chant a chorus they heard on the radio, Tech has been spreading his fortune by putting together a roster of rappers to attack the scene in his self-started label Strange Music (with a name influenced by none other than The Doors). Stationed in his home town of Kansas City, Missouri he's been signing hip-hop heavyweights like his right-hand man Krizz Kaliko, Sacramento's own Brotha Lynch Hung, the winner of MTV Battle II: The Takeover Wrekonize and his group ¡Mayday!, and a man known as the Alfred Hitchcock of Hip-Hop; Prozak just to name a few.
With his underground army Tech has been touring the world putting on some of the most high-energy shows in the rap game. While most hip-hop artist will charge $150 to see a glimpse of them playing at a club in Los Angeles or New York, Tech will sell out a venue night after night in towns all across the US from Spokane, Washington all the way to Charleston, South Carolina. Most recently I was able to see Tech play at the Hard Rock Café in Las Vegas with his label mates Ces Cru, Prozak, Stevie Stone, ¡Mayday!, an Krizz Kaliko on the Something Else Tour.
I've seen at least a dozen shows at the Hard Rock Café here with acts like The Devil Wears Prada, The Addicts, and Reel Big Fish, but I have never seen a line that compared to this on The Las Vegas Strip. It was at least a quarter mile long. With such a diverse group of people in one place, ranging from bros to gangsters, it's surprising this many different people can all get together for one attraction. While my friends held a place in line I moseyed on over to the corner store next to the venue to get some pre-game beers so we could get ourselves ready for the show.
After 45 leisurely spent minutes we made our way through a gift shop, up three flights of stairs, past security, and into the venue. As soon as I entered I was approached by a big guy with some crazy white contacts on asking me if I wanted to by Prozak's new album, We All Fall Down. I've been following Prozak since he was in a group called Project Deadman so I've had the album since the day that it came out. I told the guy this and instead of being disappointed, like most people who slang records are when they get denied, he pointed to my right and said, "Well say what's up to the man!". I look over and there was The Alfred Hitchcock of Hip-Hop himself! I shook his hand and told him how much I loved his work, but before I knew it the bar caught me in the corner of my eye and I immediately changed course for another beer. While waiting for my Goose Island IPA's to get poured (#1 rule at a show is always double fist drinks when you can, because who knows how long the line will be later), I could see the local boys War Paint hyping up the crowd on stage. I made my way into the action and caught the last two songs of their set, then found a good vantage point that I could relax in for the rest of the show.
The first group to come up from the Strange Music Camp was Ces Cru. The two emcees, Ubiquitous and Godemis, have some of the most unique rhymes on the label. Playing tracks from their albums 13 and Constant Energy Struggles they had the crowd banging their heads and singing along to every track. From my personal favorite Peter Parker, to their new hit Seven Chakras, the entire time they were on stage you could see on the crowd's faces that they knew that Strange Music was in the building.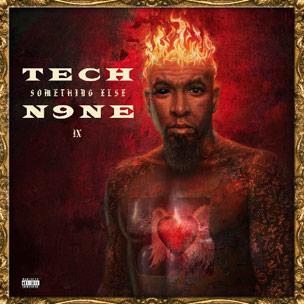 Next up was Prozak. Now I've never seen Prozak live before, so I was hyped to say the least. With beats that sound like they were meant for hard rock songs the crowd immediately felt the vibe and started moving around and moshing. Before I knew it, Prozak called for the crowed to split down the middle. Being in the hardcore/metal scene for a while I knew this meant only one thing… THE WALL OF DEATH! I immediately passed my beer to one of our friends and made my way to the middle of the opening. Jumping up and down in complete bliss I waited for the song to drop in and charged. Knowing that a lot of these participants had never been in a wall of death before I started regulating as soon as I could, picking people up and making sure no fights broke out. After it was all said and done we all shook hands and went our separate ways, but that energy would not leave us until after the entire show was over.
I made it back to my beer and relaxed until Stevie Stone started up. With thuggish style that no one else on the card has, he ripped every single rhyme exactly like he does on record. After Stevie came ¡Mayday!. Now I feel that ¡Mayday! is a special exception to this entire group. They play with a full band and it is needed every bit to replicate the sound they put on record. With chill riffs and hard drum beats they played us all the way into the last intermission. As soon as they were done we all knew one thing, next up was Tech N9ne.
First Krizz Kaliko came out. Since he's on almost every other track with Tech he usually comes out and does a sort of split set with him. Then, in his notorious face paint, out came Tech. The first beat dropped in and the crowed immediately knew it was the starting track off of the new album Something Else titled Straight Out the Gate featuring Serj Tankian of System of a Down. I had thought there was no chance it would be played since I knew Serj was not there himself, but it didn't matter, the crowd sang the hook "We are the darkness but we're leaving, we are the gods that are deceiving, we are the painters of blind-faith…" and drowned out the recording they had playing in the background to where no one knew the difference. A couple songs later Tech pulled out one of my favorite tracks Riot Maker from his album Everready. The song has such a heavy guitar beat that the pits started opening up again as soon as it came in. I found the people that were in the wall of death with me and started going at it again.
Krizz Kaliko gave Tech a break and played the song The Finger off his new album Son of Sam. The song again has a heavy guitar beat and, let's say has a "fuck you" kind of message so the crowd really got into it throwing up middle fingers screaming "If they don't recognize, give em the finger".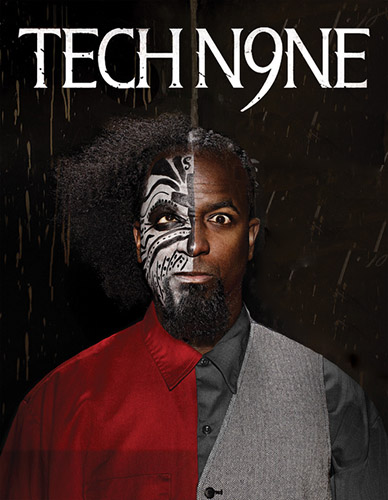 Now, if you don't know anything about Tech N9ne, there is one thing that needs to be said. Tech loves his women, and more specifically he loves to see them get on someone's shoulders and flash him at the shows. I've personally seen 19 boobs in my time I've been going to Tech shows (that odd number's a different story). During the entire set you could see random girls getting on some guy's shoulders and lifting up their shirts. Again, being so into rock shows (and titties of course), I get such a sigh of relief seeing this at a rap show. While on a break after a song, Tech stopped and pointed out one girl in particular. He even brought out producer Drumma Boy and none other than DJ Paul from Three 6 Mafia on stage to share with them. After they were done admiring, Tech started playing his Drumma Boy produced song See Me and kept him and DJ Paul on stage for the entire song. The crowd fed on the cameo and gave one of the biggest ovations of the night.
When Tech's hit single Ima Playa came on the crowd knew the show was coming to end. After the track was done he pulled out his machine-gun style rhyme in Stamina and then his fan-loved Pledge. Now you may say "A rapper with a pledge? That sounds kind of cult-ish.", but not at all. It's a reminder that we as a group are a "powerful force", that no matter what we are; metal heads, gangbangers, nerds, your every-day student; that no one can effectively judge us for what we do. I'm such a diverse mix of stereotypes that I can't claim anything as my "style", but I do know one thing. If you've ever heard the name Tech N9ne and immediately judged it based off hip-hop standards then you should rethink your opinion. If you don't respect him as an artist, respect him as an entrepreneur who put an entire city on the map in the hip-hop community. I can't put it better than Tech N9ne himself… "If you've got 20/20 vision, you can see Nina handling this music with precision. If not, then it's fine with me. Just know this movement is vivid enough for the blind to see."
~ Vinnie Corcoran

Video credit goes to Tech N9ne's Facebook. Photo credit goes to Strange Music INC's Facebook