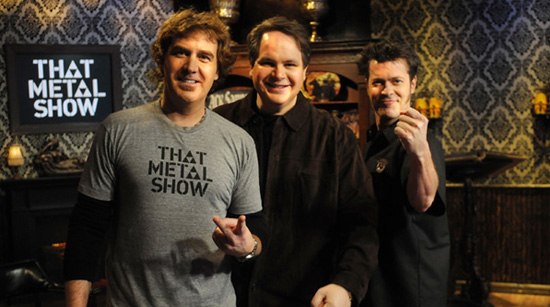 On That Metal Show's set- l to r: Jim Florentine, Eddie Trunk and Don Jamieson- and no we did not play 'Stump The Trunk' with Eddie. Not yet anyway!
How do you interview the walking encyclopedia of hard rock and heavy metal quietly in a bar full of metal heads? Well, we didn't think it was possible, but never say never.
We approached That Metal Show's Eddie Trunk for our scheduled interview with him, trying to push through the crowd surrounding him for pictures, autographs, and shots. He was extremely kind in helping us try to find a quiet place to go over our questions. For a moment, as we stood in the green room of Vamp'd, drowned out by the rock n' roll legends that make up local band, Sin City Sinners, we didn't think this would be able to be done. Thanks to local producer Jason Constantine, though, we managed to find a quiet area to talk to Eddie about his life, his career, and his upcoming book, Eddie Trunk's Essentials Hard Rock & Heavy Metal Volume II. Granted, a locker room is not the ideal place for an interview, but the rawness of it, with the muffled sounds of "Sweet Leaf" by Black Sabbath being covered by the Sinners playing in the venue, made it so blissfully rock n' roll.
ZR: How long do you plan on That Metal Show lasting?
Eddie: I have no idea. I honestly didn't think it would last as long as it has. I had no idea when I started doing it, it's been 5 years now and over 100 years ago. When we did the pilot I had no idea that we would even get picked up after the pilot. So, that question is 100% answerable, and the only person that controls that 100% is VH1. We work for them so as long as they keep saying they want to do shows we'll keep doing it. We want to keep going for as long as we can. We all wish we did it more than we do! It's all up to the network. I think because on the latest season we had a brand new set and some new features that it was kind of a relaunch of the show. We revamped some stuff, which is what VH1 really wanted to do. That gives us another nice long run. We can only wait for them to call though, and when they say it's time to go to work then it's time to go to work. I have worked for VH1 Classic now for 12 years which a lot of people don't know. I was a host for them long before That Metal Show, but the channel wasn't as popular. I've been a part of them for a really long time, and That Metal Show is the biggest thing that I have done. That's been on since '08, so I can only hope for it to grow. I want to get bigger and keep building. I want to do so much more with it, but it's up to them.
ZR: You have a new book coming out. What are the contrasts between your first book and this new book? Anything different?
Eddie: This new book is called Eddie Trunk's Essentials of Hard Rock and Heavy Metal: Volume II because it is exactly that. It is a sequel to the first book. What I mean by that is that the first book was unbelievably successful; way more than I thought, and honestly way more than my publisher thought, and I am grateful for that. My first book was really the first thing I did that was universally successful. I have heard hardly anything negative about it. One of the things people loved so much about it was the format. This is the same exact format. The same mix of photos and text, lineups, all that stuff. There's maybe a few little adjustments, but nothing major. It's the same publisher, the same art designer, so for people who loved the first book this is a complete continuation of that. The number one, of course, big thing is that it is completely different bands. It is 35 bands that were not featured in the first book. Not in depth, the first book, if people have it, have paragraphs that mention different bands briefly. This book, most of those bands are featured in full. The reason why in the first book they were just a few paragraphs is because I ran out of room. This book gives them the full treatment, and others as well. It's 35 different bands with fun stories and cool photos as well.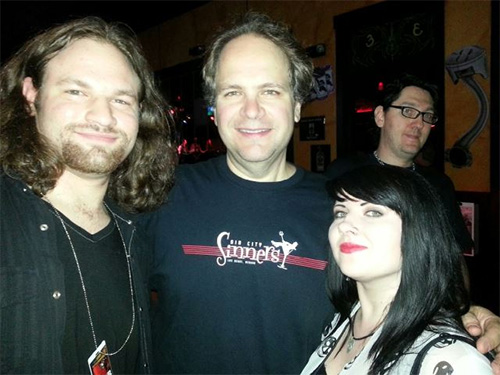 Eddie Trunk and ZRock*R staffers Stephy Hayward and Jon Mills at Vamp'd after the Black Sabbath show-  l to r: Jon Mills, Eddie Trunk and Stephy Hayward
ZR: Is there any particular band or bands in the past 10-15 years that has really impressed you to the point where you've gone, "Now THIS is metal."?
Eddie: Well, a band that immediately comes to mind when you ask that is a band that I've been hearing a lot about for about 10 years that I never quite understood what the big deal was. I thought they were okay, but I didn't understand. There was a lot of people who said to me, "This is the next Iron Maiden. This is the next Sabbath. This band could really carry the flag." and that band is Avenged Sevenfold. I always heard there stuff, and I thought it was okay. I never really liked it. I just didn't hear anything in it that made me go to that extreme until this brand new record. This record is a huge step forward for them. Huge evolution. It has better hooks. It has better melodies. It has better grooves and better production. The guitar playing is amazing. That band has an amazing fan following, and they've been around for a little while so they certainly don't need to impress me, but this is the first record where I really got it with them and said "Wow. I can see why people say that." On the other side of the equation on the hard rock side there are a number of bands that I like that are out there. There's this new band out of Austin, Texas called Scorpion Child. They've got some old school riffs, and I love them. They're really cool, and the Winery Dogs. That's a band that I actually helped put together. I had the idea of putting Richie into that band and had a lot to do with that, but I'm not mentioning them because of that. I am mentioning them because they are amazing. I may have had the idea, but they made an incredible record, and that's all on them. I'm excited about how they're doing.
ZR: They'll actually be here soon at Vamp'd!
Eddie: I'll be here. The book signing is that night at Vinyl over at Hard Rock. October 4th before Motley Crue plays, but then there's Winery Dogs, and then after that will be the last night of Motley Crue so I will be there for that.
ZR: Who is someone that you've never met, seen, or interviewed that you wish you could?
Eddie: I have been in this business 30 years, and I have been lucky enough to interview just about anybody you can throw at me remotely in the rock world and, a lot of people would be shocked to know, in the non rock world because again, in my early years at VH1 Classic I did every genre of music. The one guy when I get that question, well, 2 come to mind, is Eddie Van Halen. I interviewed Eddie back when Van Halen III came out. It was a radio interview, and then I met him shortly after, but I never really got into a real in depth, sit down interview. I would love to do that. Of course I've asked, but he's not really press friendly. The other guy would be Jimmy Page. I've interviewed Robert Plant twice, for VH1 Classic, but I've never interviewed Page. I met Page recently, but I've never sat and interviewed him. I am told I may have that opportunity because they are doing a reissue of the Zeppelin catalog, so that would be awesome.
ZR: That would be amazing. What's the next big thing you want to accomplish?
Eddie: One of the biggest positives and negatives of me is the fact that I don't ever rest. I don't ever think about what I've done or what I'm doing. I don't relax. It's good and bad because I get stressed. People would be shocked to know that after 30 years in this business it's still a struggle every day to get people to appreciate and understand this music and what I do. I guess the biggest thing I want to accomplish is take all the things that I do currently and make them bigger. I do two national radio shows a week; one on FM and one on satellite. They are both weekly shows, and I would love to do more than one day a week. I'd love more hours, better hours. I'd love to get on more FM stations, and that's still a struggle. I'm on 30 stations now, and still fighting to get on more. Even here in Vegas! I met with KOMP and they'll have me on as a guest, but they won't put the show on 3 hours a week so it's a fight, and of course for That Metal Show, I'd love to do more shows and live performance. I'd love for it to be 5 nights a week live like David Letterman, but that's all dreaming. I fight towards it, and I work towards it, but there's tons of goals. I have more I want to do.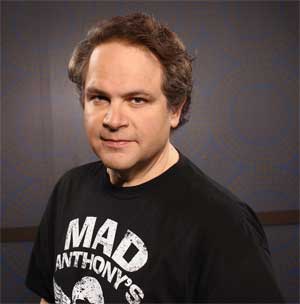 ZR: You're considered the authority and the historian of heavy metal and rock n' roll. What was it that drove you to want to do that? What made you Eddie Trunk?
Eddie: I tried to play drums when I was really young, and I couldn't. I didn't have the patience to keep doing it so I just said let me figure out how I can work with and support all the bands that I love even if I'm not a musician. If I'm not going to be a musician, what can I do to still support? I have done everything you can do in the music business. I did record company, record stores, management, radio station, TV, just about anything I could do because I can't play a note on an instrument. It's all support.
Unfortunately, our time with Eddie had to be cut a little short, but he has invited us back to meet with him at Vinyl inside of the Hard Rock for his October 4th book signing, and you should too! Mark the day on your calendar, folks! October 4th. Eddie Trunk. Vinyl. Hard Rock. Got it? Good!
To be continued…
~ Stephy Hayward, Jon Mills, and Marcus Miller
Editor's Note:  If you are in Vegas- Make sure to catch Eddie's book signing at Vinyl inside the Hard Rock Hotel on October 4th from 6PM to 8PM!  Get his new book by clicking the preorder link below OR go to www.eddietrunk.com for more information and book signing dates in YOUR city!  ~SL
Photos: Promos of Eddie, Don and Jim on That Metal Show set  and Eddie Trunk  from EddieTrunk.com and all rights belong to their source
Eddie with the ZRockR Staffers ©2013 ZRockR Magazine/ Run for Cover Publications, LLC