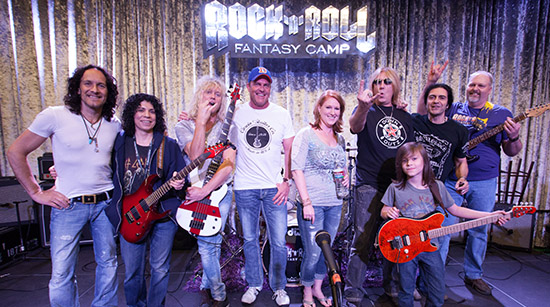 I've been hearing so much talk about the wonderful experiences in Vegas during the Def Leppard residency in March-April 2013. I remember thinking I couldn't believe I was finally going to meet them, referring to the VIP M&G. I never dreamed I would play on stage with my hero's. A dream beyond dreams and one I will never forget. It was definitely the experience of a life time.
It all started several weeks prior to my trip when I became aware of the Rock and Roll Fantasy Camp being hosted by Def Leppard. It was amazing. I would be hanging out and jamming with Def Leppard. Just the thought of this sent me into a whirlwind of excitement. I felt the nervous anticipation but not realizing how overwhelming this experience would be had not even entered my consciousness. I was hanging out and playing with artist such as: Vinny Appice (DIO), Phil Soussan (Ozzy Osbourne), Lita Ford, Spike Edney (Queen), Teddy Andreadis (Alice Cooper and Guns n Roses), Bruce Kulick (Kiss) and Brent Muscat (La Guns).
After forming our band, we were tasked with producing a set list for our final performance. The days ahead included overcoming challenges and having fun. It gave the campers a keen awareness of the hard work bands go through on a regular basis. Definitely not for the faint hearted. We were fortunate to have Phil Soussan as our counselor who not only prepared us musically but mentally as well. I remember him really bringing home the point that we need to be and play confidently because you can't fool the crowd. It was a great lesson and he did a wonderful job in preparing us for our performances.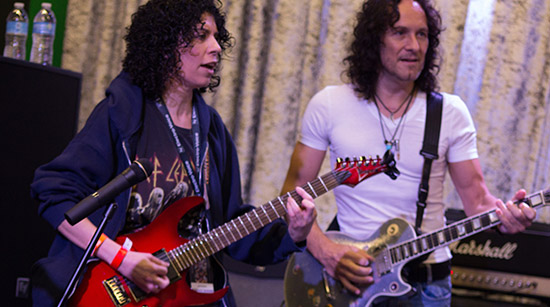 During lunch on the second day we had the opportunity to hang out and participate in a Q&A with Def Leppard's road crew/techs. Lita Ford kicked off the session with some basic questions and the campers joined in. As an engineer I really enjoyed being able to ask several technical questions. The crew gave us an inside look on the effects, sound and rig. I had an extensive conversation with Phil's tech discussing the gear/technology. I learned that Phil does not use any foot pedals and his tech produces all the sounds from the sidelines and must anticipate what Phil is looking for moments ahead without any warning.
The final two days arrived, the experience we've all been waiting for. Hanging out with Def Leppard and playing on stage with them, the dream of a lifetime. The days began with a Q&A lunch, Lita Ford kicking it off and the campers joining in. I was thrilled, that several of my questions were answered with thorough responses. The band had a great sense of humor and Joe seemed to be the comedian of the bunch. With his funny off the wall comments that had the crowd in an uproar. His attitude struck home as I realized that they have fun with whatever they do. Realizing the importance of having a good time and working hard, was crucial for the tight knit bunch. I became aware that they were not just a band but a family. A highlight was discussing the inspiration of "It's All About Believin" and had the opportunity to tell Phil how much I love this song and talk about the exceptional guitar parts. He had a big smile and said that my response is proof that they accomplished what they were after.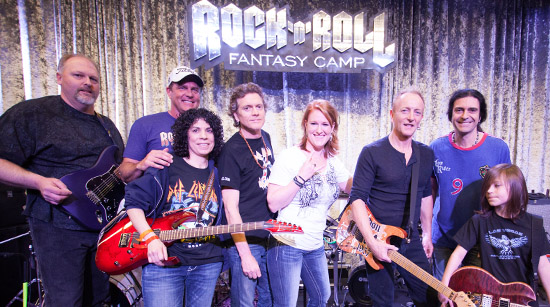 We performed with Def Leppard twice over the next two days. I remember being so nervous and mentioning that to Vivian and his reply shocked me, when he said "me to". Of course I thought he was just saying that but Sav chimed in stating that he gets nervous until he plays. I then knew exactly what he was talking because as the first note struck everything else washed away. I was standing next to Sav and Vivian and playing alongside them, playing with the pros. There is something that you sense and feel that is indescribable but it's there. It was such an amazing experience, like everything fit perfectly like a puzzle.
Following the performance we had an opportunity with a short one on one with the band, had a little photo op and received some autographs. Probably the funniest was when I conveyed a story to Rick Allen about my friend's band that opened up for them years earlier, before they really made it big in the states. Rick's brother was the tour manager at the time and was asking them if they ever played shows before, meanwhile they just did two legs of a Van Halen tour. Rick laughed. This was a real personal experience as well as musical, as Joe gave me some advice about a question that I asked earlier and while playing Phil looked over and smiled making my day special. In the end I felt that this was where I was supposed to be. Everything fit and I had the best time of my life. Today I often think of this experience and a smile comes across my face. This opportunity was not only about my hero's but about me. It opened a door to another stage and I anxiously await and work to see where it takes me. As an avid fan I look forward to the coming week and experiencing what so many other fans will. Reliving the joy and excitement of Viva Hysteria, and for me I will be not only reliving the movie but the experience.
~ Julie Michael
For more on the Rock n Roll Fantasy Camp check out their site at http://rockcamp.com
Photo Credit: Photos Courtesy of and © 2013 Julie Michael- all rights reserved