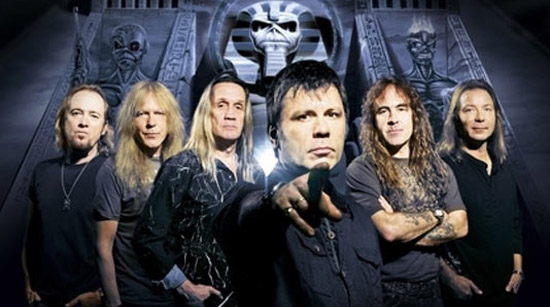 It's been years since Iron Maiden played Las Vegas – thirteen to be exact. So when it was announced the city would host one of the handful of dates on their brief 2013 US tour, anticipation was naturally high. Tickets were put on sale in mid April and were eagerly grabbed up within a week by locals and tourists alike, promptly selling out the Mandalay Bay Events Center a full five months in advance. Suddenly, it was Maiden mania in a town where the band struggled to sell out a significantly smaller venue on their last visit. Vamp'd even held a pre-party the night before for fans that included a meet and greet/autograph signing with original artist Derek Riggs – the man who not only painted all those cool album covers in the 80's, but also created the bands long running and beloved mascot 'Eddie'. On show day, concert goers wearing the familiar uniform of black heavy metal tees mingled with the rest of the rather confused looking casino set at restaurants, lounges, pools and blackjack tables. There was a line at the merchandise stand outside the arena which at times seemed to stretch all the way back to the Shark Reef. Desperate people were wandering the concourse looking for anyone with an extra ticket, those fortunate to hold them were about to be treated to a bombastic display from one of the biggest bands in the history of heavy metal. But first, there was an opening set from a little band you may have heard of: Megadeth.
You have to give a hand to Maiden. They had one of the hottest box office runs of 2012-2013, and instead of taking that opportunity to let some unknown band buy on the tour (yes, pay to play happens on big rock tours too, not just shady clubs), they take along veteran, arguably equally influential artists like Alice Cooper; and on this particular set of dates the aforementioned Megadeth. Dave Mustaine and band (bassist David Ellefson, guitarist Chris Broderick and drummer Shaun Drover – though let's get real: Mustaine IS Megadeth) have a new album to promote, but on this night they wisely stick with tried and true classics, with only Kingmaker from the recent Super Collider platter making an appearance. The rest of the set is vintage Megadeth, with old school number after the next roaring through the massive PA. Wake Up Dead and the title track from second lp Peace Sells…but Who's Buying are both played, and no fewer than three songs are aired from Rust In Peace. By the time they leave the stage the only real complaint anyone has is that their time is too short. Such is the life of an arena opener.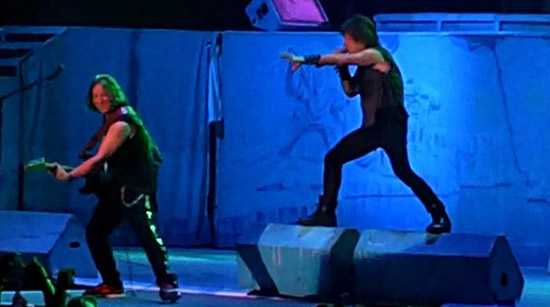 This particular Iron Maiden tour is dubbed 'Maiden England', and is essentially to promote a dvd/blu-ray/cd re-release of a concert video from the late 90's bearing the same name. It also happens to be a good excuse for the group – singer Bruce Dickenson, bassist Steve Harris, drummer Nicko McBrain, and guitarists Dave Murray, Adrian Smith and Janick Gers – to go out and play some of the songs from that period for their legion of fans, starting off with Moonchild from Seventh Son of a Seventh Son. That was followed first by the most recognizable song from the same record, 'Can I Play With Madness', then the band decided to take this throwback Thursday way back, all the way to 1982 with The Prisoner. After this is Two Minutes To Midnight, but instead of hearing most of the lyrics, the crowd gets treated to a lesson in concert etiquette, courtesy of Dickenson throwing out and chastising some wanna be tough guy who apparently spent the first few songs picking on people smaller than him. This of course, was met with roars of approval from the crowd – it's always nice to see a band stick up for their fans. After a slight lull during 1992's Afraid To Shoot Strangers (isn't this supposed to be an 80's themed show?) it's a slew of back to back classics: The Trooper sees Dickenson donning a British military style 'Red Coat' and waving the Union Jack proudly. Giant flame-pots reach for the sky (or in this case, ceiling) during perennial fan favorite Number of the Beast. Then they go all the way back to their very first album with Phantom of the Opera, followed by the anthem Run To The Hills and the first appearance of Eddie. But in case you forgot this tour was centered on the late 80's, a triple shot from that era comes in the form of Wasted Years, Seventh Son of a Seventh Son's title track and The Clairvoyant.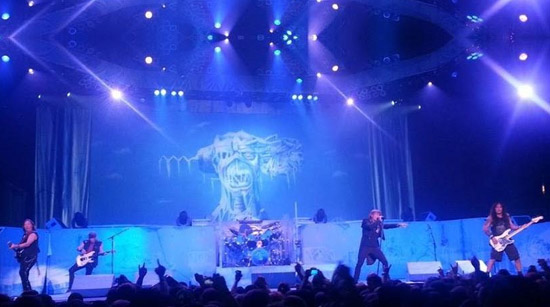 They strangely decide to bring the energy level down again, way down, during Fear of the Dark from the 1992 album of the same name. Dear Iron Maiden, if you are going to advertise and sell tickets to a period themed tour, maybe you ought to stick with tunes from that period? Luckily, that would be the end of such transgressions. Iron Maiden's debut album was not only titled after the band, but they had a song on that LP sharing their name too, and that signature tune closes out the main part of the show and gives us another fantastic view of Eddie, this time rising from behind the drum riser and giving 'birth'. Encore time, and Dickenson dons a WWII pilot hat for Aces High from the Powerslave record. Then it's a quick run through of The Evil that Men Do followed an extended back and forth sing along during Running Free to finally close the festivities. Everyone leaves the venue hot, tired, and satisfied. Well, not everyone – quite a few decide to head towards the back of that massive merchandise lane snaking its way towards the Shark Reef..
~ The SmirK
Photo Credit: © Iron Maiden – all rights reserved and The SmirK ©2013 ZRockR Magazine