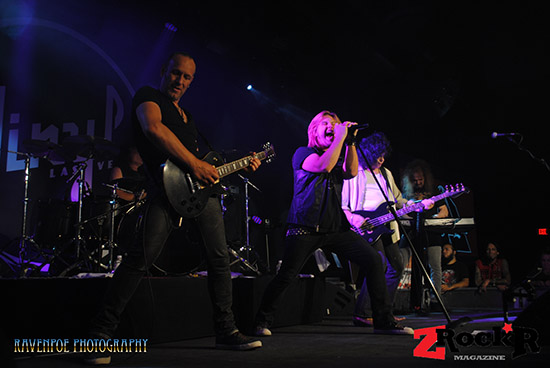 When Vivian Campbell announced last year that he and the other original members of Dio would be playing shows under the moniker 'Last In Line', quite a few eyebrows were raised. Would they be able to find someone to sing who could do justice to those songs? Wasn't there already a collection of former Dio band members and friends touring the country under the name Dio Disciples? Did the world really need another 'Dio sans Dio' band? And why now? The Irish guitarist had spent the better part of the last 25 years or so disowning his involvement in the band that featured him, former Black Sabbath drummer Vinnie Appice, Ex Rainbow bassist Jimmy Bain and keyboard player Claude Schnell backing powerhouse vocalist Ronnie James Dio (he of Black Sabbath and Rainbow fame). After helping to further cement his (and their) legacy in hard rock and heavy metal with seminal albums Holy Diver and Last In Line, Campbell had a falling out with Ronnie and wife/manager Wendy Dio over finances during the recording of third platter Sacred Heart and left the band shortly into the subsequent tour (Appice, Bain and Schnell all followed suit a few years later). Thus began decades of mudslinging between him and RJD, and stints in groups like David Coverdale's Whitesnake and the lesser known Riverdogs (w/Lou Gramm of Foreigner fame) before finding his home in Def Leppard in 1992 and enjoying the perks of such a long running, high profile gig.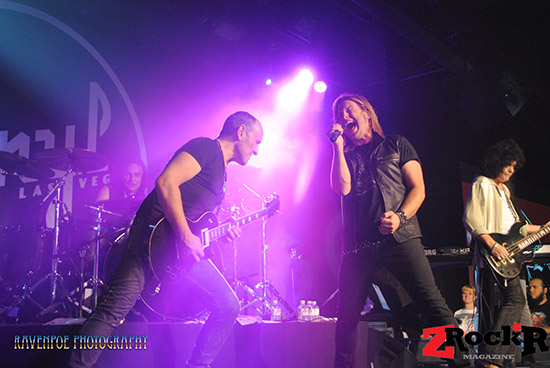 But after a short spell a few years ago trading solos alongside childhood idol Scott Gorham in a touring version of Thin Lizzy, Vivian felt a burning desire to return to his roots - playing blistering heavy metal. He reconnected with his former bandmates and threw around the idea of playing the old Dio songs again. Appice suggested former Lynch Mob/current Raiding the Rock Vault vocalist Andrew Freeman for the difficult task of singing the songs made famous by one of the most iconic frontmen in rock, and after a quick jam session Last In Line was born. And while Dio's Disciples has Wendy Dio's stamp of approval, that line-up tends to rotate, and leans towards people who played on the later records…the ones not necessarily considered classics.
That really left one question: could Freeman pull off the Dio numbers? Vegas fans would find out when Vinyl inside the Hard Rock Hotel hosted a rare appearance by the band - really rare, the show was only the 6th the band has played so far. The rest of 2013 includes a San Diego gig followed by the Loud Park Festival in Japan, and they are hoping to pencil in a 2014 tour. All this, of course, depends on everyone's schedules. Appice will be back through Vegas in a few weeks with Kill Devil Hill (his outfit with Pantera/Down bassist Rex Brown), and let's not forget that Def Leppard is Campbell's main source of income these days. Not only that, but he started receiving treatments for Hodgkin's Lymphoma shortly after their Viva Hysteria residency earlier this year, a fact that contributed to Last In Line keeping a fairly light schedule.
Casually walking out as the intro tape rolled, the band tore into Stand Up and Shout and proceeded to lay waste to any doubts those in the intimate venue might have had. Freeman doesn't look anything like Ronnie James Dio, and thankfully no one has instructed him to wear cringe-inducing frilly shirts - but he sure as hell manages to sound like him, and if you close your eyes you're practically transported back to the 80's, minus the mechanical dragon and unfortunate fashion choices. The setlist is a hardcore Dio fans dream; every song from debut Holy Diver end up getting played, and radio friendly tracks Mystery, Hungry for Heaven and Rock and Roll Children from the follow-up LPs are all wisely ignored in favor of meatier obscurities such as I Speed at Night and Evil Eyes. The band is obviously genuinely happy to be sharing a stage again, but probably not nearly as happy as the guitar aficionados who never thought they would hear Campbell ripping through a set of these tunes again. Those worried about Vivian's condition will be happy to know that he looks great, in fact he's probably the healthiest looking physical specimen on stage, with only a newly shorn dome in place of his normally curly 'do giving any indication of his recent scare (by comparison Bain looks like your crazy old uncle…if your crazy old uncle had your crazy old aunt's hairstyle). The quintet have expended so much energy by the time they close the main set with signature tune Rainbow In The Dark that many assume the show is finished, and leave the venue. Those who stay behind are treated to a couple encore numbers, with We Rock serving as an appropriate farewell for both punters and band. Let's hope Last In Line decides to make Vegas first in line when putting together tour dates next year.
~ The SmirK
Photo Credit: Ravenpoe Photography/ Jason Fedor for ZRockR Magazine- © ZRockR Magazine All Rights Reserved