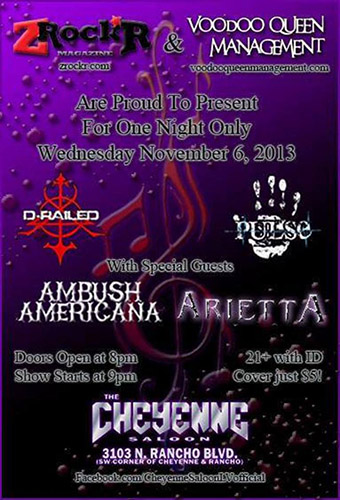 This is the story on how the 'Band of Brothers Tour' was created.
May 18,2013 As Pulse and myself arrive to St Louis, Mo for the Pulse & D-railed show @ the Fubar. I meet up with some other Voodoo Queen scouts before the show kicked off. And getting to meet D-railed and Yvonne for my first time. Everyone is excited for the show. Alot of great local bands performed that night but Pulse & D-railed was the main attraction. The Fubar was packed from the beginning to the end of the show. From my experience there St. Louis has some loyal fans. Even Tim from D-railed gave us a place to crash while we where in town. Can't wait to be back there.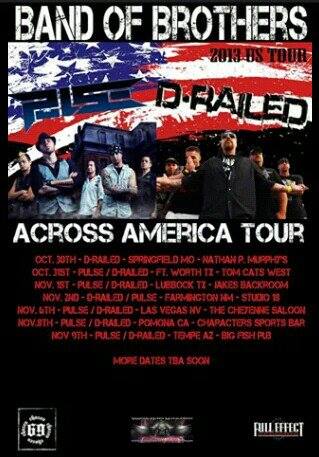 July 6th, 2013 This night D-railed and some Voodoo Queen Management members came down to Tomcats West in Ft. Worth,Tx to witness one of the greatest shows of the year. This night was my first time meeting the other VQM dfw scouts. I can't believe that I'm working with some great and loyal people, and that are also dedicated to the local rock scene like myself. D-railed was the 2nd to last performance and just like always they had myself and the crowd grooving. Especially when the members of Pulse joined them for the 'Anthem'. And now Pulse is hitting the stage. After I helped setting up the stage, Tim and I are watching the performance from the side of the stage. When Yvonne told us that Pulse was just signed by Full Effect Records!!! Yvonne and the rep from Full Effect made the announcement to the crowd and Tomcats goes wild!!! That was one of the best nights of my life, and getting to be apart of the experience was priceless. A great way to end the holiday weekend!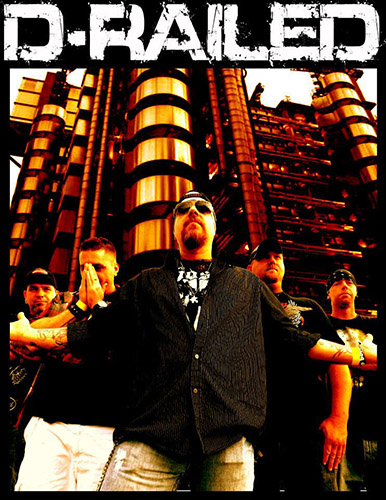 So now as we fast approach Oct 31. Tickets are selling fast! Pulse and D-railed have shared the stage with some great bands. Such as Drowning Pool, Pop Evil, and Red Jumpsuit Apparatus. They are ready for this tour! So West Coast and America get ready for the Band of Brothers Tour coming to a city near you.
~ Lance Brown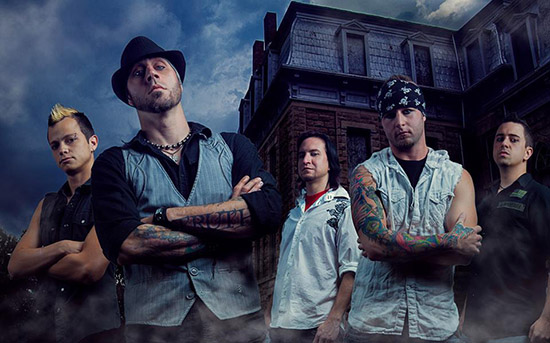 Full Effect Records band Pulse and D-Railed along with Ambush AmericanA and Arietta will be performing at Cheyenne Saloon on November 6 in Las Vegas! Tix are just $5 at the door! BE THERE!
For More Info on Pulse and D-Railed check out: http://voodooqueenmanagement.com