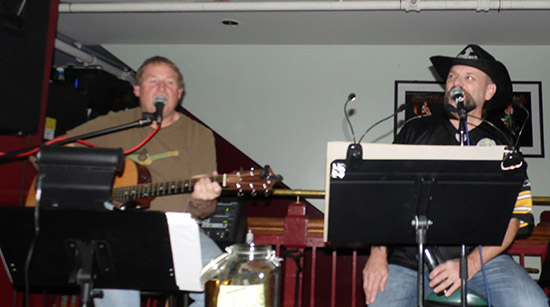 On a cold rainy Wednesday night, what does a person do ? Go to the mall, stay home and watch tv, or go out and listen to a great local band? For those of you that know me know live music will be my choice every time. I had the opportunity to go see an acoustic show at a club called the Clark Bar in downtown Champaign, Illinois. I went to see a great band called H.O.H featuring the ex lead singer of the disbanded group Stone Faced.
We braved the wet cold night to arrive in a comfortable welcoming club. The Clark Bar is a place to have good drinks, great food, and listen to some great local music. They have comfortable seating and friendly staff. When you sit down you will feel like you never left your living room.
The band, a duo, consisting of Debitcard Darrell on vocals and Craig Hardwick on vocals and guitar, were already a few songs into the first set when we arrived. We settled down on a very comfy couch right in front of them so we could have the best seat in the house, and to get good photos, and were greeted with smiles.. The song we heard was "Take It Easy" by the Eagles. I enjoyed this duo from that song all the way through the show. I felt early on that time would last forever because I didn't want the night to end.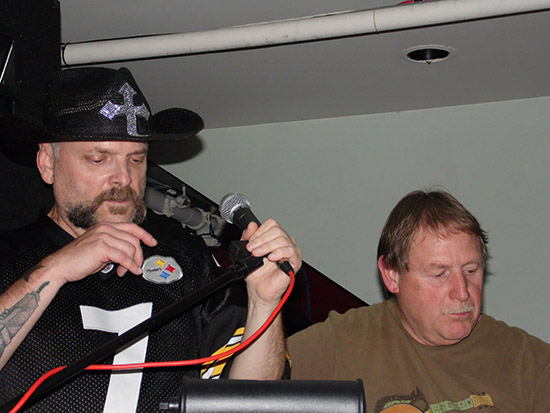 They play a wide variety of cover songs ranging from Creedence Clearwater Revival, the Beatles, Green Day, Alice In Chains, Lynyrd Skynyrd, Tom Petty, and so much more. Currently they have 6 original songs they are working on and are adding more cover songs. I was excited to hear they will be covering a Shinedown song also.
One thing I noticed was that while only being together since February of this year, they were in unison. The vocals and guitar worked together so well, that you would of thought they had been together longer.
In the second set the duo was joined by an ex band mate of Darrell's Stone Faced Michael Solomon. While Darrell and Michael were band mates and played for several years together the three never played together. Michael is a young talented singer and guitar player and he brought his guitar to jam with the duo. Starting out with Eddie Rabbit's "Driving My Life Away", Michael jammed on several songs. It was good to hear him sing and play again. And listening to them, the vocals shared between these three men were a perfect blend of harmonization.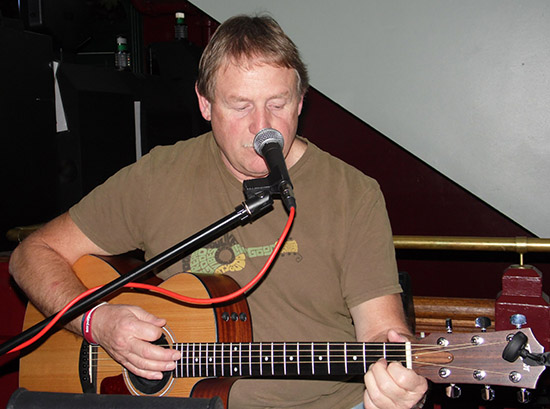 I noticed when they did "Amie" by Pure Prarie League that everything fit together. The guitar work was amazing and it was as if Craig and Michael had played together for years. I felt this with every song they played.
Two songs that really stuck out was "Blue On Black" by Kenny Wayne Shepherd, and "Your Decision" by Alice In Chains. I had never heard Blue on Black, but enjoyed it and was impressed by their ability to cover this song. If they make a cd this song should go on it.
They closed the show with "Closing Time" by Semisonic. An appropriate song to end the night. I felt I had been entertained as well as everyone else there. These gentlemen performed well together and you could see they were having a good time putting on this show and creating a lot of smiles.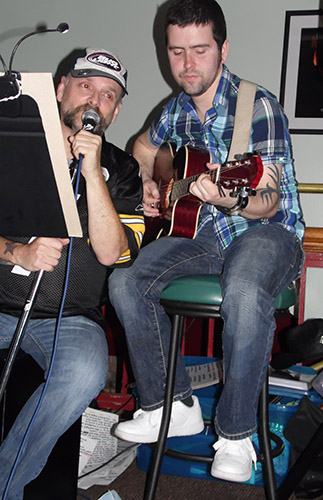 I would recommend anyone that likes music and likes this band go and see them. There is something that will appeal to every music lover.
They are still booking shows, but they will be in Monticello Illinois at The Roadrunner on December 21st
To contact the band H.O.H has their own page on Facebook and Debitcard Darrell and Craig Hardwick both have their own Facebook pages too. Go on and like H.O.H's band page today…
~Susan Graham
Photocredit: © 2013 Susan Graham- all rights reserved