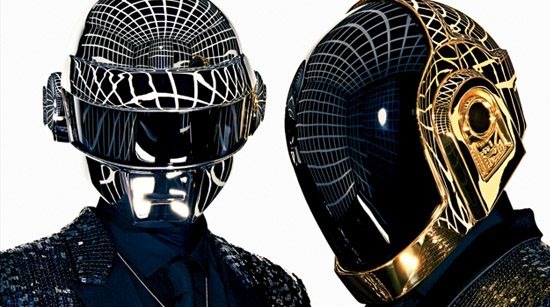 I want to take you back to 2007. Fresh out of high school and working at a Subway, not many things consumed my life but smoking pot and music. In late October, two of my friends and I had gotten free tickets for night two of Vegoose. The line-up was legendary! Atmosphere, Cypress Hill, M.I.A, Public Enemy, The Shinns, Queens of the Stone Age, Iggy Pop and the Stooges, and none other than the French DJ due Daft Punk!
Not knowing many of Daft Punk's songs other than their hits that were either popular in parodies on YouTube or played on the jukebox in pool halls, I downloaded every album from them that I could fine. I was blown away that I had never heard these technological takes on electronic music. From their debut album Homework and then to my personal favorite Discovery, to their then new album Human After All, each piece of work had a style that only these Bots could produce.
After cramming every album that Daft Punk had written I was ready for the show. The Vegoose Festival reminded me of a modern day hippie gathering, and since it was on Halloween weekend everyone was dressed up in costume. After polishing off a bottle of Jägermeister with my friends in the parking lot, we headed in the tailgate area of Sam Boyd Stadium where the show was at. They had three stages with at least two acts going at the same time. We walked in to see Atmosphere in the middle of his set, then went on to watch Queens of the Stone Age, Public Enemy, Cypress Hill, and the legendary Iggy Pop and his gang of Stooges. As a side note, Iggy Pop puts on one of the most energetic shows I've ever seen, and it was awesome to see them play the entire Fun House album when they were there!
The night was capped off with Daft Punk. The collective of everyone that was at the show all came together at the main stage and drew one of the biggest crowds that I've ever seen. The stage was more than fitting for this big of a group too. With a giant pyramid split in half, the bottom half being the base for the duo and their equipment, then the top half being suspended above them, and a wall of pyramids on both sides, this was one of the most mind-blowing stages I'd ever seen. They had gone through jams from every album, and even mixed songs together in one of the smoothest ways possible, while every song had visuals played on every little bit of the stage. Please, for your own well-being, go to YouTube and just get a glimpse of what these masters of techno produced, you will not be disappointed. I was mesmerized the entire time. After seeing that spectacle, if you were to ever ask me what the greatest show I've ever seen was I would immediately answer with Daft Punk. The set was so good that they had released and album about a year later titled Alive 2007 with the entire concert on it.
Since that day I have followed Daft Punk very closely, hoping for a new album or another tour anywhere in the US that could maybe top that night. The Bots are notorious for producing something then disappearing for years on end before they're even heard of again. The next taste of them that we would get was them doing the soundtrack for Tron Legacy in 2010. I had not expected a full-length like their past release, but I was stoked to even hear more of them. The soundtrack had been leaked weeks before the movie came out, and it was exactly what I had expected. Soft/building tunes that would be perfect for a movie and even a couple pleasing jams like Derezzed that I bumped for days on end. I recall sitting in the theater with the biggest grin just nodding my head the entire time.
Being the electronica world power that they are, there were immediate rumors flying around of a new tour and even a Disneyland residency plugging Tron Legacy and the following animated series for the film. All would end up being fiction. We would get to see them as one of the leading artist on the release of the interactive music game DJ Hero that had them remixed with artist like Young MC, Beastie Boys and Queen. I remember very vividly working at Toys R Us at the time of the release and going to the demo we had off the game and constantly jamming the Robot Rock and We Will Rock You remix.
While Tron Legacy and DJ Hero were a good reminder that The Robots were still out there, the main fan base was still eager to hear some new tracks from the group that could ease our minds and give us the feeling of their old albums. We would get an unreleased recording that was made when the band was producing Homework called Drive that was unleashed on the public in 2011 by Soma Records. The singe erupted immediately through forum post, social media and even radio play. Since it was originally recorded with their first album release people had a sense that we finally had a new track from the group that gave us some sort of hope, and that they would hopefully continue their old style on a newly released album.
After Drive was released we would not hear anything from the duo for a while. Again, Daft Punk is notorious for falling off the face of the earth for years on end. Until one day in early 2013. Being a kid that grew up in the 90's I'm a diehard fan of Saturday Night Live. No matter what cast is on the show I make it a point on every Saturday night to watch the new episodes. This night had comedian Kevin Hart hosting with rapper Macklemore as the musical guest, but what stole the show was a very short commercial. It had an up-beat guitar playing a disco-ish style jam with the Daft Punk logo glistening in the middle of the screen, then the two infamous helmets that the duo wear came from each side of the screen and joined as one face. I stood up in my living room and cheered, so happy that this meant that something new was coming from The Bots!
In the later months, news would come that a new album would be released with the name Random Access Memories. Knowing the bands technological background, I had thought that this would be the perfect title for an electronica album and could not wait for its release. We would also get a bits and pieces of the title track Get Luck that featured Pharell until its release. Now while this track wasn't as electronic as prior songs from the group, I had high hopes that it was just going to be one of the softer songs on the album.
On May 17th the album was finally released. I rushed over to Zia's before work in picked it up with the biggest grin on my face, but that grin would shortly turn into a frown after giving it a listen. The first tracks had come in and they were very soft, almost like bad 80's porn music with a robot singing, and this would continue throughout the entire album. I came into work that day with the saddest face ever, knowing that the one group that I had faith in to continue their legacy had let down not only me, but an entire following of fans that waited so long to hear new material from the group.
After the release there were many P.R. follow-ups that the band were going to make, including an appearance on one of my favorite shows The Colbert Report. I plugged the appearance since the announcement that Colbert made and was more than excited that a performance would be made. This ended up being a disappointment as Daft Punk had cancelled on the morning of the show due to them making an appearance during the upcoming VMA Awards, and I blame this all on Viacom. A couple weeks later, for the first time since I was 16, watched the VMA's in anticipation that a performance would be made again. Keep in mind that I had to sit through the infamous Miley Cyrus twerk to wait for this and was already getting irritated of the MTV persona that they have infected people with. After that painful hour I was again disappointed with when Daft Punk finally made it to the stage. I t had turned out that they were only at the show to present the award for Best Female Video. They just came on stage with Pharrell Williams and Nile Rodgers, who were the featured in the hit single Get Lucky, and then walked of stage. The amount of disappointment that I had felt that night is indescribable.
After these "stunts" I have almost given up on Daft Punk. Knowing that they will disappear for a good amount of time once more, I hope for anything. Like a tour announcement or even another appearance that they can make on TV show. I still to this day will pay any amount of money to see them live again. After this disappointment of a year I hope that there will be some kind of redemption that they can make and put some faith back into The Bots. While I haven't been satisfied with anything lately, I know that there is still a solid following of the band that will never forget their original style, and there must be some kind of sign soon that they will not forget about us.
~ Vinnie Corcoran
PHOTOCREDIT: ©2013 Daft Punk- all rights reserved