December 19 will forever be a date I remember from this point forward. Just a few weeks prior, I had seen the flyer for the show. Sin City Sinners featuring Tracii Guns of LA Guns, performing an all LA Guns set, and benefiting Toys for Tots. I marked the day on my calendar, because as an LA Guns fan, there was no way I'd miss it. About a week before the show I started catching wind of another "Sin City Sinners holiday miracle". Just a year ago, their manager Jason Green had reunited Sinner Brent Muscat (formerly of Faster Pussycat and LA Guns as well) with his old singer Taime Downe on stage. "Okay," I thought, "It would be pretty cool if they did, but how much of a miracle could they perform?" Let's backtrack just a little, after reuniting the "classic" lineup in 1999, Tracii went on in 2002 to form a band with Motley Crue bassist Nikki Sixx, and Phil continued on without him, bringing Stacey Blades into the mix. In 2006 Tracii formed the Tracii Guns band, and suddenly it was like there were two LA Guns. I didn't think there was really bad blood between the two, but I highly doubted a reunion. Then the tweet came in from Mr. Tracii Guns, stating that if you were an LA Guns fan you would not want to miss the show. Hmm...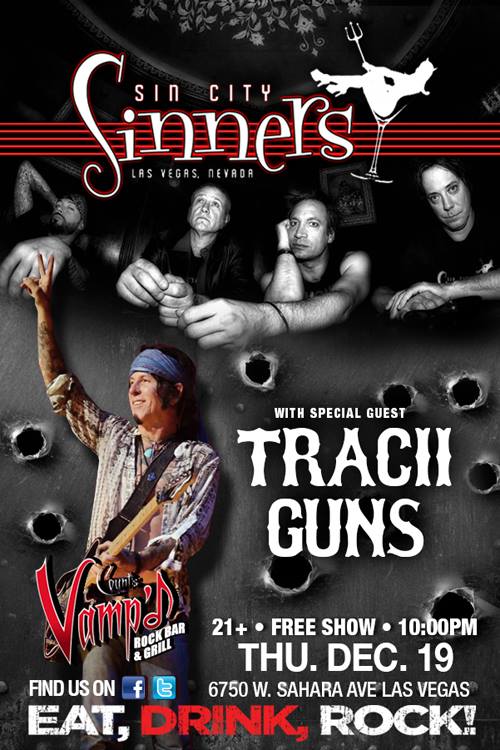 So, there I stood at my personal favorite venue in town, Vamp'd, with a fireball gingerale in hand. I watched the Sin City Sinners go through and perform their usual set, a perfect blend of covers and originals. I had seen Tracii walk in earlier that night, and was getting pretty pumped for him to join them on stage for the LA Guns set. During the break I went out for some fresh air when I noticed a tall, lanky guy walk up to the venue. Scott Griffin... LA Guns bassist. I grabbed fellow ZRock'R Mills and said, "This is gonna be an epic show."I ran back in to squeeze myself as best as I could to the stage. Brent Muscat came back onstage with the glittery guitar you always see on his person, and then drummer Rob "Boom Boom" Cournoyer, followed by Scott Griffin and Tracii Guns. As they broke into the opening chords of "Over the Edge" I thought to myself, "This is it. The moment of truth." The crowd went absolutely nuts, and I was right there with them screaming my heart out as Phil Lewis took to the stage. Rock N' Roll Christmas Miracle indeed! It was as if I was listen to one of their records at home. The boys did not miss a beat. They went right into "Electric Gypsy", which drove the crowd into a frenzy. This was not a typical older crowd either, this was people of all ages out to see the show. Every note, every lick, every hit on the kit, it was simply perfect. For any LA Guns fan, this was the place to be. Tracii and Phil were all smiles as they played together again. There was no animosity, no fuck ups. They sang into the same microphone often as Brent and Scott sang into the other. It was song after song of sheer epicness. "Crystal Eyes", "Never Enough", "Rip and Tear", the list goes on and on. The 4 LA Guns standing on stage together for the first time in over a decade was just... Amazing. There really are no words to describe how the night was. Age has not touched them. Separation has not touched them.None of this would have been possible without Jason Green. Local music enthusiast, entertainment lawyer, and Rockin' the Law columnist Mark Smith said it best when he called Jason the "Rock Star Whisperer".  So, now here I am the next day, getting ready for another show, still blown away from last night. I keep wondering to myself what the future of LA Guns will be now as well as what next year's Rock N' Roll Miracle will be! There was no place I would have rather been last night than in that awesome little rock n' roll bar in Las Vegas, Nevada. The only words that can describe how I feel about this miracle, these bands, this venue, this town, and the beautiful people in it were said best by now local Phil Lewis, singer of LA Guns, Sunset Strip God, when he used a line from the Sin City Sinners song "Going To Vegas"; "I'm going to Vegas and I'm never coming back!" 
It is moments like last night why I love rock n' roll. Horns up.