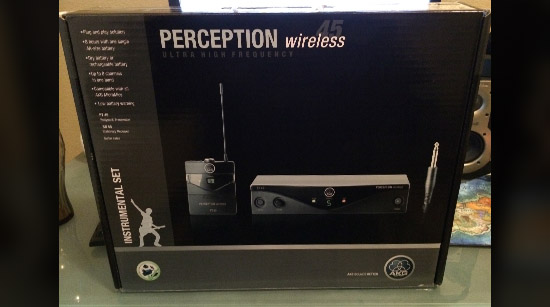 There's nothing like a good guitar cable, right? What about no cable at all? For a couple years now I've desired to ditch the leash and go wireless with my axe. Even if I'm not running around the venue every other song like a monkey on a unicycle, there's a certain freedom that comes just knowing you can't trip on a cord and have a massive on-stage avalanche of amps and other equipment.
I've always thought that any wireless worth a damn would be massively expensive and just not worth the cash. You can probably tell already by the "I's" that this is another personal gear review! I picked up the AKG Perception 45 Wireless kit a couple weeks ago. It was a good price, and I figured it was worth a shot – If it sucked I could always just return it. So far it hasn't sucked. At all.
With a range of about 30 meters (line of sight) you're not going to be jumping off an arena stage and running to the back walls of MSG, however, in most average gig settings it's more than enough. I'd wager it would be good even for traversing the stage at the House of Blues. So far, personally, it has worked flawlessly. No cutting in and out, no interference, no major loss of tone either.
The Perception unit runs on a AA battery for about 8 hours, and you can use rechargeable batteries if you prefer. It can run up to 8 channels, and it will even warn you if the battery is about to run out. With both ¼" and XLR outputs you can use it for a variety of different uses too.
While not the typical "gear" you'd review in the guitar land, I had to put this one out there. For any working musicians (You're local, play covers, or just aren't quite Metallica status…) something like this can be an often overlooked blessing, especially on smaller stages in most club venues. Are there better Wireless packs out there? Absolutely. As awesome as it would be to test out all sorts of expensive and amazing high end gear, it's just not practical for most working guitarists – The big money is usually going into the amps and guitars.
The AKG wireless unit retails at $249 and is available at your local Guitar Center store. Go pick one up and try it out – You might just find your new favorite toy. With Christmas around the corner this could also be a great gift idea for the guitarist in your life. Get unleashed!
~ Jon Fuckin' Mills