When your phone has full service bars, and no texts or calls are being sent or received, especially when it's work related… it's a little stressful.
So on that note. I get through to Killswitch's tour manager on another phone, and we set up a meeting point. We barely got through. But it happened.
He takes us behind the stage, back behind the buses, and to the canopy area. I see Joel, who I'm about to interview. But as I come around to the front view of the little area, suddenly the entirety of Killswitch Engage is in front of me and I quietly let out a subtle "oh Jesus" as I walk up to my favorite band and shake Joel's hand.
We go through the curtain where a chair and a little roundtable are sitting by their lonesome, and…
Joel, so first off – What do you listen to on the road?
"Not a lot of metal, actually. A lot of indie rock stuff, folk, a little bluegrass guitar… anything that's not loud at the end of the night. But you know, after several beers we tend to go back to Cannibal Corpse and stuff like that. We love our metal."
How do you wind down after not just shows, but after a tour; how do you relax and chill out?
"Between tours I just hang out with my wife and the dogs. Play acoustic guitar. Drink with my buddies. Eat too much pizza."
What is a classic song that you wish that you wrote?
"ahhhh… tough question. But I'm just gonna spit this one out, Surprise You're Dead by Faith No More."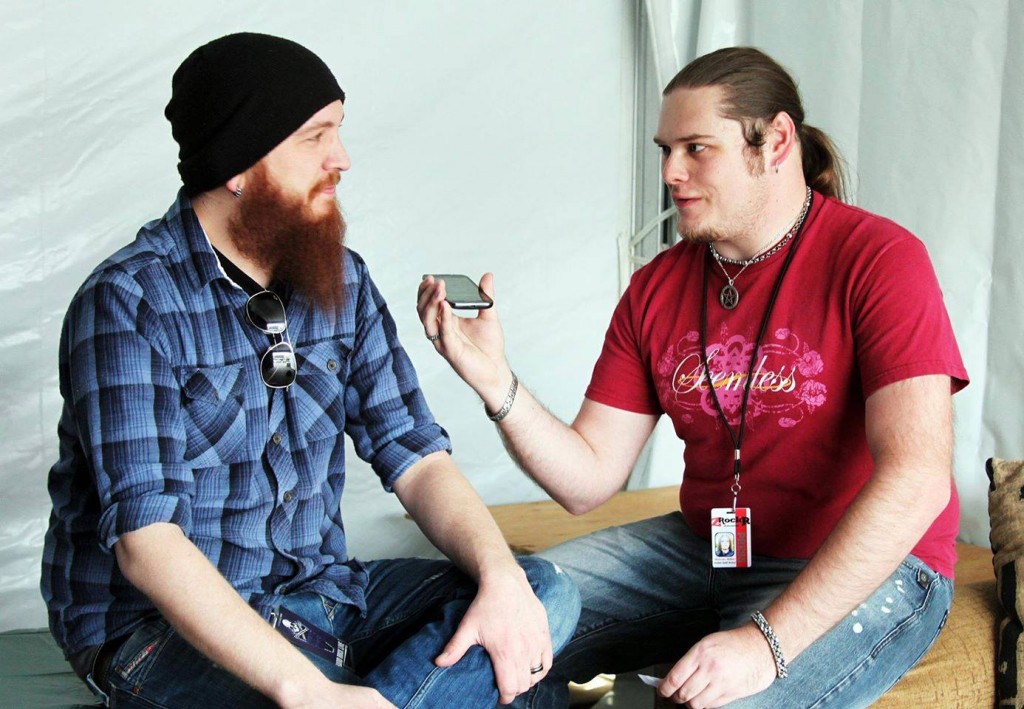 It's quite noticeable on the new album, Disarm the Descent, there's a hell of a lot more guitar solos. Was that a conscious decision? What inspired you guys to have a lot more solo action?
"I'm not really too sure. I know a few of Adam's songs he just wrote the songs with solo sections in them. I don't really do that. Other than Holy Diver, that's really the first time I played a solo on any of our records. We were just feeling inspired by a really heavy guitar record. Fast and aggressive. It seemed like it fit more on this record than it ever has in the past."
You were once in Aftershock. We know that Overcast had a little reunion a few years ago and did an album. Anything like that going on for Aftershock?
"You know there was talk of that years ago. But that all depends on Toby, Adam's brother. He's busy, he's a dad. Works a lot. So we'll see. But maybe one day we can do that, it'd be fun."
A lot of the guys (in Killswitch) have other collaborations and projects going on, what about you?
"I do play in another band, it's called Brothers Born. It's kind of an indie folky kinda thing. It's a nice departure from the metal stuff."
I like the folky stuff, I know the singer of Thrice, Dustin Kensrue has a folky solo thing…
"yeah I heard his solo stuff it's great. He has a great voice. We're all big Thrice fans."
I saw you guys (Jesse, Adam, Joel) on the Times of Grace tour; what was it like for you to come into the Times of Grace thing and tour?
"That was kind of an unexpected thing. It was originally supposed to be Pete Wichers, who used to be in Soilwork, he was gonna play but he couldn't go on the road. Family stuff. A few weeks away from it happening Adam asked me "hey listen…" but at first he didn't wanna ask me. Conflict of interest with the Killswitch guys. But I said I'd love to do it. Cause I love hanging out with him and Jesse. It was a good experience man, it was a lot of fun. Maybe it helped Jesse to wanna come back."
What did you think of the album and the songs?
"I love the record, I was really proud of those guys. I kinda heard bits and pieces along the way when Adam and Jesse were working on it. It was nice to jump in and play guitar with Adam, not that I wrote any of the songs, but it was nice to be able to play with 2 of my best buds."
What is your relationship like with Adam? As guitarists and friends, but more on the guitar side, do you feel like you guys definitely have a strong bond and are meant to be guitarists in a band together?
"I've known Adam for what, going on 16 years now? We've played guitar together obviously. We've played with him on drums. We've learned to think alike a little bit. We already know what eachother is going to like and not like before we even play it."
You're eachother's other half, basically?
"Yeah a little bit. It's kind of weird. His writing style is a little different. He tends to write big chords and melodic stuff more and odd meters. And I'm more like the thrash guy. But you put it all together and it just kinda works in a weird way. We have fun, been playing together a long time."
So we know Times of Grace exists with Adam and Jesse. How about something like… you and Howard in the future, would you work together with him again?
"Oh yeah absolutely. I mean Howard is an amazing singer. We'll see what happens I guess. He's got a new project which is really good (The Devil You Know) and what I've heard of it is really good."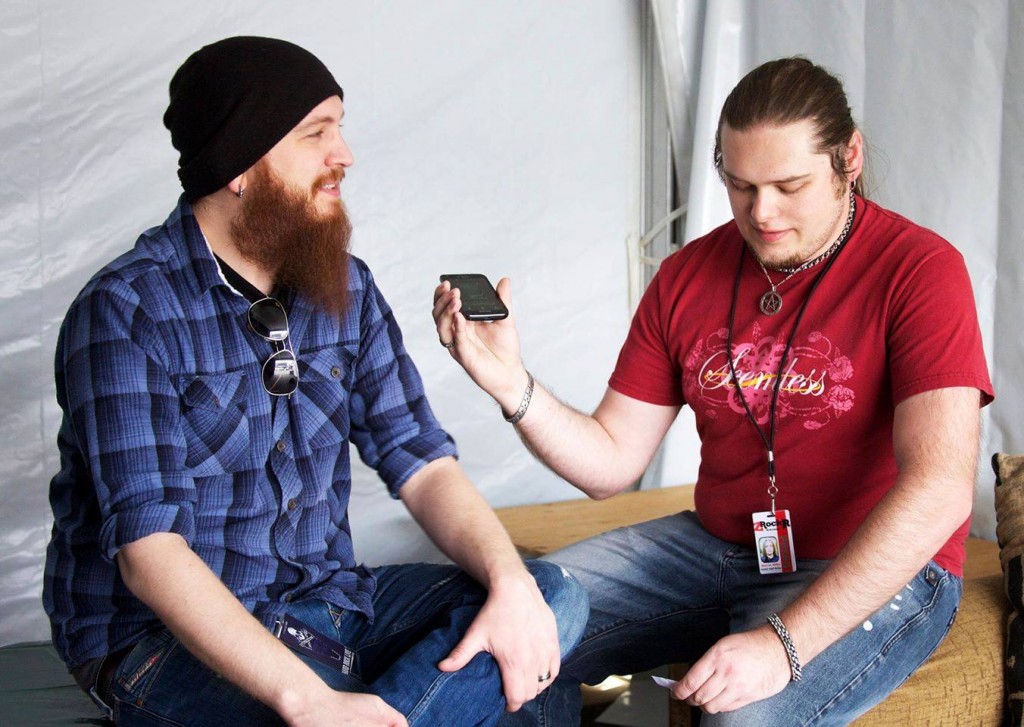 Killswitch, I'm sure, has done way more than you thought originally. What is left for you personally to accomplish?
"I think at this point it's just we wanna keep this going. We're having a good time and I don't think there's any crazy expectations. We're not gonna be Radiohead or anything like that. We can kinda maintain and keep doing what we love. Make a few more records. Get to do some more touring. That's kind of everyone's goal right now. Just keep it going. We're happy, after having a few years off with Howard leaving, I think everybody is happy that we're still here and things are still going well."
What can we expect from your folk project?
"oh, Brothers Born? It's weird we never really released it. We put it out on iTunes but we still haven't officially released the first record. But it's available on iTunes. It's called Knife Wounds. It's got electronic drum stuff mixed with folky… folk with an 80's twist. Not cheesy 80's but more like The Church. We're working on a new record, hopefully we'll get it out and do some touring. We have a full band that we play with. But I've only done like dual acoustic shows with the singer. So at some point we'll make it down here."
I'd like to see that, and I know a few others that would too.
"Right on man!"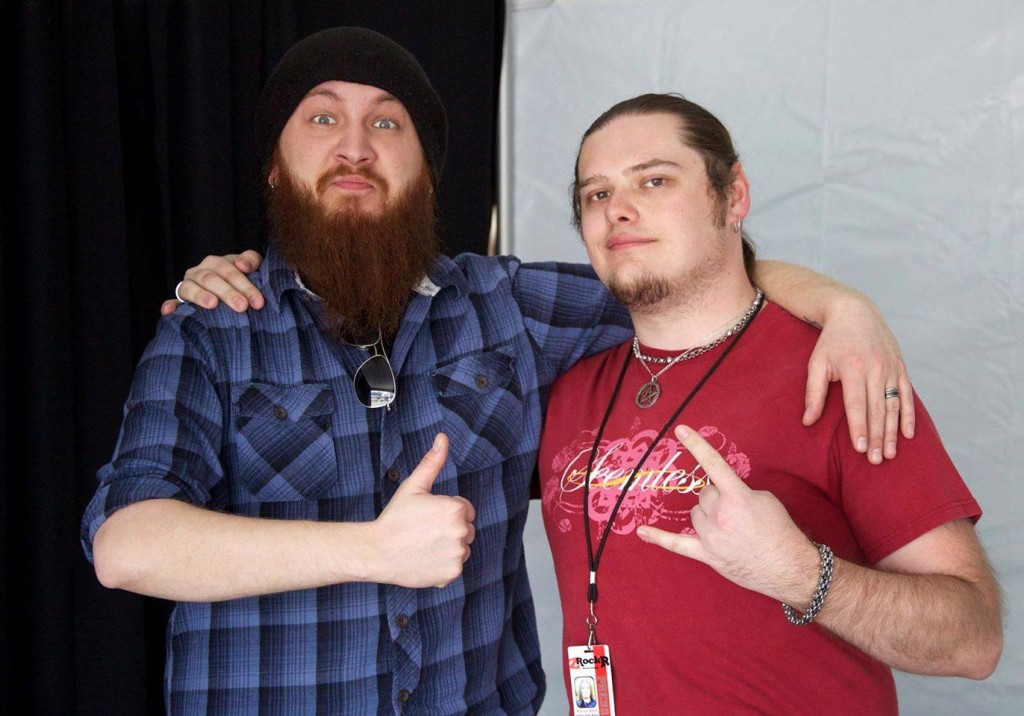 I then left it on that note and we thanked eachother. I asked if I could grab a photo with the band, which I got, minus Mikey D (the bassist) who had gone off to do something. Joel had complimented me on my shirt, as did Jesse. I was wearing a Seemless shirt, which was the bluesy hard rock band Jesse was in from 2003-2008 and released 2 albums with. I'd met Jesse before in 2011 after the Times of Grace show, and I've met Mikey D once after a Killswitch show in 2007. So this was my first time meeting Justin Foley, Joel, and Adam D.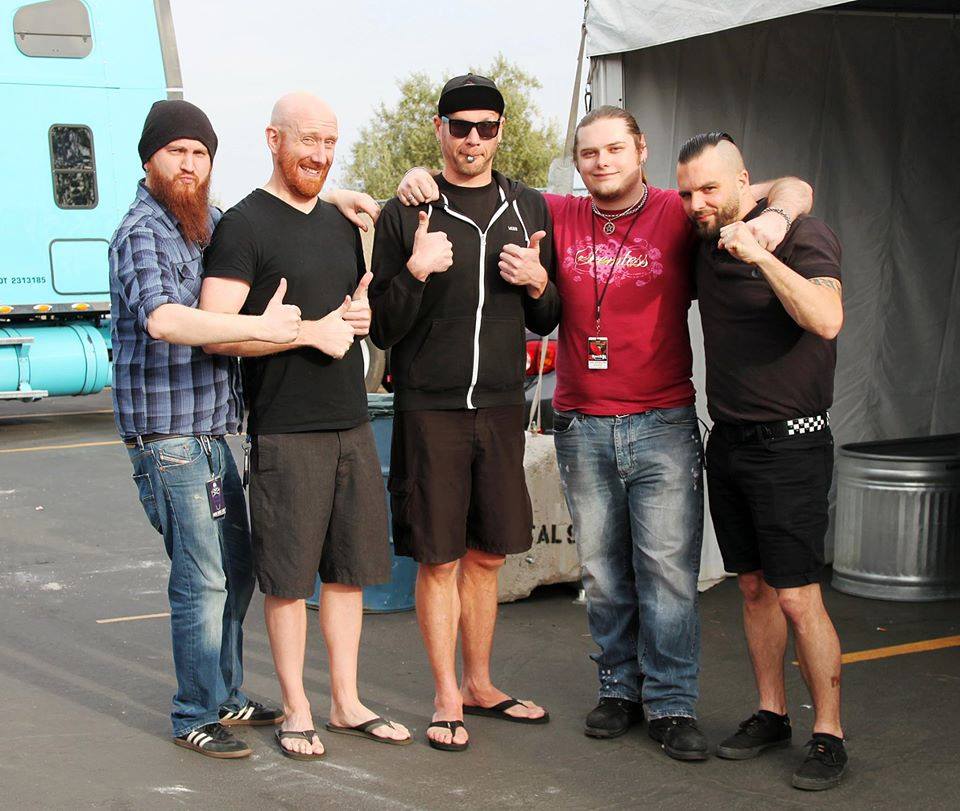 You can say I was beyond stoked for this whole opportunity. These guys have meant the world to me for over a decade now, and shortly after this interview, was my 5th time seeing Killswitch Engage live. The 3rd time with Jesse Leach back on vocals. I hope one day I can take some of their time again for another interview.
These guys all do a lot of press, so I did my best to not ask the same old questions, and very little about Killswitch and more on the personal experience and other music information. Thank you Zrock'R, and Thank you Killswitch Engage.