A great deal of variables go into a guitar players sound. Amps, effects, guitars, pickups, fingers; the list could go on for days. At the core of it all is the guitar you use. It's the most direct medium between you and your speakers. It needs to be something that not only suits you in terms of feel and sound but also appearance and style. The guitar is an extension of you, therefore, it should be as "you" as it can be.
I like something that stands out. Something different. I like complexity within simplicity. For me, the Kramer '84 Reissue was a no-brainer. The red and black bulls-eye pattern (also available in solid red, black and white, and more new color schemes are coming soon!) draws attention – Like it or not, you can't ignore it. Really though.. It's hot.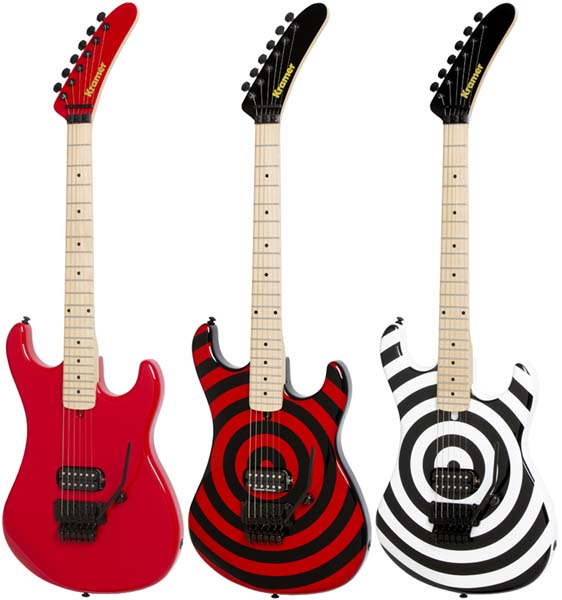 "It only has one pickup and one knob, it's a one trick pony!" Wrong. Here's the scoop – The 84 comes loaded with a screaming hot Seymour Duncan JB pickup. The tonal range of this pickup is massive and can change characteristic based on your pick attack alone. Throw in the coil tap on the volume knob, and now you've got an entirely different set of sounds to go with. That volume knob also comes with a treble-bleed modification, which means when you roll that knob back, you lower your output without losing tone. You can cut your gain while still cutting through the mix. I'm really not sure why more guitars don't employ this mod.
OK, that's it for the electronics.. Simple yeah? This beast of a shred machine doesn't need umpteen knobs to create umpteen sounds. Just one knob. What about the rest of it, though? Tonally, the '84 offers an awesome setup. The whole guitar is maple; the body, the neck, the fretboard, it's all maple. It's bright and punchy, stronger than hell, and has sustain for days. The neck on the '84 is slim but wide. It's not a paper thin neck like most shred guitars – This neck lets you grab onto it and dig into notes with balls, yet there's a still a quickness to it. This is a guitar for players who want to physically feel the notes while still ripping off lightning fast licks.
This axe comes with an Original Floyd Rose Tremolo Bridge system. I've had a few of the "non-originals" and I've always had issues until now. It doesn't go out of tune no matter how much I abuse it. I've done six hour marathon live shows with it not going out of tune once, dive bombs and all. 22 medium-jumbo frets make sliding from octave to octave smooth and clean. The harmonics on this guitar are really something special as well. Between the scale and the JB pickup, there are hot harmonic nodes ALL over this guitar, and tap-harmonics require only a light tap, not a brutal slam that bruises your pick-hand fingertips.
The Kramer '84 is one of the smoothest and best sounding guitars I have ever played. It's my guitar of choice for anything that doesn't require a seventh string and I'll be adding a few more to my rig before long. At this point, you might be wondering if this is too good to be true. You haven't seen the price yet. The '84 model retails for around $699 US. This guitar plays like something double if not more than its retail price.
Get with your local dealer, or order one online – You won't regret adding this guitar to your arsenal! I give it a 6/5.
-You can see this guitar in action live with Jon Mills of the Roxy Gunn Project. Check them out on YouTube and Facebook for more information and links to videos featuring this months featured equipment.